Ocean Exchange 2014 Award Winners Poised to Transform the World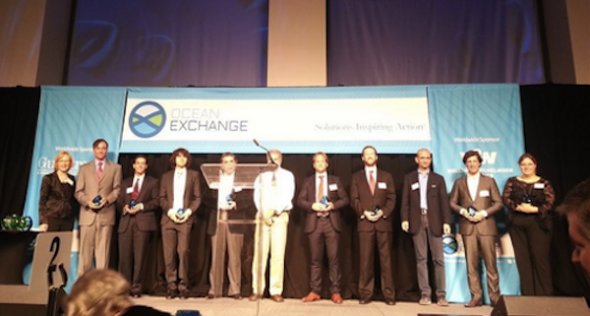 Some of the brightest minds in the world gather in Savannah each year to compete for two $100,000 prizes at the Ocean Exchange. The Orcelle Award, funded by Wallenius Wilhelmsen Logistics, challenges applicants to develop technologies to improve the efficiency of logistics operations on a global scale. The Navigator Award, funded by Gulfstream, is presented to companies working to improve sustainability. Last week, 22 experts from around the world selected 10 finalists, including two grand prize winners, for this year's awards, at the Savannah International Trade and Convention Center.
This year's Orcelle Award went to Deep Green from Minesto AB of Sweden. Deep Green produces electricity from low velocity tidal and ocean currents using a sort of underwater kite comprised of a wing and a turbine secured to the seabed with a tether that can move at speeds reaching 10 times the ocean's current speed. No other technology can do this in such a cost-effective manner.
Okeanos Technologies invented WaterChipTM, the winner of this year's Gulfstream Navigator Award. WaterChip is a platform that uses a micro-scale process to desalinate, or purify/remove saline from ocean and brackish water. The technology is expected to render desalinating seawater and brackish water as inexpensive as harvesting freshwater from underground and surface sources.
"Our over-reliance on surface waters creates all kinds of problems – politically, environmentally and economically – and in the developing world it's a huge safety issue," says Tony Frudakis, CEO of Okeanos, based in Kentucky. The WaterChip would be massively scaled up to reach commercially relevant flows, using considerably less energy than current technology. It could be the first leap forward for desalination technology since it was developed some 60 years ago, says Frudakis.
WaterChip has implications for Georgia, particularly for the southwest agricultural community.
"Surface water is quasi-renewable and underground freshwater is usually nonrenewable, but brackish aquifers are harmless to draw from and would work well with this technology," Frudakis says. "Since the lower half of Georgia sits on a brackish aquifer, the potential for economic expansion is a big deal."
WaterChip's technology consists of a cartridge of chips capable of desalinating one to four liters a minute. It is designed to be integrated and adapted into different water systems, using, say, 100 cartridges at one time. "The Ocean Exchange is the only entity supporting this kind of technology other than the Environmental Protection Agency," says Frudakis. "Most venture capital investors won't touch anything that won't produce money right away. It's reassuring to know there are people out there looking beyond the next fiscal year."
Frudakis intends to partner with humanitarian groups initially to provide drinking water to areas in need. Long-term, the goal is to service a variety of markets from municipalities to agriculture.
By: Ben Young
Pictured: Tony Frudakis, CEO of Okeanos Technologies, winner of the Gulfstream Navigator Award
Photo courtesy of the Ocean Exchange