State of the Georgia Ports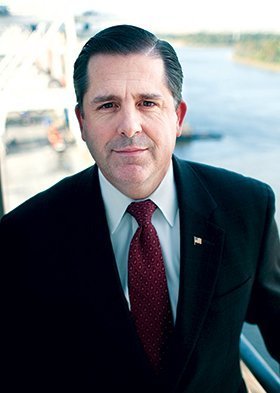 Last week at the State of the Ports Address, the Georgia Ports Authority (GPA) laid out an ambitious agenda to surpass New York and New Jersey to become the biggest port on the East Coast. "What was unfathomable a decade ago is in our reach," GPA Executive Director Curtis Foltz told the crowd of some 1,350 attendees at Savannah's International Trade and Convention Center.
The dredging of Savannah Harbor could commence in a matter of months, and word has already gotten out, Foltz noted. He reported 1,900 new ports-related jobs this past year with the addition of Dynacraft bikes, Nordic cold storage, Bed, Bath & Beyond, and other companies. "The U.S. recovery has been predominantly in retail, and we've benefited as the gateway to the Southeast," Foltz tells Georgia Trend.
When completed in 2016, the dredged harbor will draw more activity from the West Coast ports. "We've already seen a rise in users from the West Coast temporarily diverting their cargo to the East Coast because of labor issues and strikes," Foltz says. Most of the ports' growth continues to be driven by Asian trade. "That's the hot bed of global trade, the whole Pan Asian territory," he says. "We're not just on their radar – we're at the top of the list."
Georgia's ports are driving job growth throughout the state. "The Southeast is ripe for re-shoring of manufacturing, and our agriculture exports – particularly forestry, but also poultry, grain and cotton – will continue to rise to meet Asia's changing economy and culture. As their middle class continues to grow, there will be more demand for all these products. We're bullish on Asia."
As the ports' infrastructure grows to meet the rise in flow of materials, the GPA remains committed to environmental stewardship and efficiency, says Foltz. "This year we expanded our conversion from diesel to electric, and created 14 acres of wetlands that will treat 4 million gallons of stormwater," he says.
For more on the ports' environmental efforts, see "Growing Green," our story from January 2014. Watch for an update on the ports in the January 2015 issue of Georgia Trend.
Pictured: Curtis Foltz, Georgia Ports Authority executive director
Image Credit: Russ Bryant
– Ben Young