Starting Early
How Georgia's private schools educate their youngest students.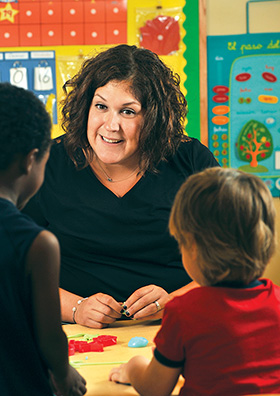 Child's play is actually hard work – and important work at that.
Playing with blocks? Fun, sure, but also good for building crucial math skills. Playing dress-up and make-believe? A key part of early literacy.
"What we know about young children is that their work is to play," says Patsy Ward, director of early learning at the Children's School in Atlanta's Midtown. "If you were to spend the day with our 3-year-olds or 4-year-olds, it might look like they were playing all day, but there are academics embedded in just about everything that we do."
Educators have long understood the value of education in early childhood – the time from birth to kindergarten age – but widespread public awareness is more recent. It has brought more options and more of an emphasis on learning rather than simply keeping the very young safe and sheltered. Early education is valuable both for the rich experience it provides young children and for the foundation it builds for future learning.
And it is something that private and independent schools have been doing well for a long time.
"Experience – and a lot of research – says that the early childhood experience has a huge effect on your life later on and learning outcomes in a lot of different areas of development later on," says Dr. Barry Shealy, assistant headmaster and curriculum director at Macon's First Presbyterian Day School. "Even if you have bad experiences later on, those positive early experiences can help you overcome them."
For the 3- and 4-year-olds at Shealy's school, it's a matter of encouraging their natural curiosity and enjoyment at exploring their world. "That curiosity and exploration lays the foundation for all of their learning as they grow. We try to design instruction that engages them, has them active, has them involved and learning to enjoy the world around them."
At the Children's School, the pre-K academic program includes Spanish, art, PE and technology. "There is a balance between inside and outside, active and quiet, a lot of emphasis on socialization and play," Ward says. "The creative play that goes on helps form the basis for language, creativity. The sort of make-believe play children do, that's the beginning of storytelling and early literacy."
As for playing with blocks: "There's a lot of geometry and measuring, learning how high you can build something, what can you balance on something, how do you make things fit together. Early math skills are coming into play there."
But is there a perceptible difference in children who have had a solid pre-K experience and those who have not?
"Very definitely," says Bettyann Collinsworth, principal of the lower school at Prince Avenue Christian School outside Athens. "Even in kindergarten, you can tell if they've had a good quality pre-K program or been at home or in a daycare center. It makes a difference if they already had a lot of academic foundation."
Money, Resources
One result of the new early-learning awareness includes more than $50 million in federal funds coming to Georgia through Bright from the Start: the Georgia Department of Early Care and Learning. Deputy Commissioner Kristin Bernhard says some $2 million of the money will be used for cash incentives to teachers in public and private schools who earn bachelors or advanced degrees and to daycare workers who earn certificates or technical school diplomas. The awards range from $1,200 to $2,400.
"After parents," Bernhard says, "the teacher is the adult who has the most influence on young children from birth to 5 years. It's critical for that individual to have access to the best training."
Some of the federal money will be used to implement a quality rating system for early childcare centers (as opposed to schools) – clearly aimed at raising the level of smaller daycare operations, many of them family-run, and the offerings they provide.
Until the mid-1990s, when Georgia's lottery program started bringing in money to fund some public school classes for 4-year-olds (about $5 billion over the last 20 years), there was no pre-kindergarten component in the public schools.
In fact, Georgia law does not require children to attend school until the first grade, although all public school systems in the state have kindergarten classes. For the state-funded pre-K classes, demand generally exceeds supply.
Nonetheless, research showing the value of early education has been around for more than 100 years.
Ruth Robinson Saxton, a Georgia State University clinical associate professor and specialist in birth-to-kindergarten education, says the history of the field dates back to the 1800s and early 1900s with researchers like Friedrich Froebel, Maria Montessori and Jean Piaget, who were psychologists and educators.
"Those of us who are really grounded in early childhood education, particularly preschool and kindergarten, have long understood the importance of the early years. More recently the public has become more aware, in large part through discoveries we have made in brain research, recognizing that in fact helping young children develop before kindergarten or even well before age 4 is critical to achieve their full intellectual and emotional potential."
Historically, it is private schools that have been the innovators and champions of early education efforts.
Most of Georgia's private schools (as opposed to licensed daycare centers, learning centers and franchised for-profit operations) belong to the Georgia Independent School Association (GISA) or the smaller Association of Christian Schools International.
GISA's Vice President and CFO Kandy Lau says some 112 of GISA's 160 member schools have at least a pre-K program for 4-year-olds; some have classes for 2- and 3-year olds as well. All GISA member schools are accredited.
Not surprisingly, Lau, a former pre-K and kindergarten teacher, is a strong advocate for early learning. "The foundation starts at a young age, and the most important thing is that everything that is presented is presented at whatever age it is developmentally appropriate."
She recalls a father who wanted to know when his kindergartener was going to start learning his multiplication tables. "I said first he's got to recognize his numbers and add a little bit, don't you think?"
The process of educating the very young is all about skills building on each other, she says, recognizing that children develop at different stages and being responsive to those differences. "That light bulb in reading comes on at different ages." A good early education program is about "making sure the child has a chance – not just having it all poured into him without an understanding of what's poured in – [and] learning those skills that grow into problem-solving and critical thinking at a later stage."
How They Do It
There is near-universal agreement among educators on the importance of developing language skills, math skills and motor skills, as well as social skills. But individual schools have their own ways of achieving these goals, often based on a particular philosophy or set of values.
Atlanta International School (AIS), which educates students from age 3 through high school, believes in language immersion. All pre-K classes are conducted in German, Spanish or French by teachers recruited from around the world – no English until elementary school.
"Brain research shows that the optimal time to teach language is when children are 2, 3 or 4," says Maria Voutos, coordinator for AIS's Early Learning Center. "They really are sponges. The ability to acquire the language is really a beautiful process we see from the very first day of school. Immersion gives them a strong, well-rounded foundation."
The approach is effective even for the very young ones just getting comfortable with their native tongue, she says. "For the most part they just take it in stride. Children lack that filter that we put on as adults. Children are inquisitive by nature. A child clicks into the content clues. They don't have inhibitions. We want to get them to the point where we are breaking the threshold of their comfort level [and] they are asking questions, wanting to know what's happening next. It's not a cookie-cutter model for all children, but for most it's a fairly smooth transition."
Religious or church-affiliated schools incorporate specific values into their academic programs.
"Spiritual is our biggest piece since we are a Christian school," says Prince Avenue Christian's Collinsworth. "We partner with Christian families who want their children to be taught specifically from the Word of God in every subject area, not just Bible classes." Her school teaches students from age 3 through high school.
"We understand that kids are created in the image of God. That means they are treated with dignity," First Presbyterian's Shealy says. "They are active and rational and purposeful individuals, they have the capability to love and relate to God and others in their world."
Every school utilizes certain techniques – some old, some new – that work for its students.
Take reading, for instance. Technology has a place, Ward says, but the tried-and-true method of having children sitting in a circle with the teacher reading to them, showing them the book and the pictures in the book, is invaluable. The students become accustomed to words and ideas and begin to understand the flow of a story. "One teacher might be reading, another sitting with a child on her lap. You see lots of hugs."
"We want to have our kids have a good experience with literacy, with books, being read to and reading," says Shealy. "We want our kids to be involved – they are not writing term papers, but they are composing ideas and stories and thinking about the things they are reading and hearing and talking about it. We're very strong on conceptual development, being able to think and respond to things they are reading or having read to them."
Shealy says games are important for building math skills and early conceptual abilities. "If you have a very engaging, well-designed, intentionally developed game, that can be a way of having kids practice skills and having experiences where they develop a conceptual understanding."
The Essentials
Although preschool education can take different forms and have different emphases, there are some basics, some commonalities that can't be excluded.
"The guiding principle is a firm, clear understanding of childhood development," says Gina Elowe, an early education specialist who has put on workshops for GISA. "The ages and stages inform decisions you can make. The research is very clear on the importance of early education. It's a precious, exciting time."
Early education imparts knowledge, but it also provides an opportunity for teachers to spot weaknesses and provide additional help to children who may need it, Elowe says.
Above all, Elowe says, the curriculum has to be meaningful. "It has to make sense to a child." And the teacher who presents that curriculum has to be dynamic, energetic (there's very little down time for teachers of 3-year-olds) and well trained.
All the educators say nurturing is a crucial and inherent part of their programs. "We emphasize kindness and kind words," Ward says.
"We try to foster a sense of independence, foster a sense of exploration, of play and laughter," says AIS's Voutos. "All of these lead to learning. Laughter and play are the ticket, the vessel we use. Our goal is to provide [children] with opportunities to express themselves socially, emotionally, creatively, in a safe space that belongs to them."
The idea of a safe haven, a real community, is important to most schools. "We want you to see this as a place that feels like home," says Ward.
And in terms of fostering a sense of community – it really does take a village – many schools see a plus in teaching early childhood grades on a campus that includes older students, even up to 12th grade, to instill a sense of belonging, to give them some older students to emulate and to prepare them for what takes place in the elementary, middle and high school years.
"They love being part of the community," says Collinsworth of her young charges. "Everything we do even at this lowest level is to lay the foundation for what we are going to do down the road. Developmentally, we want to make sure our kids are prepared to do what we are going to be asking them to do."
The Parent Component
For all the glib jokes about "helicopter parents" hovering over their children, the educators we talked to don't see much of that. They see concern, often some initial anxiety, but mostly a willingness to work with the professional educators in the schools they choose for their children.
"Parents and guardians must be partners with the school in the best interests of the child," says Saxton. "Parents know the children, but children spend long days at school – six, seven, sometimes 10 hours a day. It calls for very clear and open conversation between parents, guardians and school personnel."
When parents see their children making progress, they tend to relax.
Still, Lau understands. "It can be hard to hand off a 3-year-old." She recalls a day early in the year at a school where she taught, when she saw a teary-eyed mother standing outside a classroom looking in at the 3- and 4-year-olds – one of whom belonged to her. Lau asked if something was wrong.
"He just went in and acted like he didn't even miss me," the mother said.
"That's good," Lau responded and congratulated her on the fine job she had done preparing her son. "You can feel secure knowing he is happy."
"I guess I was thinking about me," the mom said, "not about him."
---
CHOOSING A PRESCHOOL PROGRAM
Before you enroll your child in a school, do some homework, the experts say. It's one of the most important decisions you will make.
Check out individual schools' websites and gather all the information you can, but don't stop there.
"Go and visit," says Kandy Lau of the Georgia Independent School Association. "You need to walk the halls. It's better to do it sometime when the school is in session." That allows you to get a feel for the place and observe how teachers and students interact.
"Make sure there is an open-door policy," says GSU's Ruth Robinson Saxton, so parents "can come in at any time if they need to observe their child, not just at a scheduled time. There might be a different experience at an unscheduled visit."
Location, cost and the school's schedule will be important considerations, but you want to be certain a school's values are in line with your own. Don't be shy about asking questions – lots of them.
"Every child is not a fit for every school," says Lau. "A parent needs to think, 'What am I looking for?' Find a school that will be your partner." – Susan Percy