Farm To Fork
Georgia's agriculture community is bridging the gap between consumers and farmers, with an interest in bringing everyone to the table.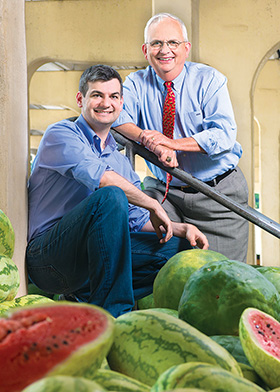 It's a sunny Sunday morning in Southeast Atlanta, and the Grant Park Farmers Market is in full swing. Dozens of people mill about, some lightly picking up tomatoes and smelling them, others chatting with friends.
The purveyors of those tomatoes – and eggplants and peppers and all the other fruits and vegetables that beckon – come from many miles outside the city.
Take Pearson Farm in Fort Valley. On this morning, toward the back end of the farmers market, a long line forms in front of a table and snakes its way past the other vendors. Behind that table, John Short is unloading boxes of peaches as fast as he can, but they still go quicker than he and his crew can unpack them. It's July, the height of peach season.
"A lot of our customers are very passionate about the peaches, and they want to know the variety," says Short, who partners with Pearson Farm to distribute its peaches and pecans to Metro Atlanta farmers markets and restaurants. "It was supposed to be all rainy and stormy weather the other day, and we still sold 75 boxes – we normally sell about 90 there."
Launched in 2011, the Grant Park Farmers Market is part of a wave of markets that have swept through the country like a spring rain. According to the U.S. Department of Agriculture, just 20 years ago, there were only 1,755 farmers markets nationwide. Today, there are more than 8,200 – and more than 130 here in Georgia alone.
"We have 92 farm markets enrolled in the Georgia Farm Bureau's Certified Farm Market Program," says Georgia Farm Bureau President Zippy Duvall. "Today, people want to know who grows the food they consume and how it is grown. So this program continues to assist consumers with farm fresh products and serves as a means for marketing producers."
Farmers markets are not just a place to get fresh food, they are often the beating heart of a community.
"Everybody's been looking at their iPhones all week, and they've been looking at computer screens all week. Then they come to their local farmers market, and they look a real farmer in the eye," says Georgia Commissioner of Agriculture Gary Black. "That's a very cool relationship to see develop, and we're seeing more and more of that across the state."
These farmers markets and the farmers who sell their wares there are just one of many ways Georgia's agricultural community has changed over the past few years in response to growing concern about where our food comes from, the safety of what we eat and how we'll have enough of it in the future.
Eating – and Spending – Local
Georgia's agricultural industry, the part that focuses on the food we eat, whether it's chicken or blueberries, peaches or pecans, is an economic powerhouse that generates $13.8 billion in annual farm gate value – basically the wholesale price of the produce when it leaves the farm – and contributes $71.1 billion to Georgia's economy.
According to the University of Georgia Extension Service, the state's farmers produce more peanuts, pecans and watermelon than any other state in the country.
"Agriculture has been one of those industries … [that has] been very resilient and kind of a beacon during the economic downturn," Black says. "Part of that is because many Georgia products have a favorable position in the global marketplace. We export chicken, forest products, peanuts and a wide range of commodities that are relied upon in the world market. So that helped stabilize this industry through the recent years when other sectors were not doing as good."
Agriculture has played a major role in Georgia's economy and its history, both good and bad, for more than 200 years, since Gen. James E. Oglethorpe first settled Savannah in 1733 with a goal to produce food to ship back to England.
Fast forward to 2014, and food – and farmers – are hip again. Chefs are celebrities, everybody looks to the next food trend and The Food Network is not just a TV channel but an economic powerhouse of its own. People are cooking again, and they increasingly want to know where the food that ends up on their plate comes from.
"Consumers recognize that there's a relationship between food security and national security," says Commissioner Black. "They may not know the intricacies of what it takes to bring food to their table, but they have a greater appreciation today for Georgia farmers than any time I can remember."
Scott Glover is one of those farmers. A fifth generation dairy farmer, he and his wife operate Mountain Fresh Creamery and Glo-Crest Dairy in Clermont on the edge of White County. The Glovers sell their milk and ice cream out of their farm store as well as in about 30 local markets across North Georgia.
"We're not in any big chains – we stay pretty small, pretty local," he says. "That's what's good for us. We're not in the business to compete with major milk brands. It's a totally different product."
Since the Glovers started their dairy in 2000 (the creamery followed in 2011), he's seen more people interested in buying local.
"That kind of put us over the top as far as starting our creamery," he says. "That's one of those things that I think continues to grow and evolve, is people looking to support local. Folks are really interested in where their food comes from."
As consumer preferences and demands have changed, the industry is changing with it. Many restaurants list not only the ingredients that comprise the dishes, but who the farmer is or where the farm is located. Many chefs work directly with farmers to grow a particular kind of carrot or a certain type of radish for their menus.
Places like Heirloom Café in Athens, Local 11Ten in Savannah and Steel Magnolias in Valdosta all purchase food from nearby farms, providing a new revenue stream for the farms themselves.
"Many folks are really choosing to spend their money locally and work within their local community, and the farmers have been really flexible in terms of wanting to grow the type of food that restaurants need to put on their menu," says Karen Bremer, executive director of the Georgia Restaurant Association (GRA).
And it's not just the high-end white-tablecloth restaurants that are seeking out local produce, but also the barbeque restaurant that's selling local pork from 50 miles down the road.
Supporting Georgia
To help connect chefs and farmers, the GRA is partnering with the Department of Agriculture through its Georgia Grown program, a marketing initiative that seeks to bring everyone to the table, from producers and processors, distributors and retailers, to restaurants and consumers, all in an effort to boost Georgia's agricultural economy and instill pride in what the state has to offer.
"Not only do we want to help the farmer and advertise their farm products, we also want to make sure farmers are aware of services provided by other Georgia companies within the state," says Matthew Kulinski, deputy director of marketing for the Georgia Department of Agriculture. "Kubota makes a lot of their tractor and farm equipment right here in Georgia; there's a John Deere plant here in Georgia. There's feed and grain dealers here in Georgia that we would want farmers to know about, so that they can use Georgia Grown businesses in their production – everything from fertilizer companies to the label printers or stickers on their produce."
The GRA hopes to not only educate restaurateurs – there are roughly 16,000 restaurants in the state – about how and where to get local food for their menus, but is also working with the Georgia Grown program to directly connect the two together.
Each year, four chefs are selected from across the state who are making a commitment to putting Georgia produce and food products on their menus.
"They serve as ambassadors throughout the community in exposing different markets and different areas to the vast array of Georgia-grown products that we have," Bremer says. "We hope to expand this program and get more restaurants signed on to what we call Georgia Grown restaurants, where there's recognition for doing a certain percentage with product that is grown here in Georgia."
The Georgia Grown Executive Chef program is just one of many ways the Georgia Grown program is connecting people and companies in Georgia to boost economic development.
"We wanted Georgia Grown to provide education, both to the farmer as to the best way to produce their products to help them sell it, but also to the consumer," Kulinski says. "So they're educated about what's being produced here in Georgia and how they can buy it."
As part of that goal, the Georgia Grown program has partnered with supermarkets like Harveys, Walmart and Kroger – all 170 locations across the state – to put food from Georgia farmers on prominent display.
"It's provided exposure for some of these companies who never would have been able to get it," Black says.
"By spending your dollar on a local product, you're benefiting Georgia farmers, and you're also supporting Georgia companies, creating jobs in Georgia, adding to the tax base in Georgia, to know that your money is going toward someone else who is right here in the state who's hiring people, who's paying local taxes," Kulinski says.
Connecting the Dots
Everyone should have access to those blushing peaches and crunchy peanuts, radiant radishes and rosy-hued tomatoes that beckon from the market table. But produce – especially organic – can be more expensive to grow and sell locally.
The food that is most healthy and juicy and delicious is often out of reach to the large swath of Georgians who live in areas classified by the USDA Economic Research Service as a food desert – where residents have low access to fresh, healthy and affordable foods, in part because there is not a supermarket nearby (fast-food restaurants and convenience stores are not considered healthy sources of food), and in part because of low income level.
To combat these food deserts, places like the Forsyth Farmers' Market in Savannah partner with organizations like Wholesome Wave to provide a means for people to purchase fresh whole foods at a discount.
"At Forsyth Farmers' Market, which we're a co-founder of, there's a lot of community outreach programs to educate the public about food [and] how to prepare it," says Cynthia Hayes, executive director of the Southeastern African American Farmers Organic Network (SAAFON).
Many if not all of the farmers markets in Georgia accept federal Supplemental Nutrition Assistance Program (SNAP) monies and work with Wholesome Wave to provide ways for people to access real food, but there are other initiatives, too, like Fulton County Extension's Fulton Fresh Truck.
"They drive it around to different food deserts and retirement communities, low-income communities, and they give away fresh produce and demonstrate the best way for it to be cooked," says Kulinski. "We helped connect them with some local producers at the Atlanta State Farmers Market so that when they are educating these consumers and bringing in fresh produce to their communities, they're bringing a local product."
There are also many organizations around the state that are helping farmers bring their produce from the land to your plate. Organizations like the Georgia Mountains Farmers Network, the West Georgia Cooperative and the Southwest Georgia Project for Community Education, which provides opportunities to empower socially disadvantaged farmers and connects them with local school systems to supply food.
Farmers Wanted
While more people are seeking out produce grown closer to home, the number of people growing it is a different matter.
"Our farming population continues to age," Duvall says. "Of the 1 percent [of Georgia's population] who are farmers today, the average age is around 57 years old, and it keeps increasing."
Not only that, but the number of farms here in Georgia has decreased over the past five years.
According to the USDA, Georgia lost 11.6 percent of its farms from 2007 to 2012, and the state's total farm acreage dropped by 5 percent. Georgia had 42,257 farms – 9.62 million acres – in 2012.
That presents a different kind of challenge as world leaders look to the future and a rising population here on Earth.
"The world's population is growing, weather is becoming less predictable and farmers are working to do this with less land and less water," Duvall says.
"The most conservative estimate that we've seen says that by 2050, food production globally must increase a minimum of 70 percent," Black adds.
But it's not as dire as it seems. Organizations like Georgia Organics, the Georgia Farm Bureau and SAAFON are working to encourage Georgians to take up the tiller and farm again.
"We reach out to that new generation of farmer a lot, embrace them and make sure that they have what they need to grow and create their own networks to support their efforts," says SAAFON's Hayes.
Hayes notes that especially for African Americans over the past several generations, there has been a stigma attached to farming, and few wanted to do it for a living. In fact, less than one percent of the farmers in the U.S. are African American, down from 14 percent in 1920.
"The slave industry was fueled by the need for agricultural products," she says. "So there's a lot of history, painful history, around that."
When she launched the organization in 2007, she could not find any African-American organic farmers anywhere in the Southeast. Now the organization boasts more than 120 members in six states, with more than 50 of them USDA-certified organic.
Still others are transitioning out of desk jobs and onto the farm or are getting agricultural-related degrees.
"That's a little bit of a cycle, a return to the land. We're seeing some people here farming that were accountants and lawyers," Black says. "They see the opportunity. Not just in the production, but all the other 300-plus careers that are associated with agriculture. People are saying, wait a minute, that's a place where I can get a job."
"The niche stuff like what we're doing, processing our own milk, I think that's given young people a little more incentive," says Glover. "They can see that they can get in and do it on a little smaller scale and take their product straight to the consumer and eliminate the middle man. … That gives them an avenue to possibly get into farming and be successful at it."
Back at the Grant Park Farmers Market, people are just happy to have access to fresh produce and meats. Those peaches worth standing in the rain for didn't travel very far – just 90 miles – and that suits the Georgia Department of Agriculture just fine.
"Anyone who's lived in Georgia for some time knows that there's a bit of a disconnect between the urban parts of the state and the rural parts," Kulinski says. "Agriculture is one of those great industries that's able to bridge that gap between the urban and rural parts of the state.
"We're at a great point in time where the urban parts of the state see agriculture as something that's cool, that's interesting, and that they want to be a part of," he adds. "We need to take advantage of that, to make sure that the urban and rural parts of the state work together."
---
Top 8 Food Products Grown in Georgia
(based on 2012 farm-gate value)
Chicken (Broilers)
Peanuts
Eggs
Beef
Corn
Dairy
Pecans
Blueberries
Source: UGA Center for Agribusiness & Economic Development