Biotech Boom
Georgia is attracting attention for its thriving biotech scene. Could we be the next hub?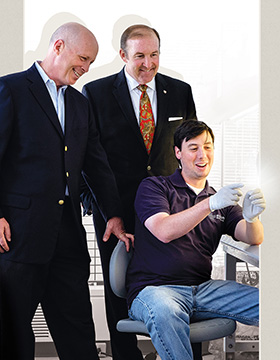 James Ross was still a Georgia Tech grad student when he began work on what would one day become Axion Biosystems. He and a couple of fellow students were developing an instrument to measure the nerve activities of brain and heart tissues in the body. It soon became clear this advanced microelectrode array technology, as it was called, would have wide application for pharmaceutical and biotech companies. Using the tool would give researchers the ability to screen complex human functions and disease states in the lab.
What happened next is typical of how such companies come to be here in Georgia. In those early days Axion was jumpstarted by funding from the National Institutes of Health through a Small Business Innovation Rewards grant along with dollars from the Georgia Research Alliance (GRA).
"They had a program called Venture Labs that funded some high-risk work, and at the time it was a small amount of money that wasn't too difficult to get," says Ross, who serves as chief technology officer for the company. "The GRA would take a big gamble on your project and also connect you with folks who could help you build and grow a company."
The gamble paid off. Today, the firm has long since moved out of the incubator to its own real estate. Instead of three grad students pulling all-nighters, there are about 40 employees and the company is headed by a seasoned chief executive – who was also introduced to the company by the GRA.
"We got started early with [recruiting] the CEO – while we were still developing the first prototypes," says Ross. "At that time we still had a Wild West, work-around-the-clock mentality, but he helped bring some discipline to the project development. As the product matured into prototype, we started adding a lot more functions to the company, like manufacturing, marketing and sales, and bringing in more experienced talent."
Nurturing New Ideas
Axion is one of a surging number of biotech companies that began as research projects in one of Georgia's state-funded universities and then was nurtured to commercial status. Their ranks are growing thanks to academic administrators willing to help researchers obtain patents for their ideas and a variety of public and private sources of dollars and business expertise.
While not nearly as rich and famous as the biotech sectors in San Diego or Boston, Georgia is garnering a reputation as an up-and-coming power. The state's biotech industry – comprised of the bioscience and health IT sectors – employs more than 120,000 and has a $30-billion annual economic impact.
The companies that fall under the biotech umbrella are vast and varied. They range from small startups like Axion to giants like Baxter International and healthcare IT provider McKesson.
Georgia's bioscience industry has been driven by two primary forces. One is the new discoveries and bright ideas that regularly emerge from the state's research universities and become startup companies. The other is a business-friendly climate that puts few roadblocks in the path of those who want to start a new venture or relocate one to the state, according to Russell Allen, president and CEO of Georgia Bio, the state's leading promoter of the bioscience industry.
"We have a relatively low cost of doing business here – that's certainly an attractor," says Allen. "But it's a low cost of business in a major metro city with the resources necessary to help those companies succeed. Here they can rely on corporate partnerships, on products and services and research alliances from the universities. They have access to law firms and other expertise. The airport is a major factor not just for manufacturers so they can get their products out to the market quickly, but also for the corporate headquarters that often have sales and offices around the world."
While Georgia's biotech industry boom has many contributing factors, one seems to stand out when you talk to industry experts. A big advantage the state has over its rivals is a level of cooperation between public and private sectors, government and university that is unique in the country. Consider the close relationships between researchers at two crosstown universities – Emory and Georgia Tech.
"Especially at a university like Georgia Tech, there is a real appreciation for doing research that can ultimately impact society and that's not just in the ivory tower," says Mark Prausnitz, professor of chemical and biomedical engineering, and startup founder. "There is that kind of inclination to support and value research that addresses a societal need. Likewise at a medical school, there is a clear interest in doing things that can lead to improvements in medicine."
As co-founder of Clearside Biomedical, Prausnitz got a firsthand look at how academic institutions can work together. He was part of a multiyear collaboration between Georgia Tech and Emory University School of Medicine that resulted in a microinjection platform to supply drugs into a hard-to-reach section of the eye.
To help take promising ideas like this instrument from the lab and turn them into a commercial venture required specific support structures. Like Axion, Prausnitz's company made use of Venture Lab, which "has been quite important to our ability to move out of the academic lab and into a commercial environment," he says.
It also got the funding to keep it alive. The company was established through a $12-million investment from Hatteras Venture Partners, Georgia Research Alliance Venture Fund and Kenan Flagler Venture Fund in January 2012.
"We're in the process of a third fundraising round and well into a Phase I clinical trial that will be ending soon," he says. "Pending funding, we'll seek to get into the Phase II clinical trials soon as well."
Drawing the Big Guns
Biotech in Georgia is more than the small startups with big ideas. There are also some very large companies that have made their home in the state. In fact, the sheer variety of companies can be staggering at times.
"It includes everything from bio-informatics, which is better known as healthcare IT, to ag bio," explains David Hartnett, vice president of bioscience and health IT at the Metro Atlanta Chamber of Commerce and a bioscience industry veteran. "It also incorporates pharmaceuticals and medical devices. So it's broader and encompasses more of the subclusters than a pure life science."
A reflection of just how diverse the field is can be found in the fact that one important subsection – healthcare IT – is bigger in Georgia than anywhere else in the country. In fact, the state has more than 200 of these companies employing more than 15,000 workers, with the majority homegrown.
"We have more health IT companies in Georgia than anywhere in the nation, and we're now considered the nation's health IT capital," Hartnett says. The state boasts nine companies on the "HIT 100" list generating approximately $4 billion in cumulative revenue, he adds.
Those numbers are getting much bigger as Georgia's biotech assets become better known. The state won a big endorsement when it landed Baxter International's new $1-billion plasma fractionation facility in Covington. Now under construction, the facility is scheduled to be completed in late 2014, with the rest of the campus to follow in 2015. Actual production will be up and running the first quarter of 2018, as Baxter, like other new pharmaceutical plants, completes a complex inspection and licensing process mandated by the U.S. Food and Drug Administration and other federal and state agencies.
The plant's projected 1,500 jobs are a huge boost for a state that has suffered painful losses in the building trades and other industries.
"Baxter was the largest economic development announcement of the year in the country – across all industry sectors," says Amanda Shailendra, director of health sciences, technology and corporate solutions at the Georgia Department of Economic Development. "So the fact that a company making that type of investment chose Georgia really speaks to the assets we have for the bioscience industry."
State officials won Baxter with a strong package that included available property, access to a talented workforce, lower than the national average cost of living and strong business environment, but it didn't stop there.
"We were able to showcase the technical college system and university system programs that will provide the appropriate labor force to the company," she says. While companies like Baxter like tax breaks and incentives that lower the cost of doing business, nothing happens unless they can get the right workers.
Of course, many states offer training programs for company workers, but none of them added a sweetener quite like Georgia. Officials pledged not just training, but a whole school dedicated to producing qualified biotech workers – right next door to the plant. The $14-million Georgia BioScience Training Center will provide training for Baxter International employees and for new companies in the life sciences industry that choose to locate in Georgia.
"The training center is one of a kind in the country," says Shailen dra. She adds that while Baxter will be the first to use the center, its facilities and training programs will also be available to other companies in the industry.
The state broke ground on the 50,000-square-foot facility last March. It will be operated by the Georgia Quick Start program, with well-known expertise in training that has made it a strong asset in helping win companies of all kinds.
"Here in Georgia our program is unique in the way that we partner with industry," says Shailendra. "Quick Start actually hires industry experts to help create the training program. The collaboration between the training program and the technical college system is also unique to Georgia. So it's not just a one-time training program, but we continue to incorporate what we're learning through Quick Start in initial training sessions into the ongoing programs at the local technical colleges. That way we offer programs to those who are already employed and also to help educate a new workforce so that the industry has an ongoing stream of trained workers for the future."
The state's big universities and colleges are well aware of the role they play in building the biotech industry, and they're eager to show their approach is anything but ivory tower.
"Here we have collaboration happening between the public and private universities," says Shailendra.
For instance when Georgia's economic development officials traveled to San Diego a few months ago for the Bio International Convention, they were accompanied by representatives from Atlanta's major universities and the Centers for Disease Control and Prevention.
"We scheduled meetings every day in the pavilion, and we were able to bring in our partners during those meetings," she says. "If a company wanted to specifically ask about the training center, I could walk over to their booth and ask [a representative] to step into the meeting. If they had a question about the research happening at Morehouse or UGA, we could go to the booth for those universities. That way these companies that are making location decisions had everyone right there."
Companies have not been shy about telling the state what their workers need. Baxter, Alcon and other biotech companies have joined in the Governor's High Demand Career Initiative, which included a number of meetings around the state. During these sessions, industry has been able to tell the leaders of the university system and the technical college system about their specific training and workforce needs.
Existing Talent and Infrastructure
Another reason Atlanta has won a starring role in the biotech industry is that the metro area offers firms doing clinical trials for drugs or medical devices ready access to large groups of patients.
"When companies are looking to market drugs or technology they need patients, and one of the most difficult things for any company to get in clinical trials is patient enrollment. So from a pediatric perspective, it's extremely obtainable to get the right patients," says Hartnett.
The convergence of one of the nation's largest pediatric hospitals – Children's Healthcare of Atlanta – and the city's research universities has yielded some notable results in an area that is often lacking elsewhere – treatments for diseases of children.
According to the nonprofit Institute for Pediatric Innovation, only about 6 percent of healthcare dollars are spent on children. As patients, they are outnumbered by adults by more than four-to-one. Adults have more health problems, and that makes drugs and procedures for them a much safer and profitable investment.
As a result, pediatric patients are considered an "orphan" class of patients by the FDA, which has lately been funding efforts to develop treatments designed specifically for children. That gave birth to the Atlanta Pediatric Device Consortium (APDC), which has been lately providing money to get pediatric-specific devices into commercial development. Founded in 2011, it is a partnership between Georgia Tech, Emory University, Children's Healthcare of Atlanta and the Virginia Commonwealth University.
The Pediatric Device Consortia Grant Program was set up to fund medical device projects across the country, and the APDC (one of seven FDA consortia in the country) has taken a starring role, making Georgia Tech a leader in the development of pediatric technologies.
"They want to disrupt the medical device industry such that medical devices are designed for children," says Wilbur Lam, a pediatrician who divides his time between Emory University and Georgia Tech where the consortium is headquartered. "Medical device companies tend to be wary of the pediatric population from a market perspective because kids are generally healthy. It always makes more sense from a marketing perspective to design devices for adults."
Interest in the effort has manifested in the form of large investments, such as the $20-million joint venture by Tech and Children's (announced in June 2012) for developing solutions to improve kids' health, and more recently, a $3.5-million award from the FDA to the APDC announced early this year. In addition to that, APDC administers seed grants each year in its annual Pediatric Device Innovation Competition.
Big-time academic research, visionary entrepreneurs and a state that "gets" biotech have all contributed to the building of the industry. Yet one of the often unrecognized factors is one of the most basic parts of business – transportation. The country's busiest international airport, rail and roads have all made the city a center for manufacturing and logistics.
It also serves one important part of biotech well – the transportation of temperature-controlled materials such as drugs and blood plasma. That's why Atlanta-based UPS is the largest mover of these FDA-regulated products in the world.
"This distribution [infrastructure] is very important because Atlanta has become a very well-known area for cold chain, which is the transportation of temperature-sensitive products that need to be delivered on a very set schedule," says Hartnett.
When you put all these factors together, it's no surprise that biotech has grown to become one of the biggest – but in some ways least recognized – industries in the state. With an increasing number of startups launching and established bioscience companies looking to move to the state, however, you can bet it won't stay secret for long.