Art Of The Meal: Buckner's Family Restaurant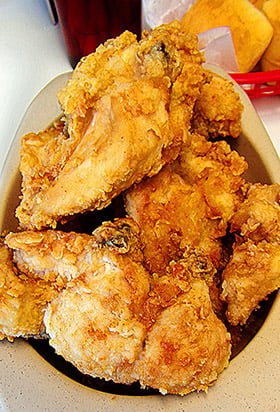 I'm always seeking expert advice, so when I had the chance to chat with Abit Massey, who headed the Georgia Poultry Federation for so long that my husband still reverently refers to him as "the Minister of Chicken," I knew what I wanted to ask: Where do you go for fried chicken?
His answer was swift and specific: "Buckner's," he said, naming the Jackson meat-and-three that's now in its third generation of family ownership. "They serve pulley bones."
'Nuff said. Aficionados of the gospel bird fanatically seek out that small center segment of breast meat (some call it the wishbone) for its moist deliciousness. Perhaps because it requires a knife and fork it has fallen out of favor, and it is sometimes entirely removed from the gigantic pieces more often served these days. However, I forgot about Mr. Massey's tip for years, until I happened across it recently among some old voice memos. It seemed just the right time to try Buckner's.
I'm so glad I did. Like many classic old Georgia restaurants, Buckner's is an experience rather than an eatery, offering much more than just a meal. It has:
• A giant rooster out front, so you can take a picture with it. (A sign warns you not to touch it.)
• Signed photos from Saxby Chambliss, Crystal Gayle, Max Cleland, Emmanuel Lewis, Lester Maddox, Erik Estrada, Jerry Falwell and Donna Douglas (Ellie May Clampett of The Beverly Hillbillies), among others.
• Many religious signs and artwork, including a depiction of the miracle of the loaves and fishes behind the cash register.
The Buckners have their business down to a science. You pay first, then join the line that is likely already long if it's close to noon. You will feel a little like livestock shuffling through chutes, but very soon you'll be directed through a dining room that's so clean and brightly lit it could suffice for outpatient surgery.
You'll be seated with a table of strangers, who will be friendly but busy helping themselves to the plates of chicken, green beans, mashed potatoes, coleslaw, cornbread, rolls, chicken-fried steak, stewed tomatoes, pinto beans and cabbage, all rotating on each table's lazy Susan.
Big squeeze bottles of hot sauce, pepper vinegar and fresh, trimmed green onions, arranged in a plastic tumbler like a bunch of flowers, stand at the ready at each tabletop, poised to minister to customers' whims. The staff checks in often, replenishing empty dishes, which means the food is always fresh from the kitchen and piping hot. You'll hear "We need some more cabbage here, hon," all over the room, from regulars who know the drill. If you want your tea "unsweet," you'll need it in a special pitcher. Because no one else does.
Some of this food is just OK. The chicken-fried steak, for example, had the perfect-to-the-tooth texture, but was underseasoned. The peach cobbler, at the height of peach season, was nothing more than a sweet bite to end the meal. The mashed potatoes were perfectly fine, as well as the green beans. Pinto beans are not supposed to be anything other than velvety-textured, unadorned beauties, so I liked them as well. I loved the finely diced and juicy coleslaw, especially with a dash of hot sauce; the cornbread was crisp and hot. The silky cabbage – I could see why everyone was calling for it – might have been pressure cooked. It retained all its cabbagy goodness, with a fork-tender texture. I also thought the stewed tomatoes were very good – and so rare even at meat-and-threes these days. (Dishes vary slightly from day to day, but chicken is always on the menu.)
But that chicken … Oh, my word. It might have been happenstance, but I don't think our table was served a single piece of dark meat. (It might have been snatched away before I got to it.) Instead, the hand-cut, small breast pieces (including pulley bones, as Mr. Massey promised) were uniformly sized and cooked to the same light brownness. The pieces' small size means each bite of steamy-moist white meat has a big ratio of crispy, salty skin, with no stringy, dried-out sections. Perfection – they are the kind of giant, bone-in chicken nuggets that Ronald McDonald could only dream of. At our table, the chicken platter inspired such quiet awe as we each took our pieces that it felt a little like communion.
Those side dishes are kind of like the prom queen's tuxedo-wearing escort – purposefully understated, so the belle of the ball can take the spotlight. And the next time we're on I-75 between Macon and Atlanta, we'll be making a short detour to visit her.
---
Buckner's Family Restaurant
1168 Bucksnort Road, Jackson
770.775.6150 or
www.bucknersfamilyrestaurant.com
Hours: Lunch and early dinner, Thursdays-Sundays. (Closed Mondays-Wednesdays.)
Parking: Free and plentiful.
​Dress Code: Casual.
---
Speaking of small-town success stories …
Thanks to reader David McCurdy for steering us to Gumbeaux's, its sign looming large over Douglasville's small, charming old downtown. It's the kind of diverse, happy-go-lucky crowd, with several sampling Voodoo Juices and Hurricanes at the bar at lunchtime, that you might not expect to find here – not to mention the Cajun/Creole food. Be aware that the food is served in such enormous portions you could be rendered insensate, but this is the kind of place I'd want to know about if I needed to do business here. The po'boys are good, the sides are rich and the gator bites come with fries. Any entree could easily feed a small village. 6712 Broad St., Douglasville, 770.947.8288. www.gumbeauxs.com