South Georgia Harnesses the Sun With Hannah Solar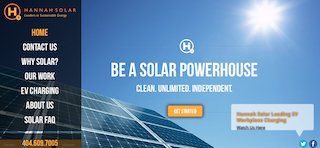 Atlanta-based Hannah Solar, a full-service design-build solar integrator, has invested big in south Georgia. Hannah is building two solar farms with nearly 7,000 panels generating 1 megawatt of power, or enough to power 400 homes, in Oglethorpe, as part of Georgia Power's Advanced Solar Initiative.
The panels are installed on 5 acres leased from Chase Family Farms, and are the next phase in a series of collaborations between Hannah and south Georgia agricultural communities, including Bainbridge and Vidalia.
"South Georgia's agricultural community has always understood the importance of solar power," says Pete Marte, Hannah CEO.
For more on solar and other alternative energy use in Georgia, see this month's Georgia Trend article, "Energy Shake-up.
— Ben Young
Pictured: Hannah Solar Homepage