Growing Gwinnett's Newest City: Peachtree Corners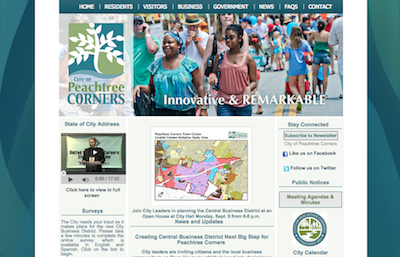 Peachtree Corners, Gwinnett County's newest city (incorporated in 2012) is creating a central business district. Last night, Sept. 8, local leaders invited residents and the business community to an open house to add their two cents on this new area that will also serve as the heart of the city. Citizens were asked to weigh in on issues including redeveloping aging strip malls, incorporating walking and biking paths into the new district, and creating safe ways for pedestrians to cross Peachtree Parkway.
The open house was part of the Livable Cities Initiative study Peachtree Corners started in the spring thanks in large part to a $96,000 grant from the Atlanta Regional Commission. The study will help the city develop a walkable, connected downtown core and create a community identity.
Peachtree Corners, population 38,500, is located in southwest Gwinnett County along the Chattahoochee River. Learn more about what's happening in this metro county in this month's area focus, Gwinnett County: Community of Tomorrow
– Karen Kirkpatrick Kennedy