Waycross | Ware County: Redirecting Progress
SPLOST, swamp and Mayo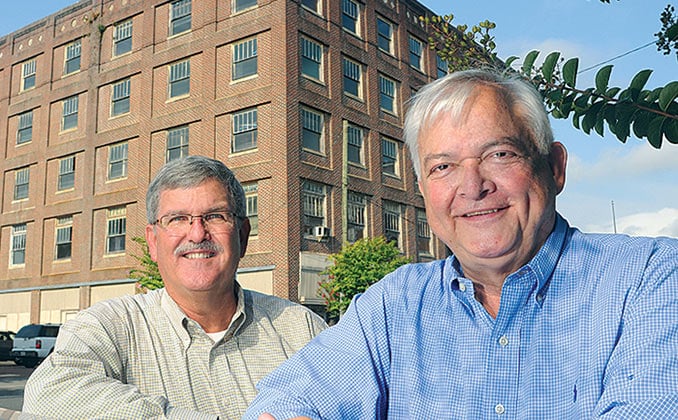 While local sales tax referendums are just about as familiar in Georgia as hot summers, there was something extraordinary about a tax question posed to Ware County residents in May. The citizens in this Southeast Georgia county were asked to reconsider their decision six years earlier to allocate $1.5 million in Special Purpose Local Option Sales Tax (SPLOST) funds toward the construction of a speculative building with hopes of luring a yet-to-be-determined industry to town.
"As it turned out, it was really a mistake because there were already about 90 vacant spec buildings in Georgia," says Jimmy Brown, chairman of the Ware County Board of Commissioners. "We clearly didn't need another spec building in Georgia, certainly not in Ware County, and it wasn't right to build one just because we had the SPLOST money set aside.
"We weren't going to spend the money on something voters didn't approve. That's not the way we do things here in Ware County. So we asked the voters whether they wanted to give us other options by redirecting the $1.5 million."
Blunder averted. Voters agreed by a 2-1 margin to allow the Waycross-Ware County Development Authority to nix the spec building idea and instead to court new industry with a land purchase or industrial park upgrade.
"We believed the voters of Ware County would see the opportunity – and they did," says Danny Yarbrough, development authority chairman and operator of Yarbrough's Office Products & Printing in downtown Waycross.
Georgia Municipal Association and ACCG officials say Ware apparently is the only county to modify a SPLOST-funded project under provisions of a 2011 state law allowing for approved projects to be abandoned – with voter approval – upon being deemed infeasible.
Community leaders said putting the sales tax question on the ballot, along with adequately educating citizens about the measure's intentions and implications, was part ingenuity and part teamwork.
"I think it's the most significant thing to happen in Ware County in many years in terms of economic development for many reasons, not the least of which was that to do so, the county and city governments, the chamber of commerce and the development authorities all had to work closely together for all the right reasons," says Bob Hereford, development authority executive director.
That's saying a lot. The community in the heart of Southeast Georgia at the northern tip of the Okefenokee National Wildlife Refuge has acquired its share of feathers in its economic development cap over the past decade.
Among other feats, the Waycross Ware County Industrial Park and new Waycross Corporate Center are emerging regional success stories; six large, vacated downtown buildings have been revived, including the c. 1929 seven-story Ware Hotel, which is fully occupied as an affordable housing complex. The c. 1937 City Auditorium, which once hosted the likes of Elvis Presley and Johnny Cash, was also rehabilitated.
Next on the restoration list is the five-story Bunn Building, which is being marketed nationwide as a possible affordable housing option. Built in 1912, the structure is across the street from Yarbrough's, which once was a Bunn tenant.
The building was the former "heart of not only downtown, but Waycross as well," Yarbrough says. "It has been totally vacant for almost 18 years, but in its heyday, [it] was the microcosm of our city. In the '40s, '50s and '60s, [the Bunn] building was home to attorneys, insurance offices, dentists, doctors, a drug store, clothing store, office supplies and printing store, and several other small business enterprises."
The industrial park, which is adjacent to the Waycross-Ware County Airport and offers rail service and four-lane highway access to three interstates, has about 25 industries that employ more than 2,000 people. The Corporate Center on U.S. Highway 82 is a 215-acre, upscale campus with underground and fiber-optic utilities, lighted roads, masonry buildings and rail access.
Meanwhile, CSX Transportation continues to be a hub for the Southeastern railway system and the community's economy. With about 900 employees at any given time, CSX's Rice Yard – where six separate railroad lines provide direct one-day access to the entire Southeast and beyond – is among the company's largest operations.
"From small business to industry to transportation, we have a history of success stories – and we have a lot of momentum," says Eva Byrd, Waycross-Ware County Chamber of Commerce executive director. "And when you consider that we have plants like Carolina Skiff, Simmons Manufacturing, Clay-ton Homes and Sherrod Vans, we also have a lot of hidden gems with big names associated with them."
Business-Centric Leadership
Throughout the community's political and civic hierarchy, there's a common denominator in Ware County – businesspeople tend to hold key positions. That's a critical component of the area's success, statewide political clout and encouraging outlook, says Matt Thompson, chamber of commerce chair and president of Sapp's Florists.
"The community leadership is so successful connecting to businesses because it is that same leadership who own and operate the successful businesses within our community," Thomp-son says. "Business owners in our community pride themselves on giving back and helping others within Waycross/Ware County to grow and succeed. When one of us succeeds, we all succeed."
The cooperative spirit fostered by the local chamber of commerce, as well as the proportionately high rate of chamber membership among local businesses, turned heads in June when Waycross – the county's only municipality – hosted a regional Georgia Chamber of Commerce power breakfast.
"Their commitment to the long-term success of not only their city and county but the entire Southeast [Georgia] region was evident in our conversations," says Chris Clark, Georgia chamber president and CEO. "It is clear from the strength and diversity of their membership that the community agrees that the chamber plays an important leadership role."
Second-term Waycross Mayor Clarence Billups, retired executive director of the social service agency Concerted Services, says unity among the city's and county's political and business leadership hasn't always been a Waycross-Ware staple. "We've come a long way in recent years."
He speculates about what changed things. "More than anything, maybe the fire," Billups says, referencing the 2007 wildfires that shut down Okefenokee Swamp Park and decimated 353,000 acres in Ware.
"That was a time when the community really showed what it could do," he says. "Everyone really came together for the common good; it was historic, really."
More recently, Billups says, the community has greatly benefited from legislative reapportionment, which split the county into three parts, giving it four voices in Atlanta, rather than two.
Power of Collaboration
Community leaders were pleasantly surprised – if not downright stunned – in 2012 when Mayo Clinic entered Georgia for the first time, taking control of the 231-room hospital and two nursing homes in Waycross then operated by Satilla Health Services.
It's through the power of collaboration that the world-renowned, Minnesota-based Mayo Clinic now provides Southeast Georgia patients with access to cutting-edge research, technology and medical resources. In gaining Mayo, the region acquired an internationally known brand with deep pockets during an era of economic vulnerability and impending industry-wide reform. The hospital, now known as Mayo Clinic Health System in Waycross, employs about 1,400 people.
"It was especially monumental and beneficial and timely because of the state of healthcare, especially in rural communities, and all of the hospitals that are closing," Hereford says.
In contrast, Byrd says anxiety accompanied the 2013 revelation that an institution of deep-rooted community pride, Waycross College, was merging with South Georgia College in Doug-las. However, the concerns seem to have been unwarranted, she says.
Indeed, this year, the newly named South Georgia State College and the nonprofit, private Okefenokee Swamp Park announced a partnership with worldwide implications. The college's faculty and students have begun using the park's resources as an outdoor laboratory and, by 2015, the park will have two classrooms with the capability of universally broadcasting environmental educational content.
More than eight miles of fiber-optic cable have been installed and about $250,000 has been contributed over the past two years for the multimedia project by individuals and businesses, including CSX, The Coca-Cola Foundation and Georgia Power Foundation.
The fiber optics are being connected to smart board technology in two classrooms, and studio space for filming and editing is being installed in partnership with South Georgia State, Coastal Pines Technical College (the new name for the recently merged Altamaha Tech and Okefenokee Tech) and the Ware County Board of Education. The venture is associated with Internet2, a nonprofit consortium that provides the research and education community with a robust computer network designed to satisfy bandwidth-intensive requirements.
"The local community has been instrumental in helping us raise the money to start this process," says Dr. William Clark, a Waycross ophthalmologist who chairs the park's board of directors. "We will need continued support from local businesses and much broader support from foundational sources with an interest in wildlife education, watershed management, water conservation, cultural preservation and horticulture."
'Dynasty' Building
About 625 miles east of its swampy Louisiana roots, the hit A&E television show Duck Dynasty is directly and increasingly impacting the Okefenokee region's economy. Clayton Homes in Waycross is creating about 20 new jobs as it adds the Duck Dynasty-themed Commander Series to its line of products. Clayton is unveiling a limited-edition, six-home lineup featuring designs inspired by Robertson family members – the TV show's stars.
"This is another huge investment in our community by one of our great industries," says Hereford, adding that it will employ more than 180 people following the expansion.
The Maryville, Tenn.-based Clayton, which is part of Warren Buffett's Berkshire Hathaway conglomerate, says that the Commander Series will include homes with camouflage wall panels and built-in gun closets. Each home in the series will incorporate signature kitchen and bath designs built in Waycross, including "Miss Kay's Kitchen."
More than 20,000 Clayton homes have been built in Waycross since the plant opened in 1988, including more than 600 in 2013, says Rachel Cobb, a communication specialist for the company.
Berry Important Industry
At Mixon Farms in Ware County's unincorporated community of Waresboro, on one of those 95-but-it-feels-more-like-105-degree days in June, Margaret Mason and two of her grandchildren were picking blueberries and cultivating memories.
"It's been a summer tradition for me since I was a little girl that started back up when they started growing all of these blueberries so close to home," she says. "It's hot, but the cobbler is so worth the trouble, and this is some pretty special family time that I hope these two [grandchildren] will always remember."
Blueberries have long-surpassed peaches as Georgia's top fruit crop, and Ware County's production has steadily increased, making it the No. 4 blueberry producer in the state. The Georgia Cooperative Extension Service estimates that Ware County produced about $9 million in blueberries on about 1,450 acres in 2014.
Blueberry grower Joe Cornelius, whose farms are a little south of Mixon in Ware's Manor (pronounced may-ner) community, lamented that this year's crop was below standard during a season that otherwise will be record-producing in Georgia.
Still, he put about 180 people to work during the two-pronged harvesting season between April and July.
"I used to say that I can grow berries, but after what Mother Nature did to me this year, I don't know," jokes Cornelius, who chairs the Georgia Blueberry Commission. "I don't know why, but in some of the fields, the pollination period was not very conducive for bees to work. That's just how farming works sometimes; some years are better than others."
Whether growing blueberries or acting as good stewards of the taxpayer's money, leaders in Waycross and Ware County are working together to ensure a healthy economic environment and a fine quality of life.
LOCAL FLAVOR
On the Rails: It's called railwatching – not to be confused, necessarily, with trainspotting – and it's a pretty big deal.
Following the leads of Jesup and Folkston, the Downtown Waycross Development Authority is building a platform to lure train enthusiasts to town.
"There are a lot of people who love to train watch," says Sloan Fountain, Waycross Main Street manager. "While a lot of us try to avoid trains, these people – these railroad enthusiasts – want to see trains. And we're talking about a lot of people who do that."
Catering to hobbyists known as "railfans" is a keen choice for tourism officials to make, says Steve Barry, editor of New Jersey-based Railfan & Railroad magazine.
Barry says that at least 250,000 people in the United States are active railroad enthusiasts who extensively travel to view their favorite mode of transportation in action. Many chronicle their travels with photographs and videos; indeed, Barry recently traveled with other enthusiasts to Folkston, Jesup and Plant City, Fla.
"Platforms are popping up all over the place – in the Southeast, especially, because towns are finding that [railroad enthusiasts] stay in hotels and spend money in stores and restaurants. It's a good group to capture," he says.
Folkston City Clerk Darlene Williamson says that at least 2,000 people a year, including some from abroad, sign the guestbook at her community's platform, which has ceiling fans, a scanner that broadcasts railroad-related radio traffic, benches and Internet access.
"Tourism has picked up quite a bit" since the platform was built in 2001, Williamson says. "They take pictures and videos that are streamed throughout the world. If you pull up trainwatching on Facebook, you'll see a lot of videos that include Folkston in them."
The Waycross train-watching facility, which will replicate an original Waycross depot platform that once served rail passengers, will be at the head of a 1/3-mile, tree-lined Rails to Trails walking and bicycle path project that broke ground in June.
"It's an investment that will bring more life to downtown," says Waycross Mayor Clarence Billups. – Kevin Hogencamp