Gwinnett County: The Community Of Tomorrow
Diversity, new investment and entrepreneurs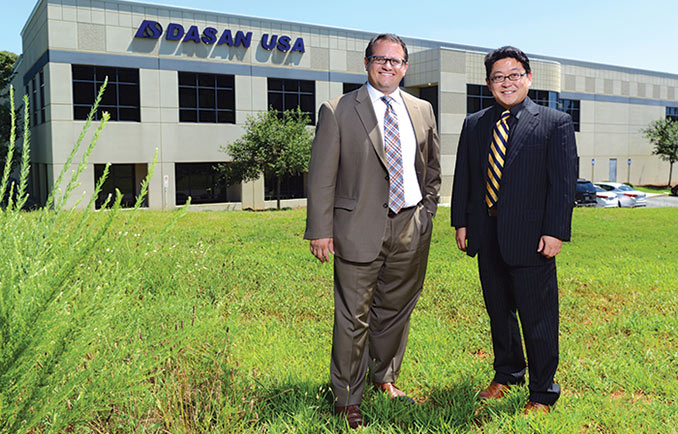 The sounds of hammers building new homes and corporate deals being signed are evidence that Gwinnett County is making a strong and sustained comeback. That's the word from business people, elected officials and civic leaders alike in this bustling county on Atlanta's eastern perimeter.
It's also a diverse region of 16 municipalities and a growing number of ethnic groups that have transformed Gwinnett into a "majority-minority" county. In fact, it looks very much the way the entire country will by 2040 when whites cease being the majority.
"We are the community of tomorrow," says Dr. Daniel Kaufman, president and CEO of the Gwinnett County Chamber of Commerce. "We are the prototype community for America in terms of having significant representation across all the major ethnic groups. If we do it right, we'll be a model for the folks who follow us."
Kaufman insists that diversity is Gwinnett's real strength. In many respects it is one of the factors fueling economic development. The business community – which includes a large number of emigrants – is bustling as entrepreneurs launch an impressive array of enterprises, from retail shops to high-tech firms. The large international populations have also put the county on the map when it comes to firms relocating here from other nations.
Consider Dasan Machineries Co. Ltd., which recently moved its United States headquarters and manufacturing facility – Dasan USA Inc. – to Duluth. The announcement brought with it 150 new jobs and $30 million in investment over three years. The South Korean firm is a high-precision machining manufacturer of steel parts and components for the defense, auto and avionic industries. The new facility represents Dasan's first manufacturing operation in the U.S. and marks the relocation of the company's operations from Orange County, Calif.
When explaining why his company selected Gwinnett, Dasan USA President Jin Noh ticked off the usual things that economic developers like to hear – a pro-business environment, skilled workforce and good infrastructure, including ready access by highway to Hartsfield-Jackson Atlanta International Airport. Then he cited one more thing – Gwinnett County is the center of Georgia's Korean-American community.
This and other international communities have proven to be good sellers of the Gwinnett experience.
"We have had a relocation or expansion of an international company every month for the last 48 months," says Nick Masino, senior vice president of economic development with the chamber. "It just continues to grow."
More than 60 international companies have chosen Gwinnett for their U.S. or global headquarters, including Mitsubishi Electric, Ricoh Electronics, Suniva and WIKA Instruments.
Gwinnett has also proven adept at keeping companies that want to expand and could go anywhere they please in search of a good location.
Duluth-based tech company Clearleap more than tripled the size of its headquarters with the lease of 50,000 square feet in a new building in the Sugarloaf area and the addition of 150 employees. The company has developed software that allows content creators and cable companies to stream media to set-top boxes and Internet-connected televisions. Its customers include HBO, Verizon, Time Warner and Scripps Networks.
Some of the nation's biggest companies are also finding Gwinnett an attractive place for corporate headquarters.
"We started the recession with one Fortune 500 company and ended the recession with four Fortune 500 companies," says Masino. "I don't think there's any county in America that can say that."
These days the county can boast that it's home to AGCO Corp., NCR, RockTenn and Asbury Automotive Group.
Having so many companies – large and small – will pay dividends down the road whenever there's another economic downturn. Local leaders are well aware how much other communities have suffered when the town's one big employer shuts down. Gwinnett itself was much too dependent on home building and had a hard time finding its way back after the crash.
"We're trying to diversify our economy and economic base more than we have in the past," observes Kaufman.
Some recent announcements include a $10.5-million expansion for communications equipment firm ViaSat Inc., adding 275 jobs, and a new VetConnexx customer service contact center, which brought in 300 jobs. While the big companies tend to get all the media coverage, chamber officials realize that small business is big business. In fact, out of the 21,000 businesses in Gwinnett, about 75 percent have 10 or fewer employees. This past year the chamber has channeled considerable resources into helping develop small businesses.
"We're a small business community, and two thirds of the new hiring comes from new business and small business," says Kaufman.
Kaufman has devoted considerable effort over this past year – his first as chamber president – to getting to know the community and what it needs to be successful. One of his first tasks upon being appointed last year was to visit each of the county's mayors.
"What I saw were communities that, as the economy begins to recover, are now committed to building the kind of live, work, play spaces we think is so important for economic development," he says.
City Centers
Many of the county's 16 municipalities are exploring the idea of mixed-use development with retail and walkable urban spaces nearby that more and more people – from millennials to empty nesters – are seeking in a place to live.
That's a vision already taking shape in the county seat of Lawrenceville, according to Mayor Judy Jordan Johnson.
The downtown already has its share of mixed-use development, dense urban residential and a growing and diverse community of shops and restaurants. It also has a local government that is more than willing to push development forward wherever it can.
"The approach we're taking is aggressive community-initiated development," says Johnson. "That means we as a local community are trying to show active and direct investment into the growth of the community through different projects. Some of those projects use our ability to attract developers, and sometimes we partner with others to complete projects. Our goal is to maximize development and growth."
The city is trying to encourage growth by using local monies, including Special Purpose Local Option Sales Tax (SPLOST) dollars, Livable Centers Initiative (LCI) grants and public-private partnerships. The city is also working diligently to create an environment hospitable to business and development, according to Johnson.
Lawrenceville can boast two vibrant and growing "evergreen" industries within its borders. There's Georgia Gwinnett College, one of the state's fastest-growing institutions of higher learning. The city also has Gwinnett Medical Center, with its concentration of physicians and medical employees.
Both of these organizations are more than just budgets and spending. Each is helping economic development in its own way. Many of the condos at Cornerstone, the downtown mixed-use loft development, are college faculty. The college's students are spending money in downtown and pushing the growth of local businesses. The hospital is even fostering a nascent medical device industry here.
A number of small and startup businesses are clustering at Cornerstone at NovoLogic, part of the mixed-use Cornerstone development. This coworking space was the brainchild of NovoLogic's CEO and founder Burke Allen. The company, a communications consulting group, was looking for a new location for its own operations when Allen hit upon the idea of opening a coworking operation. "We needed more space, and we wanted nicer space that would really represent the quality of our brand," he says.
The setup would not only provide space for some of the growing numbers of solo entrepreneurs and small companies in town, but also foster the kind of networking and interactions that can lead to big deals.
Lawrenceville is also home to the county's only "maker" space. Geekspace Gwinnett offers not only conventional coworking arrangements with desks, Wi-Fi and coffee, but also soldering stations, oscilloscopes and testbed power supplies. There are 3-D printers, a metal lathe, a CNC mill, sanders, grinders, a reflow oven and other equipment for use in robotics, engineering, costuming, woodworking and more.
"Most people work their 9 to 5 and then come out to our space and do what they want to do," says Geekspace President Joe Ratulowski.
The space has about 20 full-time members along with a couple of large companies that use the space as their creative office away from the office. With most people working full time, the space tends to be empty during the day, but filled in the evenings with would-be entrepreneurs trying to build an idea into a business.
Nearby, Lilburn has been busy improving traffic along the Highway 29-Main Street corridor with a $3.5-million project. The odd angle of the street has long created something of a traffic hazard, and the new work will both straighten it and also open up opportunities for development in the Old Town section.
"We wanted to create new ground for developers to do something with property on Highway 29 and increase the tax base while generating some new activity on the highway," says Doug Stacks, director of the Lilburn Downtown Development Authority.
The realignment will provide a new and improved main entrance into the city that flows past city hall and create a more pedestrian-friendly thoroughfare. "I like to tell people we're moving Old Town up town," says Stacks.
The city is also investing about $10 million in the construction of a new city hall and library. These and other improvements will encourage more development in that area, according to Stacks.
Road improvements in other areas of the county include the new diverging diamond in-terchange (DDI) at Pleasant Hill Road and I-85 – one of the heaviest-traveled intersections in the state. Open since June 2013 within the Gwinnett Place CID, it's the country's first eight-lane DDI.
Housing Booms Again
While locals aren't exactly shouting from the rooftops about the improving economy, pretty much everyone has taken a stance of "cautiously optimistic."
"Because Gwinnett was heavily invested in banking and real estate, we got clobbered harder than most," admits Kaufman. "Now as both of those sectors have begun to recover, a lot of the [subdivisions] that had been laid out, but just stopped with the recession, are now being filled in."
Residential real estate is getting back to something like the normalcy of the pre-recession crash. The mammoth housing inventory loaded with foreclosures has largely evaporated, and prices are beginning to edge up into something of a seller's market, says Kathy Haddock, president of the Northeast Atlanta Metro Association of REALTORS® and an associate broker with Virtual Properties Realty.
"The home inventory is so low right now that home values are rising tremendously in our area," says Haddock. "We're one of the top areas of the country where the home values are increasing."
Home sales rose by 19 percent overall between October 2012 and April 2014. The big difference these days is in who's buying. According to the numbers, sales to owner occupants have risen by 121 percent during that time, while sales to investors have dropped by about 42 percent. Prices have also started to go up in Gwinnett. The average selling price went from $137,485 in March 2012 to $204,284 this year.
"We're issuing more permits to build houses, and we're beginning to fill out that excess capacity that we had five or six years ago," says Kaufman. "In that sense, the housing market has begun to recover, which is a good thing."
Despite rising sales, homebuilders have yet to get back into the market at pre-recession levels. Many builders were driven out of the business by the crash, leaving the larger companies with deep pockets to buy land and build homes.
The signs of an economy on the upswing can be seen across this vast suburban county, and those signs are reflected in a brighter, more optimistic outlook in everyone from major business CEOs to government leaders to the owners of the thousands of small organizations that keep Gwinnett humming.
Local Flavor
Smart Space: While coworking spaces are by no means new, they are increasingly being seen by local governments as a means to foster economic development.
The small town of Grayson converted an old warehouse into a coworking and incubator space. The emphasis here is on fostering the development of new companies, more than providing an office away from the home office. The goal is to nurture growing companies that can jumpstart economic development in the town, according to Gail Lane, Grayson Downtown Development Authority (DDA) manager.
The 438 Grayson Parkway building was purchased by the city several years ago. As time passed, officials tried to figure out what to do with the old, rundown space. Eventually it was handed over to the DDA for a coworking space. "Although most people didn't really know what that meant," says Lane.
The downtown facility offers both coworking and incubator programs for new businesses. Along with cheap space, the DDA connects entrepreneurs with local mentors who can help them develop and perhaps avoid some of the problems that can hamper any new enterprise.
"We leased the space from the city, and the DDA had it built out and reconfigured inside," says Lane. The space now has four private offices, a reception area and conference rooms. The front of the space includes cubicles and is more like a small, traditional coworking area, according to Lane.
She adds that those using the space view 438 as "ideal for finding a quiet spot to either get some work done, catch up on emails with a cup of coffee, or for meeting with clients, having conferences and networking with other entrepreneurs. We've found the concept of 'Getting out of the house and into Grayson' an overall positive experience for those who are part of our programs."
In the city of Sugar Hill, there is a new coworking space in the old city hall. The Suite Spot @ Sugar Hill marks one of the first times a city government has converted a city hall into a coworking arrangement. In fact, according to city spokesman Scott Andrews, the town may be the very first.
The building became available after the construction of a new municipal center. Rather than sell off the not-quite-historic 1970s-era property or turn it into a parking lot, city leaders saw an opportunity to foster development among the estimated 80 percent of local businesses that are home based. The Suite Spot @ Sugar Hill was born.
"We see it as a business incubator model," Andrews says. "We want to get young growing companies or home-based businesses in there at a very inexpensive rate. Our goal is to have them grow with the city and move on to the other real estate we will have available very soon."
More than half of the 10 upstairs offices have already been spoken for, and a tutoring company called Grasp Learning fills about half of the bottom floor. The front section of the columned building is set aside for coworking space and will have a "Starbucks feel," Andrews says. "We're trying to give it the trendy industrial look with glass and metal, someplace that people want to come and hang out and work." – Randy Southerland