Energy Shake-Up
With Plant Vogtle under construction and Georgia Power's expanding alternative energy portfolio, Georgia's energy landscape is set to change dramatically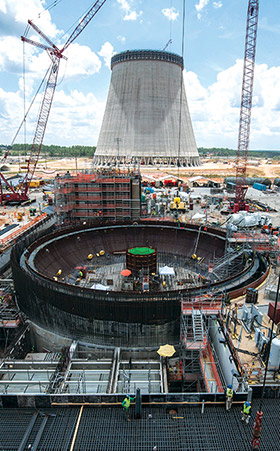 Ten years from now, energy distribution and usage in Georgia is going to look very different. A preference for alternative energy sources is growing in the business sector, fueled both by bottom-line savings and consumer demand as new technology becomes more affordable.
"We will focus on a reliable, safe and affordable clean energy platform," says Georgia Power President and CEO Paul Bowers. "Our renewable options will continue to expand."
At the other end of the energy spectrum, technology that makes it easier to extract fossil fuels from natural gas by fracturing rock – commonly known as fracking – has driven the cost of that energy down, which has in turn driven down the imperative for providers to diversify energy sources. While political deadlock has complicated the situation, the consensus among the global science community, based on existing technology, is that nuclear power is the only way we can prevent carbon emissions from having a catastrophic impact on our environment.
The stakes are high on a local level, with Georgia facing an expected population boom of 4 million new residents by 2030. Fortunately, there are projects underway across Georgia that will have our state relying on a variety of alternative energy sources by then, including two new nuclear power units at Plant Vogtle in Burke County. Solar and wind energy are also playing an increasing role.
Regulating it all is the Georgia Public Service Commission, an elected entity with a keen eye on diversifying our state's energy feed stock.
"We're advancing with the nuclear program, and that's very important," says Public Service Commissioner Lauren "Bubba" McDonald Jr., who was honored with the 2014 Individual Achievement Award by the Solar Foundation for his efforts in Georgia to promote solar energy. "When you blend in the cost of solar, it stabilizes the final cost, because the price of the sun is the same every day."
These projects will also go a long way toward helping the state meet new federal emissions guidelines. Under the guidelines, issued by the Environmental Protection Agency (EPA) in June, Georgia needs to reduce its carbon dioxide emissions by 44 percent by 2030. The ramifications are massive, and industry leaders believe such a goal may be impossible without a spike in rates. However, the guidelines provide states the flexibility to determine how they will meet that goal and whether they will develop a state-only plan or collaborate with other states to meet the goals.
It has frustrated some Georgia leaders that we have not gotten credit for building the reactors and solar operations already underway. The EPA "should not penalize the citizens of Georgia for investing billions in more nuclear power by not giving us full credit for this carbon-free energy resource," McDonald wrote in July in a response to the new rules; "partial credits" are "unacceptable."
The EPA expects to finalize the guidelines by June 2, 2015, following a period for public comment and public hearings across the country. States will then need to submit their initial State Implementation Plans by June 30, 2015. The federal government has not been unsupportive of Georgia's efforts; $3.46 billion in loan guarantees for the new reactors, which is estimated by Georgia Power to save customers $225 million to $250 million, was finalized in February.
The Nuclear Direction
Throughout the world, there are more than 430 nuclear power reactors operating in more than 30 countries. In 2011, they provided roughly 13.5 percent of the world's electricity. Thirteen new reactors are in the works in the U.S., including the new units at Plant Vogtle, which lies along the Savannah River just 34 miles south of Augusta.
The two new units at Plant Vogtle have made international news – they are the first nuclear facilities to be built in the U.S. in more than 30 years – but Georgia's nuclear power story began years before.
Construction on Plant Vogtle first started in 1974, with Unit 1 coming online in 1987, followed by Unit 2 in 1989. In 2008, Southern Nuclear, a subsidiary of Southern Co., requested approval to build two new nuclear power producing units at Plant Vogtle, which is jointly owned by Georgia Power, Oglethorpe Power, the Municipal Electrical Authority of Georgia and Dalton Utilities. The Georgia PSC approved the request in March 2009.
Unit 3 is expected to begin operation in 2017, with Unit 4 expected to begin a year later. When completed, the $10-billion capital investment will make Plant Vogtle the only four-unit nuclear facility in the country. The new units will provide power to 500,000 homes and businesses, according to Southern Co.
Bowers has made many site visits to observe the process. "When you see it, you get an appreciation for the enormity of the task," he says. "It is progressing extremely well. We see progress on all fronts. It's exciting for the state."
In addition to powering up the state, the construction and operation of Plant Vogtle means economic development for the surrounding area. Approximately 5,000 people will be employed during the peak times of construction, and 800 permanent jobs will be created once operations begin, according to Georgia Power.
A milestone took place in February 2014 when the 1,100-ton, CA20 module, which will house various plant components including the used fuel storage area, was lifted into place in the Unit 3 nuclear island. Georgia Power and Southern Nuclear, which will operate the new units, will utilize onsite options for storing used fuel. As with the existing units, used fuel from Units 3 and 4 will be stored initially in secure spent fuel water pools, followed by long-term dry cask storage.
Buzz Miller, president of nuclear development for Southern Nuclear, says the project is on schedule to begin loading fuel for Unit 3 in 2017.
"That plant is an important part of us being prepared to meet the new guidelines," says Public Service Commissioner Tim Echols, a champion of alternative energy. "This plant is carbon free, and the EPA is all about carbon emissions."
Solar On The Move
Three years ago, there was very little participation in solar energy in Georgia. Now the state has the fastest-growing solar program in the country. According to a study by Southface Energy Institute, in 2011, Georgia's solar capacity was just more than 13 megawatts. In 2014, installed capacity has already exceeded 150 megawatts.
"Solar has gotten so much cheaper," says Clark Howard, a consumer expert and nationally syndicated radio show host. "The cost of the panels has gone down, and the efficiency has gone up. It's gotten to the point where it makes sense."
Much depends on the location. Solar power could become very viable for residents in South Georgia, where there is plenty of sunshine. Howard says the solar panels at his home in Florida generate more energy than needed nine months a year, while his Atlanta home has yet to generate a surplus.
"Because of where we are geographically, we're one of the top five states for solar," says the PSC's McDonald. "We've got a lot of good land for solar arrays."
Georgia Power is capitalizing on the availability of land and sunshine with its Advanced Solar Initiative (ASI), which was approved by the PSC in 2012 and implemented in 2013.
The ASI seeks to create programs to stimulate solar development in the state and acquire utility-scale solar through a competitive market-based process. The goal is to purchase 210 megawatts of solar capacity by 2015.
Georgia Power is planning to accomplish that goal by both partnering with residential and small commercial customers with solar arrays that generate up to 100 kW (medium-sized facilities up to 1 MW), and by contracting with larger solar farms across the state to sell energy back to Georgia Power.
The biggest contract is with Radiance Solar's solar farm in Social Circle. The largest solar array east of the Mississippi, it will generate more than 30 MW of clean energy, enough to power 2,800 homes. Solar Design and Development LLC is also building solar farms in Mitchell, Meriwether and Upson counties, which in total will generate 19 MW of energy.
Then there's Hickory Ridge Landfill, a 48-acre closed and capped waste mound in DeKalb County that is now covered in 10 acres of solar panels generating 1 MW of energy. It's the largest installation of its kind in the world.
McDonald says the ASI came at the ideal time. He calls it a perfect storm, since Georgia was able to get involved with solar when costs had diminished, land is available and interest rates are lower.
"It's been a very successful program," says Norrie McKenzie, Georgia Power's vice president for renewable development. The ASI should help Georgia produce 900 megawatts of solar power by the end of 2016, he adds.
Other Electric Membership Corporations (EMCs) are seeing the benefits of catching a few rays. Cobb EMC, which has 200,000 members, has a 40-year agreement with Azalea Solar Power Facility, developed by Smart Energy Capital and Jacoby Development in Washington County. Completed in 2013, it generates 10 MW – enough energy to power more than 900 homes.
A group of 27 electric cooperatives will construct an array on a 135-acre site in Hazlehurst in Middle Georgia. It will generate 43 MW and is expected to open by the end of 2015. A plant in Dalton, which opened in 2011, will eventually produce 1 MW of power. And with the success of the Hickory Ridge Landfill, the City of Atlanta is looking into whether it can convert some of its landfills to solar generators as well.
"We have made some good steps," McDonald says. "It's certainly going to help and stabilize the cost of electricity. Solar isn't free; you've got to build arrays [and] have connectivity to the grid, but it has value."
Electric vehicles
Coming soon to a parking lot near you: charging stations. Georgia is ranked fourth in the nation in the percentage of electric vehicle registrations, according to Edmunds.com, with one of the highest tax credits – nearly $5,000 – in the country. This partially explains why Georgia has been the top U.S. market for sales of the Nissan Leaf for eight of the last 10 months.
While Atlantans have really bought in – the city emerged as the No. 2 market for electric vehicle sales, surpassed only by the San Francisco area (3.33 percent) – other major cities in Georgia lag far behind in the sales of electric vehicles.
Whether or not the public demand for electric-powered cars meets the expectations of their enthusiasts, Georgia Power is working to be ready to help consumers, offering EV owners lower rates for off-peak usage, which allows those who charge vehicles overnight to save money. Residential customers who sign up for 12 months and charge their vehicles during "super off-peak hours" between 11 p.m. and 7 a.m. will receive the lowest-cost option.
Georgia Power is also researching the possibilities of using plug-in vehicles in its fleet. Soon it may be common to see an electric-powered bucket truck or light-duty pickup truck. Tests are underway to determine cost savings, noise, reduced emissions and savings in maintenance.
More employers are making it easier for drivers of electric vehicles to charge up during the day. The University of Georgia opened the first charging station in May. Corporations with charging stations include Coca-Cola, Georgia Power, Cisco Systems and TOTO USA.
Echols, who has driven a Nissan Leaf since 2013, uses his position with the PSC to bring together policymakers and businesses involved with clean energy, as well as people who actually use the technology. He has been the driving force behind the Alternative Fuel Roadshow, created to explain and build support for the practical impact of clean energy vehicles, which may use propane, biofuels, natural gas, electric and compressed natural gas. This year, the roadshow visited eight Georgia cities.
"It is my hope that we can get ahead of skyrocketing gas prices and reduce our dependency on OPEC oil," Echols says.
Wind from the West
Wind turbines, a common site in Texas, California and the Midwest, will never take similar hold of the landscape in Georgia. There's simply not enough consistent wind to make it a viable power option.
However, Georgia is adding wind power to its energy mix by purchasing wind-generated elec-tricity from EDP Renewables, a Texas-based firm that operates wind farms in 10 states. Starting in January 2016, Georgia will purchase 250 megawatts of wind energy from two wind farms in Oklahoma.
"There are a lot of wind resources in the Midwest," Bowers says. "We were able to transport that to Georgia and disburse it in our energy plan."
"By adding another form of renewable energy, already constructed, to our energy mix, we keep Georgia prepared for possible rising natural gas prices in the future," Echols says. "And we avoid any construction cost overruns associated with building our own resource."
The state continues to research the viability of offshore wind power. A study found the winds off the Georgia coast fell in the Class 4 category, slightly higher than average. But offshore wind resources need to be stronger to overcome the higher cost of construction and operation. Georgia Power will continue to monitor advancements in technology and evaluate its wind options.
Everything is on the table, including smart grid development, as Georgia moves away from increasingly expensive coal-fired energy. Georgia Power has invested heavily to clean up one of the nation's dirtiest power plants, Plant Scherer, reducing mercury and nitrogen oxides emissions by 80 percent and sulfur dioxide emissions by 95 percent.
In 2013, it announced it would close 15 coal- and oil-burning power generators at Plant Branch in Putnam County, Plant Yates in Coweta County and Plant Kraft in Chatham County or convert them to gas.
The retirement and scrubbing of these old and dangerous plants comes at a cost. While the Vogtle units will provide critical capacity for Georgia's long-term growth, Bowers says more units in Georgia could be on the drawing board. There are currently some 65 nuclear reactors under construction around the world.
"We're contemplating the next step for us," he says. "The dominant solution will continue to be on the nuclear platform."
Army Bases Shine Bright
For the U.S. Army, it appears that energy security, reliability and cost savings may reside with the sun.
The U.S. Army and Georgia Power are joining forces to build and operate a 30-megawatt solar power generation facility on each of three bases in Georgia: Fort Benning in Columbus, Fort Gordon in Augusta and Fort Stewart in Savannah. The project, which is expected to be finished by the end of 2016, would create the largest solar generation facilities operating on military bases in the United States.
"The agreement with the U.S. Army not only marks another step for Georgia Power's solar initiatives, but further enhances the state's position as a solar leader and will strengthen both the bases and the surrounding communities," says Norrie McKenzie, Georgia Power's vice president for renewable development.
Maj. Gen. Al Aycock, director of operations, office of the assistant chief of staff for installation management, says the timing is ideal. Congress has mandated that the military obtain 25 percent of its energy from renewable sources by 2025. Once this project is complete, the Army says that 18 percent of its electricity in Georgia will come from renewable sources.
"It's bigger than that," says Aycock. "It's the ability to continue operations when nobody else can continue operations."
Lauren "Bubba" McDonald, Public Service Commission chair, says the program will benefit the Georgia economy and strengthen national security, since the bases wouldn't be dependent on one form of energy.
"They came to me and said they wanted to use Georgia as their model state," McDonald says. "It will help them meet their mandate and will help with security." He says the advancement would also be seen favorably in the event of future base closings.
McDonald says a similar plan is under discussion by the private sector for Robins Air Force Base. The Air Force has offered 57 acres as a potential site. – Stan Awtrey