Driving the Dream Cars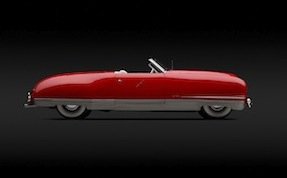 The High Museum's Dream Cars exhibit, open through Sept. 7 in Atlanta, features 17 innovative concept cars from across Europe and the U.S., including incredibly rare designs from Ferrari, Bugatti, GM and Porsche. To complement the exhibit, Table 1280, the Woodruff Arts Center's restaurant, is featuring a selection of Dream Car-tails.
Read about more drinks inspired by the car exhibit and other restaurants that are worth the drive in this month's Art of the Meal column, Mind the Gap.
By: Karen Kirkpatrick Kennedy
Pictured: 1941 Chrysler Thunderbolt and Bubble car: 1942 L'oeuf Electrique
Courtesy of the Woodruff Arts Center