Not Your Ma's Bell
AT&T has upped the entrepreneurial energy of Atlanta with the opening of two new high-tech studios.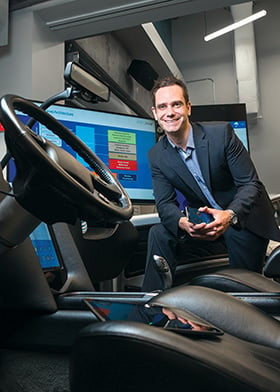 Communications behemoth AT&T unshackled telephones from the wall years ago. Now the company is working to integrate connections of all kinds back into the home – and into our cars – at two state-of-the-art technology studios in Atlanta. The AT&T Foundry and the AT&T Drive Studio, low-key facilities in Midtown that you won't find if you aren't looking for them, are cranking out the next-generation apps, programs and services that will make our cars, homes and lives safer, more secure and more convenient.
More than that, however, they are plugged directly – or wirelessly, perhaps – into the larger economic development goals of the Metro Atlanta Chamber of Commerce, according to the chamber's strategic plan. (Read more about the Metro Chamber's initiatives in this month's Q&A.)
The Foundry and Drive Studio are "creating an ecosystem for innovation" in Midtown, says Beth Shiroishi, president of AT&T Georgia. The Foundry, especially, "combines great ideas and business know-how with the technology infrastructure" that small businesses need to innovate. In addition, it "helps create an identity for the city and state that makes businesses want to come here," Shiroishi says. In turn, those businesses "drive jobs that are good for Georgians."
Faster Innovation, Closer Collaboration
The Foundry opened one year ago this month at Georgia Tech's Technology Square, with a goal to "bring better products to market faster," says Christyna Chandler, former senior marketing manager at the Foundry. The Atlanta Foundry is one of five Foundry locations, four in the U.S. and one in Israel. Developers at these lean innovation centers focus on products and services that can be delivered quickly, using best-of-breed technology partners, while accessing all of the resources of AT&T – making them some of the best-backed innovation centers in existence.
"We move quickly at our Foundries, so we need to be located in cities and regions with deep technical expertise and an entrepreneurial spirit," says Carlton Hill, vice president of device operations and developer services. "Atlanta fits that description perfectly. Not only is it the hometown of AT&T Mobility, but also the city has a great mix of Fortune 500 companies, world-class research institutions and a strong workforce.
"And, by locating the Foundry in Tech Square, it provides great opportunities for Georgia Tech students and faculty, while allowing us to tap into the university's research expertise and entrepreneurial creativity to help accelerate certain projects."
The location also allows AT&T to tap into the talent at Emory and Georgia State. "Georgia is unique in the number of academic research institutions that we have," Shiroishi says. "That gives [the state] a competitive advantage."
After choosing Atlanta, the selection was narrowed to Technology Square because of the "growing startup community right in the neighborhood," Chandler says. "It made a lot of sense for us to be part of it."
In fact, given the roughly 80,000 IT-related jobs already in Atlanta, plus a study from CTIA – The Wireless Association that shows the app economy in Georgia has an annual impact of $1.06 billion, opening a Foundry in town to focus on making future lives easier was a no-brainer.
Located on the ground floor of the Centergy building, Foundry employees have lots of innovators to work with – three floors of incubator companies along with Georgia Tech's Advanced Technology Development Center (ATDC) share the building with them.
The ATDC is a startup incubator that helps technology entrepreneurs launch and grow successful companies. It has been recognized by Forbes as one of the "Top 12 Business Incubators Changing the World," so it is no surprise that sharing a building with hungry startup companies intent on changing the world was part of the location's draw. "We'll hear about something one of the companies [upstairs] is doing and go up to them," Chandler says. "They also come to us."
The office is designed to encourage collaboration between those tech startups and AT&T's developers. Mobility is the name of the game. The open space has no cubicles, no offices, just tables, chairs and white boards, all on wheels so that people can move their workspaces for meetings or to be near project team members. The facility houses 14 to 16 people on a regular basis, including technology developers, a usability and design team, a marketing team, a couple of Georgia Tech interns, several Cisco employees (Cisco is the host sponsor of the Foundry and the technology provider for Digital Life – AT&T's home automation platform) plus people who come and go as projects require.
As Chandler points out, they not only removed physical barriers such as cubicle and office walls, they also removed hierarchical barriers. "It's important at the fast pace we're moving," she says, to be able to talk to anyone at any time about a project or idea – a notion that's at the forefront of workplace design trends.
To further encourage the fast pace and collaborative nature of the work, an open plywood box sits in the middle of the Foundry. About the size of a doghouse – for a really big dog – the box contains all of the components of Digital Life, from alarms, motion sensors and smart outlets to indoor and outdoor cameras. Since the only way to create the next generation of Digital Life products is to use the current products, employees are encouraged to pick them up and interact with them.
And what is that next generation? According to Chandler, the next focus is on products and services that will help seniors age in place, with healthcare-focused devices such as diabetes monitors.
This is where partner companies become so vital. AT&T isn't in the medical devices business, but it is committed to ensuring that third-party devices integrate into Digital Life to provide customers a seamless experience.
Also in the works: products that use geo-fences – preset geographical markers that trigger notifications either through a phone or a connected car. Say you – or your typical teenager – are the last to leave the house, and you forget to set the alarm. Once you've driven a preset distance, you'll get a message on your phone or in your connected car not only telling you about the forgotten alarm, but also allowing you to arm it.
The possibilities for helping auto manufacturers enhance safety and convenience via connected cars seem limitless. That's why AT&T opened a dedicated connected car showroom and innovation facility – the first of its kind – around the corner from the Foundry in January 2014.
Not Your Dad's Garage
The discrete door at ground level inside a standard-issue parking garage in Midtown Atlanta doesn't in any way advertise the cutting-edge work going on inside. The door opens to AT&T's Drive Studio showroom and its focal point – a bright blue Audi A3.
"Connected auto is emerging," says Brian Greaves, director of product development, emerging devices, for AT&T. "Auto manufacturers are asking, 'How do I differentiate my vehicles with connected vehicle services? How do I make interactions more convenient?'"
In turn, Greaves says, AT&T is asking manufacturers, "How can we help you improve your services?"
To meet the needs of automakers like GM, Ford, Tesla, Audi, BMW and Volvo, along with others "to be named later," AT&T is "building tailored solutions for each manufacturer," Greaves says. At the Drive Studio, AT&T can demo products and services for clients and work with technology partners on the latest solutions.
Partners include Ericsson for platform support (the products and services created at the studio run on AT&T's Drive platform), iHeartRadio for streaming, VoiceBox Technologies for speech recognition – a real challenge given the background noise in cars – and others. "We can't get the names on the wall fast enough," Greaves says as he points to the partner names that nearly fill one showroom wall.
A big-screen TV/monitor hangs on the opposite wall in front of the Audi. Greaves uses it to demonstrate AT&T HD Voice – a new service that provides a noticeable uptick in voice clarity. Currently offered in a few markets, and only available with HD-compatible devices, the demo is an amazing preview of the future of sound quality in a connected car.
While the front room is clearly for show and tell, the real work goes on behind a roll-up garage door tucked into the side of the space.
Walk through the door and there are developers with a lot of interesting projects in the works. The Got My Stuff app uses RFID tags to label your belongings, then sensors in your car scan them to be sure you have your phone, your wallet, even your gym bag. If you get in the car initially with your phone, then get out at a restaurant and return to the car without your phone, it will let you know that you might have left it on the table.
Got My Stuff is about making life easy, but, says Greaves, "[a] connected car is all about safety, security and convenience. I want to be sure drivers are focused on driving, not picking up a smartphone."
One way AT&T is looking at making driving safer is with a haptic steering wheel, which indicates when and where to turn using a motion in the direction of the turn that gets faster as you get closer to the intersection. This way, you don't have to take your eyes off the road to look at your GPS or turn voice directions louder or softer as they compete with your music. Other ideas such as constantly running auto diagnostics that alert drivers before a problem arises and some that tie into Digital Life are also under development.
An automotive sled or dummy car – basically a topless car interior – is loaded with these and other bells and whistles. "It was built to showcase connected services in an agnostic way," Greaves says. "So I'm not showing Toyota something in a Chevy Malibu."
This attention to detail is what automakers are looking for, Greaves says. "One reason why AT&T has been so successful over the past two or three years [is that] we know each manufacturer is trying to differentiate."
And how does AT&T know this? "We asked manufacturers what they want. We didn't go to them with 'this is what we have,'" Greaves says.
Now, at the Drive Studio, manufacturers have a place to see what AT&T is developing just for them – and ultimately, just for us.