Augusta | Richmond County: Future Meets Past
Cybersecurity, startups and historic preservation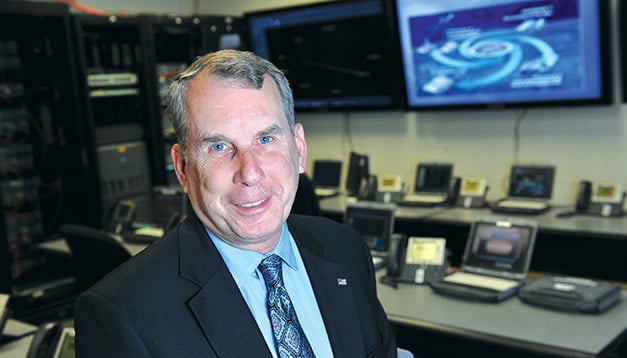 The nation's fight against cyberterrorism is coming to Augusta. Everyone here knows that this East Georgia community is home to one of the nation's top spy outfits – the National Security Agency at Fort Gordon. Now the sprawling military base is set to expand still more with the addition this year of the U.S. Army Cyber Command.
"This is going to be the cybersecurity center for the United States Army," says Thom Tuckey, executive director of the CSRA Alliance for Fort Gordon.
The move will bring up to 4,000 new military and civilian personnel to the post by 2019. The initial detachment is expected to arrive later this year. These new additions will boost the $2.4 billion that Fort Gordon is already pumping into the economy and make it unique in a shrinking military.
"It's probably the only installation in the Army that's going to see any sign of growth because of the force reductions, sequestration and BRAC process," explains Tuckey. "Fort Gordon is in a unique position where it's one of the few good news stories within the Department of Defense."
It's also very good news for Augusta and Richmond County. Cyber Command is not your typical army unit. Among the uniformed personnel who make up roughly two thirds of the unit will be four generals and 28 colonels, as well as many higher-ranking commissioned and non-commissioned officers. Along with family members, the total addition to the local population could hit about 10,000. Most of them will be house hunting once they arrive – a happy thought for local realtors.
"The installation is not building any more housing on the base, so the majority of these folks will live in the community," says Tuckey.
In addition, virtually all school-age children will attend schools off-post, meaning that the local school systems will need to make room for a growing influx of new students. The Richmond County Board of Education is considering a new K-eight school for the west Augusta area to accommodate this expected growth from Fort Gordon and a population shift to the area that has occurred over the past decade.
All the activity has gotten the attention of local leaders. Elected officials and economic development agencies have been busy calculating what they need to make the expansion a success. Those moves will likely include new infrastructure, such as a bigger entrance gate to handle the increased traffic in and out of the base.
The military will be spending a reported $225 million in construction and renovations to build a new headquarters on the base, which officials have said could include expanding parts of the National Security Agency's John Whitelaw Building. Potential new construction is expected to be $170 million.
If approved, the project would be in addition to $56 million worth of renovations planned for a Cyber Command that will include a central headquarters, a center of excellence, additional Army intelligence units and expansion of existing Navy and Air Force operations.
The relocation of the Army's Cyber Center of Excellence will also prove a powerful magnet for specialized companies that are contractors to the military or want to be.
"We anticipate this area will become the Silicon Valley for cybersecurity," says Tuckey. "Anybody and everybody who is involved in cybersecurity will want to have a presence here if for no other reason to hire the best people away from these other companies."
Office space will be in higher demand, and there is also likely to be at least a small building boom for highly secure space that offers enhanced protection from eavesdropping and cyber intrusions.
Although Tuckey says several companies have been sniffing around the city for this type of space, developers are unlikely to lay out the higher building costs until they have tenants already signed.
Talent Magnets
Lt. Gen. Edward Cardon, commanding general of the Army Cyber Command, told the Augusta Metro Chamber of Commerce's annual meeting earlier this year that the region will "become a magnet for the technology and talent needed to stand up these types of missions," says Chamber President and CEO Sue Parr.
"We are going to have to be able to provide all of those things that people want in the community where they're going to live," she explains. "Whether it's our public education offerings, housing or our quality of life, all of those things have to line up perfectly so that we can support the fort by being able to attract the right people for this mission."
Augusta has scored several wins recently. There is a 180,000-square-foot, $172-million Starbucks Corp. factory that opened last year south of the city. The hunting and fishing retailer Cabela's Inc. opened a 42,000-square-foot store, the company's first in Georgia.
These companies are increasingly coming to see the region as an attractive place not only to run a business, but live as well. One area that is becoming increasingly attractive is Augusta's downtown. This historic stretch of blocks along the Savannah River has gotten quite a bit of attention in recent years, and that loving care is beginning to pay off. Along Broad Street and other thoroughfares that crisscross the city center, old buildings are being transformed into shops, restaurants and lofts.
"There is not a lot of [empty] space left, especially on upper Broad," says Margaret Woodard, executive director of the Downtown Development Authority of Augusta. "That's our prime retail and entertainment district."
Her agency now resides in one of the high-ceiling offices on the ground floor of the newly renovated JB Whites Building. The structure is something of a prototype for the kind of development that is becoming increasingly common here. The wide front entrance to the building is flanked by The Book Tavern and New Moon Café – both relocated here from elsewhere in town. The top three floors have been converted to condos and are selling fast.
These are not the first loft-type living arrangements here, but most of the others have been apartments. Units are snapped up as fast they come on the market, driving the occupancy rate to something close to 96 percent according to one estimate. Now developers are testing Augusta's appetite for purchasing real estate.
"We're adding downtown living space and constantly fighting for more inventory," says Woodard. "We need more. It's very popular across the country to come back down to the urban center and live. What we really needed here was home ownership."
These condos, which have been selling at a steady clip, come in one-, two- and even three-bedroom models – providing options for families, as well as students and professionals.
"Downtown is a melting pot for everyone," Woodard says.
Addressing Poverty
Georgia Regents University, which was formed through the merger of Augusta State and Georgia Health Sciences universities, is also looking toward expanding into the downtown core. This is a move that Augusta Mayor Deke Copenhaver has been promoting for several years.
"The chancellor (of GRU) notified me last fall that all future expansion with the consolidated university will come into the urban core," he says.
The prospect of large numbers of students living, working and spending money downtown prompted the city to offer the university the c. 1882 Sibley and King Mills, two enormous former textile mills on the Augusta Canal, to seal the deal. These properties are one of the options now being considered as the university figures out how to finish the merger of the two state institutions.
"The key is the student-housing component," Copenhaver says. "They're looking at 600 beds for the fall of 2016, so just that infusion of students into the city center is great for business. It's where the students want to be, and to my mind that is a game changer for the city."
Copenhaver also sees the university as vital to addressing one of the city's long-standing problems – the wide gap between rich and poor. Poverty here in Augusta-Richmond County has remained stubbornly high, even as manufacturing and high-tech employment has grown. Almost 27 percent of the county's population lives below the poverty line, compared to about 17 percent for the state.
"The really exciting thing to me about the consolidation in the urban core is for years now one of my focuses has been how [to] address our poverty issue," he explains. "The way you address that is through educational and healthcare outreach."
Moving students, faculty and programs downtown would concentrate academic expertise and youthful entrepreneurism into an area already becoming increasingly attractive to startup companies. Many of them are headquartered across Broad Street from Woodard's office in theClubhou.se. This coworking space is home to almost 50 entrepreneurs and small startups – most of them tech oriented in one way or another.
"They're all related to technology in some way," explains co-founder and managing partner Eric Parker, who spent years working as an innovation architect in Silicon Valley. "The angle may be they have an online store, or they might be social media or they could be a robotics company. We think that technology is the central bridging point, because it extends into every industry and every business right now."
The facility grew out of a series of "hackathons" that Parker organized for techies around the city. After holding these events, at which participants collaborate intensively on software or other tech projects, he realized they were spending enough money on venues to pay for their own space.
Theclubhou.se started with 12 members – "enough to pay the rent" – and quickly grew from there.
"Most of the people here were either working at home or in a coffee shop," says Parker. "So it's really the next step up where you get a community, get a more functional workspace. You have the ability to collaborate with others who are doing similar things, and you can learn from."
The space hosts more than 70 events for its members each year. One of the biggest is Co/Work/Wednesday, which begins with a morning meeting for all company founders. Here, they can get suggestions and troubleshooting advice for their projects, as well as accountability from peers on the goals to accomplish. The group then spends the rest of the day working within the space before heading out for drinks to celebrate the end of a productive day, according to Parker.
"We picked this location because there has not been a lot of development there, but it's the symbolic center of town," he explains, noting that it's next door to one of downtown's only parks, Augusta Common, and across the street from the statue of Augusta's most famous native son, soul legend James Brown.
Downtown Revival
A growing number of people on the street are visitors here for events at the new Trade, Exhibition and Events (TEE) Center. This $38-million city expansion project at the riverfront Augusta Convention Center has opened up the city to larger shows and meetings. The facility generated more than $10 million in income for the city in just its first full year, and those numbers are growing, according to Barry White, president and CEO of the Augusta Convention & Visitors Bureau.
"We had a fantastic first year and a strong second year, and it was the stimulus for the first new hotel to open in downtown in 20 years," he says, citing the recent opening of the Holiday Inn Express on Broad.
All of these diverse activities have a common theme – economic development.
"Economic development comes in a lot of different forms," says Camille Price, executive director of Augusta Tomorrow. "It can come as tourism, bringing in new businesses, developing buildings so that new retail and restaurants will go in. It also works together to bring more people downtown."
One of Augusta's greatest assets has long been its stock of historic homes and buildings. City streets are lined with these old, charming and sometimes rundown structures. Preserving as many as possible is the job of Historic Augusta, a nonprofit that works with local property owners and government to not only save buildings, but to also find new uses for them.
Among its recent wins is the c. 1907 Maxwell Building on Broad Street, which once housed a furniture store but whose upper floors have long been vacant.
"This has been a real success story," says Historic Augusta Executive Director Erick Montgomery. "This building really had some major issues with termite damage and sewer drainage, but now it's been completely rehabbed."
There is new commercial space on the first floor and a dozen loft apartments on the upper stories.
Over on Telfair Street, the organization succeeded in saving the 1870 synagogue building that is now part of the municipal government complex. When the "new" city hall was built in 1957, many of the surrounding historic homes were torn down, but the synagogue building was saved. It was most recently home to the planning commission, which moved to the main building following its renovation. While the former synagogue doesn't have a new use yet, the building at least will be preserved for the future.
And for nearly everyone in Augusta and Richmond County, that future is looking a good bit brighter.