Saving an Ossabaw Island History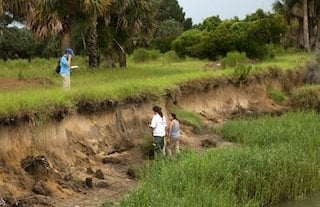 There's a spot in Georgia where students and researchers can look back at life in our state from prehistory through the 1930s. The site, on Ossabaw Island, about 20 miles south of Savannah, contains the remnants of a prehistoric village, an antebellum plantation and a 1930s tenant farmer's home. With signs of human occupation dating back 4,500 years, the site offers exposure to a wide range of archaeological features and techniques.
The Historic Preservation Division of the Georgia Department of Natural Resources (DNR) and Dr. Victor Thompson of the University of Georgia just wrapped up a summer archaeological field school on the island. Open to both graduate and undergraduate students, the field school's goal was to collect information and artifacts from the site at the south end of the island that is quickly eroding into Newell Creek. Findings from the site include prehistoric pottery and fire pits, 19th century ceramics and rare, 15th century tin-glazed pottery called majolica.
Ossabaw Island, a 26,000-acre, undeveloped island is owned by the state, and monitored and controlled by the DNR. It is Georgia's first Heritage Preserve, a designation that allows for the protection, conservation and preservation of the natural and cultural resources of the island and its use for natural, scientific and cultural study, research and education.
The field school will continue its work at the Newell Creek site and at other locations around the island next summer.
Pictured: UGA field school students and archaeology trip participants sort through artifacts found at the Newell Creek site and DNR archaeologists and field school students examine the rapidly eroding site adjacent to Newell Creek.
Image Credit: Charlie Miller, Historic Preservation Division, Georgia DNR
By: Karen Kennedy