Take a New Look at Downtown Atlanta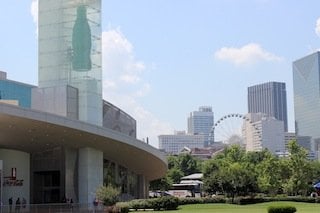 Been a while since you've gone to downtown Atlanta? You might be surprised with what you'll now find.
With the opening in June of the National Center for Civil and Human Rights and the re-opening of the Polaris restaurant in Atlanta, the area is booming with attractions, and summer's a perfect time to take it all in. Grab the whole family and make a day – or two – of being a downtown Atlanta tourist.
Start at SkyView, Atlanta's new Ferris wheel. From up top you can see all of downtown and a good bit of the surrounding metro area.
From there, stroll over to Pemberton Place – you'll see it from SkyView – where the Center for Civil and Human Rights is located alongside the World of Coke and the Georgia Aquarium.
End your day with dinner and another sky-high view at the rotating Polaris, atop the Hyatt Regency Atlanta.
Want to know more about downtown Atlanta's transformation? Check out our interview with A.J. Robinson, president of Central Atlanta Progress and the Atlanta Downtown Improvement District, in this month's issue of Georgia Trend.
Article and image credit: Karen Kirkpatrick Kennedy