Electric Vehicles Help Businesses Go Green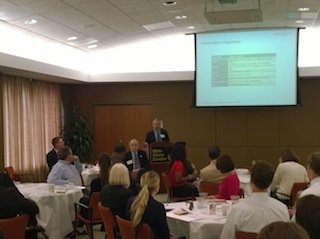 The Metro Atlanta Chamber of Commerce (MAC) presented a panel on electric vehicles at the Clean Tech Leadership Council lunch on June 13. According to panelists, the greatest surge in users may come as big area employers grow infrastructure and incentive programs.
Coca-Cola Co. transportation planner Eric Ganther says their average company employee drives a 90-minute commute. To help offset employee costs and make getting to work more convenient, the company now offers shuttles, bikes, MARTA/Express incentives, and 85 charging stations for 100 electric vehicle drivers, at no cost to employees – and a cost to Coke of only $.88 per vehicle per day.
Richard Lowenthal, the founder and chief technical officer of ChargePoint, a company that manufactures charging stations and helps facilitate configuration, noted that the payoff for companies like Coke is employee retention. "This is not just a good deed," he says. Other companies are finding benefits to installing charging stations, as well. "Target has found that shoppers shop longer if they get a free charge of two hours. Landlords are finding that multifamily charging stations help attract tenants. Plan ahead, infrastructure creates users."
The event also included Bill Strang, president of operations for the Americas, for Toto, a plumbing supplies manufacturer, and Matthew Patterson, director of Supply Chain and Advanced Manufacturing for MAC. For more on electric cars, see our June story, Charging Up.
By Ben Young