Wayne County
Green industry, local partnerships.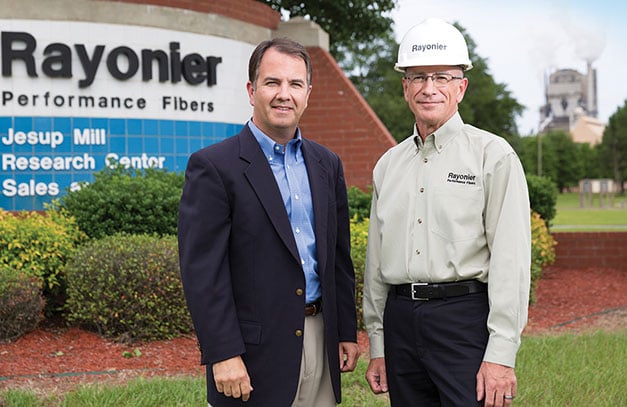 John Riddle returned home to Wayne County in 2008, the year that begat the Great Recession. He had enjoyed a rewarding tenure in Gwinnett County as director of the Gwinnett Hospital Foundation, but he wanted his three sons to know what life was like in a more close-knit community with a slower lifestyle.
The pace of life in Jesup, the county seat, may be slower, but the town and county are definitely not asleep. Riddle, former president and CEO of the Wayne County Chamber of Commerce and now president of the Wayne County Industrial Development Authority (IDA), has helped lead the community onto a faster, more stable track for job growth.
Like practically every other city and county across the country, the community got dinged during the Great Recession, but thanks to a cooperative spirit and strategic planning, there is a palpable excitement about the foreseeable future.
Sixty years ago, the chamber worked hard to bring forest products company Rayonier to Wayne County to take advantage of the area's abundant timber resources, and the company has been the backbone of the local economy ever since. For three generations, it has provided more than 900 jobs at its performance fibers mill, research center and sales office. Indirectly, it has boosted the local economy through spinoffs, service businesses and civic support. For example, Rayonier subsidiary EAM Corp., founded in 1998 and sold to fiber-products maker Domtar in 2012, still makes its home in Jesup.
Last year Rayonier invested $280 million to update its Jesup facilities. "We recognize that with so much invested here, our success and Wayne County's success are inherently linked," says Jack Perrett, general manager of Rayonier's Jesup operations. We work with the IDA and the local chamber of commerce to encourage economic development and help the county grow."
Developing Industry
Just as the recession started in 2008, American Welding & Tank's Jesup operation closed, leaving 40 acres, a 20,000-square-foot building, overhead cranes and two rail spurs deserted. "We saw the value there," says Riddle, and after about 18 months of negotiations, the IDA purchased the site for $625,000. "We went to the state for a loan, but we couldn't wait. We bought it and [then] got a loan for $500,000, 20 years, no interest, five years deferred payment, the best loan you can get."
Williams Brothers Trucking in Hazlehurst called looking for a Wayne County hub location and liked the former tank plant site. Then along came Clyde Bergemann Power Group Ameri-cas (CBAM). The timing was such that the IDA offered Williams Brothers a lease with option to purchase, with the stipulation that they sublease a portion of the site to CBAM. The IDA has now been granted a revolving loan fund – one of the goals of the IDA's strategic plan – through the Georgia Depart-ment of Community Affairs to help reimburse Williams Brothers for work they did on the site. The trucking company's lease payments go back into the revolving loan fund for use in further industry recruitment.
CBAM opened its facility on the property last year, bringing 135 jobs. Headquartered in Germany, the company manufactures pollution-control equipment and other technical components for power plants and the pulp and paper industry at its Jesup plant.
"It's almost as if you opened an economic development book and took something from every chapter and put it in one deal," says Riddle. "It was beautiful."
Other large employers in Wayne County include Sierra International Machinery, a worldwide supplier of processing equipment for the scrap and recycling industries; Great Southern Wood, producer of YellaWood pressure-treated lumber products; and J. Rettenmaier & Sohne, Germany-based maker of Healthy Pet pet products and a leader in the fiber industry.
The county is also home to Federal Correctional Institute Jesup. "[It's] a quiet employer that sits in our community that most people don't think about," says chamber Chair Carey Jones, but it provides local residents with good jobs and benefits.
The county has always supported the IDA's economic development efforts, according to Riddle, but the level of support – $250,000 each year – had always been up for discussion before renewal. This year the county and the IDA signed an intergovernmental agreement, committing to a higher annual outlay of $300,000 for the next 10 years to go toward the IDA's recruitment efforts.
"It takes politics out of an annual discussion of how much we will fund and for what and why," says Jason Tinsley, county administrator. "I think it sends a message to potential prospects that [says], 'Listen, we trust what these guys are doing. We understand the importance of economic development.'"
"We encourage and seek economic development and growth," says County Commission Chair John Shaver. "It drives our budget and the quality of life in our county. We just felt it was time to increase our commitment. We have an excellent [IDA] board and a CEO who is really aggressive" in economic recruiting efforts.
"For 30 years it was something the IDA wanted to get done, and it just never seemed to happen," says IDA Chair Randy Franks, a former county extension agent and longtime local leader. "So we were fortunate this year to get that through. It's a vote of confidence, and it gives us a foundation to borrow money on and do other things that we didn't have before."
Another sign of economic development commitment was the decision to separate the chamber and the IDA, allowing Riddle to devote his full attention to attracting industrial investment. The IDA and the chamber have also partnered to start an economic development foundation, kicked off with the help of a $10,000 donation from Rayonier, to promote and encourage a robust public/private partnership.
"Supporting the communities where we operate is one of our core values at Rayonier," says Perrett. "We recognize that our success is dependent on thriving communities where we can build our workforce and recruit the best talent."
Education, Port Access
A big asset to recruiting new business is the main campus of Altamaha Technical College located in Jesup. The two-year school offers more than 80 associate degrees, diplomas and certificate programs and often partners with local business through the Technical College System of Georgia (TCSG) to train new employees. "I view the college as being a vital part of the community and having a vital role in economic development," says ATC's acting president, Lonnie Roberts. He encourages the college's staff and faculty to play an active role by engaging with IDAs and chambers of commerce in the school's service area.
A recent example of ATC's cooperation is providing space and training through TCSG's Quick Start program for current and future employees of Clyde Bergemann. ATC also serves the business sector by offering courses ranging from software training to industrial maintenance, heavy equipment operation and a commercial driver's license program for truck drivers. At a recent Wayne County chamber luncheon, an ATC staffer presented a refresher course on customer service for both retail and industrial interests.
"It's all about getting people trained to go to work," says Roberts.
Because of the global nature of much of Wayne County's industry, the expansion of the Port of Savannah some 70 miles away could impact future growth. "We need to, and we have tried to, position ourselves to get ready for the Panama Canal expansion, because that's going to affect us tremendously," says County Commissioner James "Boot" Thomas, an ACCG board member who was also chairman of the Heart of Georgia Regional Commission for five years.
"Port access is very key," says IDA president Riddle. "We're very supportive of the port expansion." Many local companies, including Rayonier, Clyde Bergemann and Sierra Machinery, ship globally, and local leaders believe the nearby port access will continue to be a selling point to others.
Taking Care of business
New industry is always great, but existing employers are the economic foundation. "Ninety percent of new jobs are going to come from your existing businesses. We've got to take care of folks who have already made a financial commitment to Wayne County," says Jones. To that end, a renewed Business Retention and Expansion Program will help address issues and encourage growth.
The intergovernmental agreement for increased economic development funding, the revolving loan fund, and the reinvigorated business retention and expansion efforts are part of a strategic economic development plan adopted in 2010, with the assistance of Dennis Epps of the Carl Vinson Institute of Government at the University of Georgia.
"We have been doing a very comprehensive plan, not just a light touch and go, to appeal to [economic] investors and create jobs," Epps says. "I feel very good about the leadership [in Wayne County]. They've been very diligent in putting things in place and creating a bright future there. They're very focused on what they have to offer, and I'm very encouraged by what I see."
Another plus for future growth is Jesup's new $12-million wastewater plant. Jesup also saves about $200,000 a year transporting its waste sludge to Rayonier, which uses it in composting, instead of taking it to the county landfill, says city manager Mike Deal.
Downtown Activity
"We are a railroad town and a river town," Deal says, with one of the most active tourism programs in the state manned largely by enthusiastic volunteers.
To cater to tourists as well as to local residents, Jesup's Downtown De-velopment Authority has purchased some empty buildings it plans to renovate to recruit new retail interests, such as a recently opened fitness center. In addition, some eight to 10 new or returning shops have opened in downtown in the last year, with everything from gifts and antiques to shoes, restaurants and a doughnut shop.
The city also completed three streetscape projects that included resurfacing streets, redoing sidewalks and landscaping with flowers and crape myrtles.
Grant applications are in process for other improvements such as a platform for train-watching and photography. The platform would complement the approximately 3,000-square-foot train depot, renovated with the help of an $800,000 federal transportation grant and rededicated in 2013. The depot now houses an Amtrak station (two daily stops), a community meeting room and the Wayne County Board of Tourism offices and welcome center. The project was recognized in May with an Excellence in Rehabilitation Award from The Georgia Trust for Historic Preservation.
In keeping with the railroad theme, an old railroad caboose in downtown may be converted into a bed-and-breakfast for tourists who are visiting local shops and restaurants.
The Altamaha River is a magnet for outdoor enthusiasts of RVing, fishing or canoeing. The tourism board-sponsored catfish tournament and a feral hog hunt draw several hundred sportsmen to town annually for an estimated $300,000 in community economic impact per event. Seasonal activities like the Arch Festival, Dogwood Festival and the Odum Day Festival, among others, also draw crowds of thousands as well.
All these events keep Wayne County strumming along – the pace of life slow but not sleepy.