Ready For Take Off
The Atlanta Aerotropolis Alliance promotes airport proximity and promises to create a thriving business district south of the city.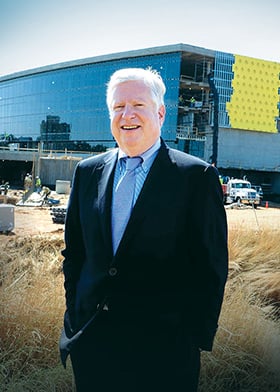 When Porsche announced in 2011 it was moving its headquarters south to a parcel of land near Hartsfield-Jackson Atlanta International Airport, it was an unusual move. Most of Atlanta's big corporations are located along a business corridor running from downtown through Buckhead and up to the Perimeter district. Yet Porsche was moving to an area known more for its industrial warehouses than Fortune 500 international companies.
As this global powerhouse continues to build its new headquarters and test track – scheduled to open in early 2015 – local leaders have been collaborating to bring other international firms to the Southern Crescent, an increasingly popular phrase used to refer to the cluster of communities located in the south Metro Atlanta area.
The Atlanta Aerotropolis Alliance, convened by the Atlanta Regional Commission (ARC) and made up of leaders from the region's public and private sectors, launched in March. The alliance will work to enhance Metro Atlanta's position as a global economic leader with a vision of transforming the area around the airport into a world-class aerotropolis – a term coined by John Kasarda at the University of North Carolina's Kenan-Flagler Business School to refer to an urban environment that develops around an airport.
"It is thoughtful planning around an airport to really make the airport a business center for the geographic area," says Grace M. Trimble, marketing and communications manager for the ARC.
"For the first time you are really seeing the exciting Class-A office spaces being developed," says Miguel Southwell, general manager of Hartsfield-Jackson Atlanta International Airport, "and that is what we hope to see continue – Class-A office spaces that will attract more international companies."
As more companies, like Porsche, begin to locate at the airport area, Joe Folz, secretary and general counsel for Porsche Cars North America, says residential, retail and other types of development should follow, creating a vibrant community where people can live, work and play.
"We are not trying to take business away from Alpharetta," says Folz, chair of the Atlanta Aerotropolis Alliance. "We are not trying to take business away from Buckhead. Those are thriving communities with their own unique sets of advantages. But as Atlanta competes with other states to bring new businesses in, I think we can do a better job than has been done in the past of using the airport area as one of Atlanta's real compelling advantages over most other cities."
In surveys recently conducted by the ARC, the majority of Atlanta-area residents mentioned Hartsfield-Jackson when questioned about the region's major assets. "In fact, it was mentioned as the No. 1 economic asset that we have in the region," Trimble says. Yet the area around the airport has grown up in a haphazard fashion, she says, and is not "a proper front door for a major metropolitan region."
"Historically airports have attracted warehouses, freight forwarders, customers, brokers and whatever is related to cargo logistics," says Southwell. "What is different about this, of course, is that while we will continue to attract that type of development, we are also looking to [attract] the type of development you see with Porsche."
Porsche Leads the Way
When Porsche went looking for a new site for its Class A-plus North American headquarters, its desire to incorporate a 1.6-mile test track narrowed the universe of possible locations pretty quickly.
The company looked at 73 different possibilities in several states but found what it needed and more just a few miles down the road from its current location in Sandy Springs.
In May 2011, the company announced it would move its North American headquarters to the new Aerotropolis development near Hartsfield-Jackson, a $100-million investment that would transfer 300 employees from the Perimeter business district north of the city and add 100 more once the new facility opens.
The Aerotropolis project is on the former site of the Hapeville Ford plant, which closed in 2006. In 2008, Jacoby Development purchased the 130 acres, which is zoned for 6.5 million square feet of mixed-use commercial space. Porsche is initially developing 26 of those acres, with plans to expand its footprint to about 56 acres.
More than 2,500 people lost their jobs when the Ford plant closed. The Aerotropolis development, however, has the potential to create employment opportunities for more than 10,000 people. Aside from the 2.1 million square feet of office space, the project includes 2.3 million square feet of space for a hotel and conference center and 1.6 million square feet of retail, along with a data center, a light industrial business park and an off-airport parking facility.
"We wanted a location where we could build both a new Class-A corporate headquarters building that would meet all our needs for the future and have it adjacent to a test track where we could build a Porsche Experience Center," says Folz. "Porsches are not just cars, and Porsche is not the type of company that should have its office in just a nice glass and steel office tower somewhere."
There's plenty of space to build a facility that will meet all of the company's needs for the next 50-plus years as well as a test track for its Porsche Experience, zoning that allows for both, close proximity to downtown Atlanta and, perhaps best of all, a location next to the world's busiest airport that will allow easy access from anywhere in the world for employees and visitors.
Now Folz is hoping other companies will see the benefits of locating near the airport and choose to join Porsche in Atlanta's Southern Crescent. As chairman of the Atlanta Aerotropolis Alliance, Folz is leading the effort to help make that happen.
Following Europe's Lead
While the idea of an aerotropolis is foreign to many Americans, the concept has been popular for some time in Europe, where the prime real estate – both business and residential – is often located around the airports or major cities. The idea is taking hold on this side of the pond as a growing number of U.S. cities, including Dallas, Detroit, Memphis and Washington, D.C., are promoting their airports as hubs of growing business centers. As technology advances ensure noise levels around airports continue to drop, the land around them will only become increasingly more desirable for development.
Southwell says he finds it fascinating that in other advanced economies, people view the airport "not as an environmental challenge, but rather as someplace where people want to live and work."
"If you look at places like Amsterdam, you see these aerotropolises popping up where even major corporations actually find the real estate close to the airport very attractive [for] their corporate headquarters," he says.
At Porsche, the idea of the aerotropolis is both appealing and familiar, Folz says, "because there are many cities in Europe that have already created these live/work/play communities near their airports. Frankfurt, Paris, Amsterdam and London's Heathrow – these are all the major European gateway airports that everyone at Porsche is very familiar with because we fly through them all the time, and little airport cities have grown up around all of these airports."
A Blueprint for Change
Hartsfield-Jackson wants to contribute to the perception of the airport as a destination as well as to the growth around the airport, Southwell says. "We are hoping to use some of the real estate entering the airport to complement what you see happening with the Porsche headquarters."
The first order of business for the alliance is to develop a blueprint, which will help everyone see what needs to be done. Then, a phased plan will be created to attract development. "First of all, we would look at the different ways of funding such development," Southwell says. "We believe, for example, there is enough interest from the private sector, because they have experience in developing these facilities in downtown areas and metropolitan areas."
For the area around the airport to grow, cooperation is key. The development straddles Fulton and DeKalb counties and abuts several cities, including Hapeville, East Point, College Park and Riverdale. One obstacle to development in the past was the reputation that various jurisdictions "just didn't want to work with each other very well," says Folz. "There may have been some truth to that, but that is not what we found. Porsche has a name that gets us through the door; maybe people were more willing to take our calls."
"Collectively people do better than they do separately," says College Park Mayor Jack Longino. "Between what Col-lege Park has already done – including two new hotels and the Georgia International Conven-tion Center (GICC) – and what Porsche is doing on the other side of the airport, I think it sets the tone for what you want to see around Hartsfield-Jackson."
Gateway Center, the mixed-use development that in-cludes the GICC, helped set a high tone indeed for area development. Built in 2008, the center is home to the 2012 Marriott Hotel of the Year – the Americas. It has received accolades including the 2012 ULI Atlanta Development of Excellence Award and is U.S. Green Building Council LEED Silver certified.
To encourage more development like the Gateway Center and Porsche, the Alliance is creating one-stop shopping so that a company less tenacious than Porsche can also cut through the clutter and confusion of the various jurisdictions, says Folz. "We've got a group of people who are committed to working together, because if a particular company chooses Hapeville, that is going to [benefit] College Park, East Point and Riverdale, and if a particular company chooses College Park, it is going to benefit Hapeville, East Point, Atlanta and Riverdale," he says. "The idea that we are fighting each other for the development – I am very optimistic that is a thing of the past. "
Mayor Longino agrees. "What is good for College Park is good for the region, and what's good for the region is good for College Park," he says.
A Long-Term Effort
While the Porsche headquarters is scheduled to open this winter, it is so far the only company committed to locate within the Aerotropolis development. The alliance acknowledges that growth as a whole will be slow. It always is.
"There really isn't a timeframe – it will be ongoing," says Trimble. "A former executive director of the Atlanta Regional Commission once said 'If you get into the planning business, you better plan to live a long time,' because nothing we do takes place quickly," she says. "It's the kind of endeavor that five years from now, certainly 10 years from now, you will really see the area around the airport transformed."
Atlanta Aerotropolis Alliance Members
• Airport Area Chamber of Commerce
• City of College Park
• City of East Point
• City of Hapeville
• Clayton Chamber of Commerce
• Clayton County
• Delta Air Lines
• Duke Realty
• Fulton County
• Georgia Power
• Grove Street Partners
• Hartsfield-Jackson Atlanta International Airport
• Invest Atlanta
• Metro Atlanta Chamber of Commerce
• Porsche Cars North America
• Prologis
• South Fulton Chamber of Commerce
• Woodward Academy