Popping the Cap on Georgia's Craft Brew Industry
Cracking open the state's burgeoning beer and microdistillery scenes.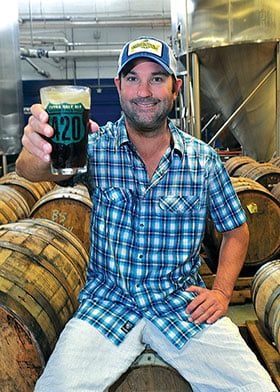 Walk into any restaurant in the state, and most likely you can find a beer on the menu that was made right here in Georgia. But that hasn't always been the case, and with current legislation on the books, some breweries may choose to move to states where the drinking – and crafting – is easy.
"Craft beer has definitely been going through a renaissance and a lot of expansion all over the country," says Glenn Golden, owner and head brewer of Jailhouse Brewing Co. in Hampton.
In the past five years, more than 30 craft breweries and microdistilleries have bubbled up all over the state, yet this is a trend that has been spreading throughout the rest of the country for the past 20 years. Georgia, it seems, has been slow to tip the glass, but now that the keg's been tapped, the beer is flowing.
According to the Beer Institute, Georgia's brewing industry generated $3.5 billion in direct economic impact in 2012. That number includes breweries, distributors and retail sales. $1.9 billion of that number was generated by breweries alone.
It sounds like a lot, but when you compare that to other states, some of which have three times as many breweries within their state lines, Georgia's craft brew industry is still in the fermentation stage. Colorado's beer scene, for instance, is an economic powerhouse, generating $14.8 billion in economic impact. Closer to home, North Carolina sees $7.1 billion in total economic impact.
That economic impact will continue to grow. Nationwide, beer sales overall were down in 2013 by 1.9 percent. However, during that same year, the craft brewing industry grew by 18 percent in volume and 20 percent in dollars. Although craft brews represent about 8 percent of the total market share, according to the Brewers Association, it is the primary driver of growth in the beer industry as a whole.
"It is all part of the back-to-basics movement by consumers. It is part of the farm to table – we call it in our case field to glass," says Karin Vonk, co-owner of Richland Rum in Stewart County. (See sidebar for more on Georgia's microdistilleries.) "People are tired of not knowing where their food comes from, not knowing what's in it, and people enjoy and appreciate more and more handcrafted food and beverage."
Golden thinks that the public's shift toward craft brews is even more personal than that.
"People attach themselves to craft beer brands because it identifies who they are or what they believe in," he says.
Homegrown Variety
The beer being brewed in Georgia – this isn't amateur stuff. Many brewmasters have won awards for their craft. The Rye Pale Ale from Terrapin Beer Co. in Athens won a Gold Medal in 2002 at the Great American Beer Festival in Denver. So did SweetWater's LowRYEder IPA in 2013. Moon River Brewing Co. won gold in this year's World Beer Cup for its Da Bomb Dry Stout. Coastal Empire Beer, an upstart brewery out of Richmond Hill, won a silver medal at the 2012 U.S. Open Beer Championships.
"The craft brewing industry in general tends to represent a segment of the industry that operates pretty responsibly. What we're promoting is flavor as opposed to quantity," says John Pinkerton, co-owner and brewmaster at Moon River Brewing in Savannah. "Typically craft beer is much more expensive than the major brands, and they're just not the kind of thing you want to pour into a funnel, to drink like that. That's not what it's about."
Georgia beers are as varied as they come. In Decatur, Three Taverns focuses on Belgian-style beers. Burnt Hickory Brewery in Kennesaw makes big beers with names like Cannon Dragger and Big Shanty, a stout made with graham cracker crumbs and honey. Monday Night Brewing grew out of an Atlanta Bible study group and "brews beers for the weeknights."
Macon Beer Co. makes a seasonal brew using several hundred pounds of sweet cherries. Called Macon Love, it debuted this past spring just in time for the city's annual Cherry Blossom Festival.
"Our cherry beer went over very well," says co-owner Cory Smith. "The night it came out, at this one venue we went through 17 kegs in under two hours."
And then there's Red Hare in Marietta, Eagle Creek Brewing Co. in Statesboro, Strawn Brewing Co. in Fairburn, Jekyll Brewing in Alpharetta. If you want to drink local beer, you can throw a poptop and bounce it off the roof of a craft brewery from almost anywhere in Georgia.
Playing Catch Up
Brewing beer isn't exactly new in Georgia – the state has two facilities that produce national brands: MillerCoors in Albany, in operation since 1979 and employing 600, and the Anheuser-Busch production plant in Cartersville, operating since 1993. But microbreweries are really just starting to catch on.
Still, we lag far behind other notable beer states like Colorado, Oregon and even North Carolina.
"Georgia is way, way, way behind the rest of the country when it comes to craft beer," says Pinkerton, who is also president of the Georgia Craft Brewers Guild. "All these new companies are starting up. They're very small, and the barrier to entry is still really challenging in Georgia. Everywhere else in the country, you see their growth and you compare it to Georgia's growth, you can really only point to one thing."
"We can't sell onsite," says Jailhouse Brewing's Golden. "We can't sell what is called off-premise, which is beer to go. If you look at other states that are just booming in the brewing industry, you see that they don't have those challenges."
In fact, Georgia is ringed by states that allow their breweries to sell a limited amount of beer straight from their facilities. In Alabama, you can buy a pint of beer and drink it onsite. In South Carolina, you can purchase 288 ounces – essentially a 24-beer case – per person per day directly from a brewery. And in North Carolina, you can not only purchase beer to drink onsite at the brewery, but you can also fill a growler or buy a six-pack.
"There are more breweries in the city of Asheville, North Carolina, alone than there are in the state of Georgia," Pinkerton says. "Let that sink in for a second. More breweries in one rural small town in North Carolina than there are in the entire state of Georgia. What does that tell you?"
"Georgia has one of the most restrictive laws pertaining to microbrewing in the whole nation at this point," says Freddy Bensch co-founder and "Big Kahuna" of SweetWater Brewing. "Everyone else seems to be embracing it and is proactive in trying to bring in new breweries and helping their breweries expand. But Georgia seems to be sort of lagging and stuck behind."
So why is Georgia dragging its heels? The answer might be found in the past.
A History of Legislation
Georgia – and the South – has had a love-hate relationship with alcohol. In fact, prohibition lasted longer in Georgia than it did for the rest of the country. Georgia began prohibiting the consumption and sale of alcohol in 1908 – 12 years before the 18th Amendment launched the Prohibition era in 1920. When the 21st Amendment was ratified in 1933, Georgia did not vote to repeal national prohibition, and it only ended its own statewide prohibition in 1935.
Out of the Prohibition era and the "tied-houses" – saloons owned by a local brewery selling only their own beer – that preceded it evolved today's "three-tier system." In 1933, the U.S. government passed the Federal Alcohol Act stating that no entity that manufactured alcohol could also distribute and sell it. However, the law returned to the states the power to regulate how that system was implemented, so the interpretation of the law varies from state to state.
"We talk about the three-tier system as if it's some kind of holy writ that's carved into stone somewhere in Washington, D.C., but that couldn't be further from the truth," Pinkerton says. "It's really just sort of a concept. And it's a concept that every state in the country decides to use or not use on different levels."
For decades after Prohibition was repealed, many counties in Georgia continued to choose to be dry, and alcohol was prohibited from being sold on Sundays. Georgia was one of the last states in the country to legalize Sunday alcohol sales – in 2011 – although it still allows for individual cities and counties to opt out.
Then there were all those high-gravity beers getting stuck at the state line until 2004, when the state passed HB 647 to remove a 6 percent alcohol by volume (ABV) cap in place since 1935. (It now stands at a weighty 14 percent.)
Challenges and Solutions
Today, hurdles still stand that could be keeping Georgia's breweries and distilleries from seeing the exponential growth – and the jobs and economic development that come with it – that surrounding Southern states are enjoying.
Currently, you can go to a Georgia brewery to tour the facility, but you cannot purchase the beer – not even a pint to drink on site, nor can you take a sealed 64-ounce growler home. (Growlers, by the way, became legal in Georgia in 2013. Since then, growler shops seem to be sprouting up like fermenting yeast.) You can, however, pay to tour the facility and try free samples – "32 ounces per person per day over a two-hour period as long as there is a tour going on," says Smith.
The Georgia Craft Brewers Guild has been leading a grassroots charge to amend the current laws to allow some on-site alcoholic purchases. HB 314 and SB 174 were introduced in the 2013–2014 session. Both bills failed to pass.
In 2013, a legislative study committee on brewpubs and alcoholic beverage tastings looked into the various ways Georgia could amend its current laws in light of the expanding and changing market. It recommended that retail locations be allowed to "engage in tastings of malt beverage and wine on licensed premises as permitted by local ordinance or resolution." It also recommended growlers up to 64 ounces per person be sold by brewpubs for off-premise consumption as long as food was also consumed on-premise. (This is similar to SB 55, known as the "Merlot-to-go" law, that passed in 2008.) The panel was mute regarding any recommendations on brewery sales.
"What we're looking for is … responsible modifications to the three-tier system. We definitely don't want to tear it down, because we believe in the three-tier system," Pinkerton says. "Most of us don't want to get into the distribution business. The last thing I want to do is to buy a fleet of trucks and to have employees and hire a sales force to go out there and do that work. That's the part that works. That's the part that we value."
In fact, if a limited exception to the three-tier system was permitted in Georgia – such as allowing a pint of beer to be purchased on-site or permitting the purchase of a 64-ounce growler or six-pack of beer from a brewery – it would still only account for about 1 percent of beer sold in Georgia. The other 99 percent would continue to funnel through the distributors.
Brewing Dollars
For many small towns in Georgia, a new brewery has meant economic development and downtown revitalization.
"What we found is we're introducing people to a little bitty town that has a lot of character to it," Golden says. "We're slowly starting to infuse some interest into the town, and what better way to do it than a brewery?"
Since Jailhouse opened in 2009, a barbeque restaurant has located in town, and a local market has set up shop across the street. It sells growlers of – what else? – Jailhouse beer.
Then there's the tourism side of it. Many Georgia breweries open their sites for tours, and people are traveling from other states to see how beer is made.
"People are just intrigued. They travel to breweries," Golden says. "Just being in a brewery is a fun place."
"The beer industry is sort of very similar to what the wine industry was doing 15, 20 years ago," Bensch says. "The industry's taking off. People want to continue to drink more interesting beers, they want to try different things. So people are traveling to go to these [places]."
"For us, we wanted our local people to know where the product that they are supporting is coming from," Golden says. "So they can walk in there, they can walk amongst all the equipment. We can point out how it all works, and they can see what the ingredients are. It's just kind of a transparent thing, and I think people enjoy that."
"Just take a quick look at what's going on in North Carolina," Bensch adds. "The Asheville area has all of a sudden become the Napa of the beer industry. You've got three of the bigger breweries in the whole country that all just built facilities, [with] 15 or 20 local [breweries], and people will go on vacation there just to tour all these facilities."
What's On Tap
For now, the craft brewing industry in Georgia will continue to grow – up to a point.
"If things stay the way they are, it will eventually kind of bottleneck in this state," Smith says. "If the regulations re-lax and we're allowed to sell more directly to the public or be able to donate beer to special events and things like that, then I feel like we could grow exponentially."
"The vast majority of Georgians would love to see Georgia do a better job of embracing this industry," Bensch says. "I just would encourage the powers that be, whether it's legislatively or at the wholesale level, or even at the brewer's guild level, to work something out to get us on the map."
In the meantime, Georgia could lose out on some big West Coast breweries, like Stone Brewing and Sierra Nevada Brewing Co., that are looking to open an East Coast manufacturing site.
"South Carolina, North Carolina, all these places are attractive targets for these West Coast breweries," Smith says. "They're going to bring millions of dollars of revenue and thousands of jobs.'"
"When there's so few industries now that are actually growing at the rate that we are, the possibilities are endless in terms of not just jobs, but taxes," Bensch says. "We're not just brewing beer and then we're done with it. Think about the infrastructure that's in place, everybody else who's involved in taking the beer from the brewery and getting it to the wholesaler, the wholesaler getting it to the retailer, then the retailer getting it to the consumer. The whole trickle-down effect is immense."
"We've got a lot more to choose from and a lot of great flavors out there, a lot of great companies telling a lot of great stories, so it's a lot easier to do now than it was 15 years ago when we started our brewpub here at Moon River," Pinkerton says. "But that's really what we're shooting for. We want to raise the bar of recognition of Georgia craft."
Microdistilleries a Macro Trend
While the craft brew industry in Georgia has been picking up steam over the last two decades, five years ago, there wasn't even a single distillery in the state.
"This is a new industry that can have a serious positive impact on the economy of Georgia," says Karin Vonk, co-owner and marketing director for Richland Rum in Southwest Georgia. "Especially for small towns."
The microdistilleries currently in operation run the gamut, from several moonshine operations in North Georgia (legal, of course) to whiskey, vodka and gin.
In Richland, Karin and her husband Erik grow sugarcane on their farm and use the freshly squeezed cane juice in their rum. It's a process that's won them accolades across the country and draws dozens of visitors every day wanting to see the distillery and learn how the rum is made.
Michael Anderson and his business partner Tommy Williams launched Independent Distilling Co. in Decatur this past spring. Its first batch of corn whiskey is named Hellbender after an endangered Georgia salamander, and the two also plan to distill rye whiskey and rum. The whiskey is made from corn grown in South Georgia.
"What we want to do is make unique products that really speak to where we are, to Georgia," Anderson says. "I grew up here, and we want to reflect what it is that makes it such a great place."
Like craft breweries, distilleries cannot sell directly from their facilities, and current laws make it difficult to enter the business. To help educate lawmakers and broaden awareness about the industry, Georgia's distilleries have rallied to form the Georgia Distillers Association. Last year, the group successfully helped pass a law spearheaded by Rep. Rusty Kidd (I-Milledgeville) to allow distilleries to provide a single half-ounce tasting per person per day to those touring the facilities.
Today, microdistilleries are cropping up everywhere across the state: Lazy Guy Distillery in Kennesaw (whiskey) and Atlanta's Old Fourth Distillery (vodka and gin) will join Thirteenth Colony Distillery in Americus (bourbon, rye, vodka and corn whiskey), Ivy Mountain Distillery in Mt. Airy (sour mash whiskey) and Free Spirits Distillery in Dawsonville (moonshine, apple brandy), among others.
"We want to celebrate the agricultural history of the state and bring that to people," Anderson says. "You give people something they can't get anywhere else." – Christy Simo