Community Building In College Towns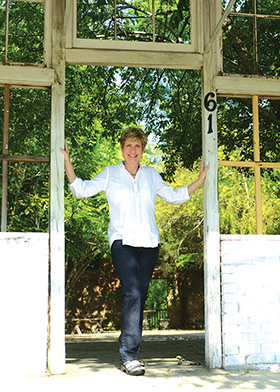 One of the first things you notice when you start talking to people about affordable housing is that it's not about the housing. People who are passionate about helping low-income, working families find quality, affordable housing are really about building communities – and housing is just one piece, albeit an essential piece, of community development.
"We're connecting town to gown," says Jessica Walden, director of communications and outreach for the College Hill Alliance in Macon. "We want students to connect to the community so they don't want to leave after graduation."
In college towns, the challenge to building community is often the transient nature of the student population. But in three very different Georgia college towns, nonprofit organizations are partnering with cities and local institutions of higher learning to build affordable housing and create sustainable communities.
While each organization has taken its own approach, they've all found success in the same way, by building on the strengths and unique characteristics of their cities and residents.
DASHing Through LaGrange
As the textile mills closed – a slow, painful process that began in the 1970s and continued through 2010 – in LaGrange, homes in the once-thriving mill villages were sold off, often to absent landlords who rented them out and left them alone. Houses in this west Georgia town fell into disrepair, homeownership decreased and crime rates rose. A 2002 report by the city, the Callaway Foundation and LaGrange College named safe, code-compliant, affordable housing a priority issue for the city. In fact, the report found that of 11,000 housing units in the city, nearly 3,000 were structurally unsound, posing health and safety risks for residents.
Enter DASH (Dependable, Affordable, Sustainable Housing), a private nonprofit with a focus on affordable housing – and a side business in community building. DASH chose the former mill village of Hillside, a neighborhood between downtown and LaGrange College, and set about revitalizing the neighborhood and building community. "We naively thought we'd be done in five years," Cathy Smith, executive director of DASH, says. "But 10 years into it, we're still working."
Since 2003, when the organization began in the neighborhood, DASH has rehabbed or constructed 81 single-family homes, developed 154 quality, affordable rental units, reduced crime by 44 percent and invested more than $20 million in capital.
But the real improvement has been a growth in the sense of community. Longtime area residents feel safe in their homes again, neighbors have gotten to know neighbors – and to care for one another.
It's all based on the ABCDs – asset-based community development principles – Smith says. ABCD looks at the human and physical resources that exist in the neighborhood and builds on those strengths to develop community leaders who can address shared concerns and create and implement programs, services and neighborhood events. "We help neighbors gain an appreciation of each other's talents, so that they can band together if there's something bigger they want to accomplish," Smith says.
She also believes that the involvement and commitment of community residents is essential to sustaining the brick and mortar improvements DASH makes to neighborhood homes.
Dan McAlexander, president of LaGrange College, calls the nearby Hillside community, with its residents from across the age, race and socio-economic spectrum, "a big plus" when recruiting faculty and leaders to campus. So he is committed to helping Hillside thrive.
LaGrange is a Methodist-affiliated college with a focus on instilling in its students the idea of servant leadership. "We are very committed to service," McAlexander says. "We encourage a real blending of students with the community around us."
The school's baseball team has been involved for several years in Hillside, coaching neighborhood baseball and allowing the team to use campus facilities. Students in the Servant-Scholars Program have also worked with DASH to help "map" community assets, which, in turn, supports community building.
"The help of these students has been a gift," Smith says, "and a gift to the students, who gain an understanding of the commonalities of people everywhere."
The Hillside neighborhood "helps us educate our students and helps them get experience serving others," McAlexander adds.
Praises for DASH ring from across LaGrange. "The city considers DASH a partner," says LaGrange City Manager and DASH board member Tom Hall. He adds that they've had a tremendous impact on bringing workforce housing to LaGrange. Hall is quick to emphasize, however, that DASH is not just building houses. It is also "working on the sustainability of the neighborhood, to build the social fabric of the neighborhood, to bring it back to stay."
Master Planning in Macon
In Macon, what began in 2007 as a senior capstone project by a group of Mercer University students has evolved into the multi-neighborhood, multimillion dollar, community-driven, award-winning College Hill Corridor revitalization that has blurred the lines between the college and the community.
When Heather Bowman Cutway, an associate professor of biology at Mercer, moved to Macon 10 years ago, she wanted the convenience of living near work. She and her husband rented in College Hill for a year before buying in the area. They've lived there ever since.
"When I bought my home in town, a lot of people I work with thought I was crazy," she says. At the time, Cutway adds, students – even faculty and staff – were discouraged from venturing into the "unsafe" neighborhood right outside their gates. But, Cutway, who co-chairs the grassroots, volunteer-driven College Hill Corridor Commission, recognized the potential in the historic community that connects Mercer and downtown Macon.
Today, thanks to the work of residents, business owners, the city and the university, coupled with an enormous influx of cash, the neighborhood has grown far beyond the potential of just a decade ago. College Hill is a safe, vibrant and diverse area of million-dollar historic houses sitting side-by-side with the affordable rehabbed homes of longtime neighborhood residents. The area also features student lofts, shops, restaurants and family-filled parks.
In 2008, just months after the group of Mercer students presented their idea, the John S. and James L. Knight Foundation issued a $250,000 grant to initiate the community-driven planning of the neighborhood's revitalization. From there, a master plan for the community was developed, and the College Hill Alliance – a fully staffed, Mercer-housed group assigned to lead the implementation of the master plan – was created. The rest, as they say, is history.
The alliance, which will sunset next year, works in close collaboration with the volunteer-led College Hill Corridor Commission. "Sunsetting has given us a sense of urgency," says Heather Pendergast, executive director of the alliance. "We've not had the luxury of bureaucracy."
The alliance has made the most of its short-lived existence, facilitating $91.7 million in corridor investment since 2009 and ensuring that the programs it has developed and implemented will last long after the sun goes down.
The city of Macon as well as the university have been essential partners in fostering the sustainability of College Hill. For example, to encourage home ownership and the rehabbing of houses in the corridor, several tax credit and down-payment assistance programs are in place through the university for Mercer employees and through the city for everyone.
Knight Neighborhood Challenge grants have also spurred community involvement. Any resident with an idea for improving the area can apply for a grant. "There aren't any limits to what the grant can be," Pendergast says. "Some of the least expensive ideas can be the best."
As of 2013, 111 challenge grants totaling more than $2.1 million had been issued by the Knight Foundation. Grants have ranged from $200 for a composting workshop to $180,000 for community wayfinding. And all have encouraged neighborhood involvement that will thrive long after the alliance is gone.
To guide College Hill well into the future, a new master plan, based on community input, was rolled out in April that addresses ways to increase entrepreneurship and economic development. "We want to ensure College Hill is not just a great place to live, it's a great place to work as well," Walden says. Once the alliance has completed its work, the College Hill Corridor Commission will lead implementation of the new master plan.
The focus on economic development will be built on an award-winning foundation. In 2013, the alliance received a Gold Excellence in Economic Development Award from the International Economic Development Council for efforts to recruit and retain businesses and foster neighborhood revitalization in the College Hill Corridor.
The award didn't surprise Alex Morrison, director of Macon's Urban Development Authority and one of the former students who planted the seed that has grown into the College Hill Corridor. "It's been an unqualified success," he says of the area's rebirth. "We've created a new model for how we grow up as a community, in a participatory way, in a collegial way, in a respectful way."
Building on Trust in Athens
The large student population in Athens presents a variety of challenges to those who work to foster a sense of community among the city's permanent residents. Investors often buy intown housing located on bus lines and close to jobs and fix up the houses to rent to students, says Heather Benham, director of operations for the Athens Land Trust. The result, before the economy tanked at least, was rising property taxes that in many cases pushed longtime residents – both homeowners and renters – out of intown neighborhoods, she says.
Since 1994, the Athens Land Trust has taken an old but little-used approach to helping long-term renters transition into home ownership. The organization has used the land trust model to buy property inside the Athens "loop" – U.S. 10 that encircles the city – and either build a new home or rehab the house on the property. When the house is sold, the buyer owns the home outright and gets a 99-year renewable, inheritable lease on the land.
Some people say the traditional approach of selling a house and land together helps individual families build equity and wealth, says Benham. "Our approach is to help lots of families over time to gain a little wealth that they can take to the private market." The model also keeps the cost of buying a home affordable for more people.
To ensure buyers completely understand the way the Athens Land Trust operates, as well as the ins and outs of homeownership, buyers are required to attend classes. The trust has other rules that funnel their homes to the people they are trying to reach. The big one is that houses must be owner occupied. This keeps investors from buying and renting to students in neighborhoods that are working to remain single family.
The land trust also works to help homeowners who get into financial difficulties stay in their homes. If financial problems can't be resolved or if buyers need to sell for any reason, the trust retains first right of refusal to buy the house back. Because of this strong relationship between the land trust and buyers, they boast a 0 percent foreclosure rate.
Building relationships not only keeps homeowners out of trouble down the road, but by getting to know potential buyers, the land trust is able to match homeowners with the perfect home and location to begin with – another step toward building strong communities. Take Jackie Roberts, the administrative manager in the Office of the Vice President for Public Service and Outreach at the University of Georgia. Roberts met Benham in the early days of the land trust, but the houses the trust had available at the time weren't what she and her family were looking for. But Benham got to know Roberts and didn't give up on finding her the perfect home.
Three years ago, Roberts was ready to move out of her apartment and was considering her options. She looked at other apartments, but "the rent was getting higher and higher," she says. "There was no way I could afford to continue to live here in Athens."
As luck would have it, the land trust was building a house that Benham thought would be perfect for Roberts' family. "Timing was everything," Roberts says about Benham's call.
Because the house was still under construction, Roberts was able to pick out paint colors, window treatments and more. "I was very hands on," she says. "Very involved. Heather would constantly call and ask me 'do you want this?'" It was just one more step in creating pride of ownership and loyalty to home and community.
The Athens Land Trust "is very supportive," Roberts says. "They kind of knew me and had a feeling for me and my family. When this home and location came available, she [Benham] thought of me."
The land trust has also built strong relationships with city officials. "We get funding from them," Benham says. "It's a political process. We have to do a good job every year because the mayor and commission vote on our funding."
Rob Trevena, interim director of the Athens-Clarke County Housing and Community Development Department, stresses that the city has an excellent working relationship with the Athens Land Trust, because their goals are the same. "We want safe, decent, affordable housing for our families as close to centers of work as possible," he says.
While the land trust model may not be new, its approach is different from that of many affordable housing organizations. In Athens, however, it's working.
"In certain neighborhoods [along the Hancock corridor], we've made a real impact," Benham says. "Partly because we've taken down problem properties and put homeowners in."