Art Of The Meal: Ink & Elm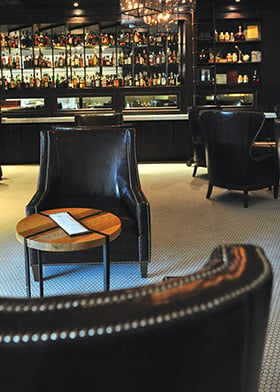 Ink & Elm
1577 North Decatur Road, Atlanta
678.244.7050 or www.inkandelmatlanta.com
Hours: Lunch, Mondays-Fridays. Dinner nightly (served in the tavern only on Mondays).
Parking: Self available in an (often-crowded) lot behind the restaurant; complimentary valet available in the evenings.
Dress Code: Hipster intellectual, tweedily professorial or "Southern Ivy League" student.
Sitting in this high-ceilinged, taupe-hued space with wide booths, blonde leather chairs and funkily modern chandeliers, I'm wondering: How did the Emory community manage so long without places like this?
As sophisticated and thoughtful as its surroundings, Ink & Elm joins the General Muir, Emory Pointe's upscale, authentic deli, to serve a clientele who long made do with student-oriented pizza and sandwich shops lining the street opposite the august university's gate. Scanning the menu of oysters, sweetbreads, halibut, steak and duck, I think, "It's about time."
Over in the lounge, a chatty, merry bunch nestled in tobacco-leather wingback chairs seem to agree, raising cocktails while rain pours outside in a late spring cold snap. Here, the vibe is as warmly jovial as the dining room is coolly intellectual.
Behind the bar, a cheerful little gas fireplace flickers, reflecting the bar crowd's icy copper cups of Wobbly Mule, I&E's rendition of the newly popular Moscow Mule. The lengthy drinks menu is so fanciful, so rife with hipster brands and housemade elixirs, that a colleague looks at it and frowns: "It looks like they're just playing."
Yes, the bartenders are playing, and it's a lot of fun to drink here. The Perfect I&E riffs off a perfect Bulleit rye Manhattan (with sweet and dry vermouth) with the added twist of housemade Meyer lemon bitters. The Kentucky Corpse exhumes memories of a classic Corpse Reviver, this one made with Old Grand Dad 100 bourbon instead of gin. The wine list is fascinating, and long, with many choices offered by the glass and half-glass. A third space, the Tavern, visible through open areas you first think are reflections like the mirrors next to them, is lined with booths and serves a smaller, all-day menu that stretches into late-night.
Ink & Elm embraces the "eat locally" philosophy as ardently as any of its fanatically recycling Druid Hill neighbors, proudly listing its local and regional providers. On two visits, the food, like those hipster drinks, was both more delicious and less precious than the menu descriptions made them sound: Charred octopus, for example, with "pickled sunchoke, stinging nettle pesto, picholine, compressed rutabaga, white asparagus and miner's lettuce" turns out to be a few lovely bites of grilled tentacle with opposing and complementary drops, bites and dashes arranged attractively around it.
Likewise, the "duo of Virginia lamb," which sounds like a heavy platter with leg, crépinette (sausage), bulgur wheat, English peas, fava beans, pickled grape tomato, sweet pepper puree and yogurt, is in fact a just-right portion of thick-sliced lamb, a bit of sausage and a cold bulgur salad studded with peas and fava beans, enlivened by a few nearby smears and bites. (I do not, however, envy whoever has to peel those pickled grape tomatoes.) Culotte steak is a winning take on steak and fries, a tender cut served with crisp eggplant fries, hakurei turnip and steak sauce. The menu may read like Henry James, but the dishes have the verve and punch of O. Henry.
The "whole" flounder (served with bones but without its head) was a slight letdown, a bland mesh of flavors even with its carrot-top "salsa verde" and fennel confit, but the Alaskan halibut shone, with its crisp exterior and artichokes, pea shoots and shell beans. Among desserts, we liked the buttermilk pot de crème with blueberry compote and sweet corn cake, but loved the strawberry rhubarb cake, a subtle swirl of almond cake, strawberry mousse and sorbet and candied pistachio jam. Again, despite the complicated description, you'll be reminded of that creamily frosted strawberry cake your aunt used to make. Or would have … if you'd ever had such an aunt.
I like that there's an element of fiction here, of slyly winking at diners and drinkers, as if to say, "Yes, here are all the 'serious' buzzwords … but we'll have fun anyway." As welcome as deep shade on a hot day, as indelible as a Sharpie, Ink & Elm has a sense of humor about itself and invites you to join in the laughter.