Art Of The Meal: Cinco y Diez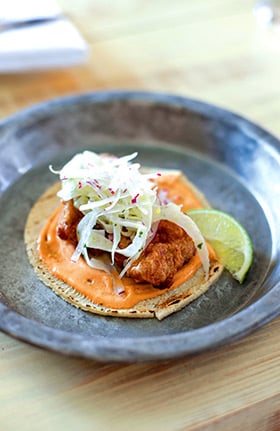 Cinco y Diez
1653 S. Lumpkin St., Athens
706.850.2020 or www.cincoydiezathens.com
Hours: Dinner nightly. Saturday and Sunday brunch.
Parking: Self, in lot and on nearby streets.
Dress Code: From student scruffy to professorial tweed.
Fried Apalachicola oyster tacos? Borracho beans with Benton's bacon? Which Georgia can I thank for this – the state or the Western artist O'Keeffe? Oh, yes: Definitely the Southern state, as defined by Athens.
Something in Athens' gravitational pull keeps creative people in its orbit. REM, The B-52s and other scruffy, outside-the-bandbox groups will be forever identified with this small university town; now its restaurant scene is drawing nearly as much attention. But even when Athens' star chef, Hugh Acheson, goes big-time – from James Beard awards and regular stints on Top Chef to opening his cavernous Atlanta restaurant Empire State South – he keeps the Classic City as his home base, expanding and improving it rather than moving on.
After Acheson moved his first, renowned restaurant Five & Ten to a craftsman bungalow a short distance away from its original digs, everyone wondered what would become of the eccentric little space with a pressed-tin ceiling that had brought the chef (and his customers) so much good fortune. It would become something entirely new, Acheson announced – though he reached out to old-time homies to make it happen.
Melissa Clegg, of one of Athens' first notable restaurants, the still-booming Last Resort Grill, and a founding partner in Five & Ten, helped Acheson launch this new venture: Cinco y Diez (Spanish for "five and 10"), a Latin-inspired restaurant featuring local ingredients. In the kitchen: Whitney Otawka, who grew up in California and also did a stint on Top Chef, but had most recently helmed the stove at Athens' dear, departed Farm 255, which featured produce from its own local fields.
If you were familiar with the old space, stepping into the new one can be a "wow" moment. Gone are the dark nooks and crannies in favor of whitewashed woods and cleaner lines, with updated light fixtures and more comfortable seating. (The pressed tin, thankfully, is still there.) However, it still feels casual and homey, especially on the "porch," an enclosed deck with the room's only windows (obscured to street traffic).
My first visit, only a few weeks after Cinco's opening, left a mixed impression: Service: stellar. The space: delightful. The food: some out-of-the-park home runs, and a few runners left on bases.
As you might expect, Otawka's vegetable dishes are uniformly outstanding – even for those who don't think they like vegetables. I've been trying to duplicate her roasted carrot salad – a riot of color and texture, with whole baby carrots and bitter greens, dotted with pools of avocado buttermilk dressing – since first trying it here. The hen-of-the-woods mushroom taco is satisfyingly meaty, even though it has none. And perhaps my favorite dishes of the two visits were the meatless black beans with sofrito and Carolina gold rice, verdant with cilantro. Incredibly humble, fabulously flavorful. A few dishes, such as the Mexican fried chicken (overly breaded, overwhelmed by the greens and mole), the just-OK guacamole and overly overt caramelized cauliflower (in which the mole bandito again kidnaps the entire dish) didn't seem to fulfill their promises.
However, by the time Cinco y Diez had been open a few more weeks, the staff had maintained its best points while improving others: This time, every cocktail (starting with the kind of knockout margarita of fresh lime, Blanco tequila and Triple Sec you'd hope to find here), and every dish had us vowing to return to see what the kitchen could come up with next. A crabmeat tostada, the starter special, was a killer combo of sweet, tender crabmeat and the crunch of lettuce, herbs, cornmeal and thinly sliced radish. The Mexican fried chicken was flawless this time around, with just a judicious smear of the complex, flavorful sauce, piqued by an order of mildly pickled onions, peppers and carrots. The tacos, on soft cornmeal, with fried oysters or barbecued lamb and an array of herbs and vegetables, pack the same variety of flavor as that mole – you get everything in one bite.
Maybe the kitchen got better on that second visit, or maybe we just started to catch on – this is the state of the South, as defined in Athens.