Record Store Day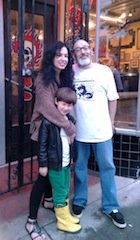 Record Store Day, started by Atlantan and owner of Little Five Points' Criminal Records Eric Levin, has become a tidal force in the music industry. Nearly every label, large and small, plans limited releases for the annual occasion to entice collectors of all stripes to venture out across the country and take their music gathering off line.
Perhaps the economy has turned around – Criminal Records broke records (pardon the pun) with their biggest sale day in over 20 years at this year's RSD April 19. Shoppers waited patiently in line, in the rain, starting at 2:30 a.m. in anticipation of the more than 450 music releases created specifically for independent music stores for the special day.
Both Criminal and neighboring Wax n' Facts had live music throughout the day (including Spirits, the Skylarks, the Mood Rings) and business overflowed to surrounding pubs and retailers. Levin said this year's event topped last year's Record Store Day, which also broke records, by 34 percent. He is pictured with Temple and Holden Young.