Where The Students Are
From philanthropic efforts and international experience to new ways to teach and learn, today's MBA programs are both relevant and accessible.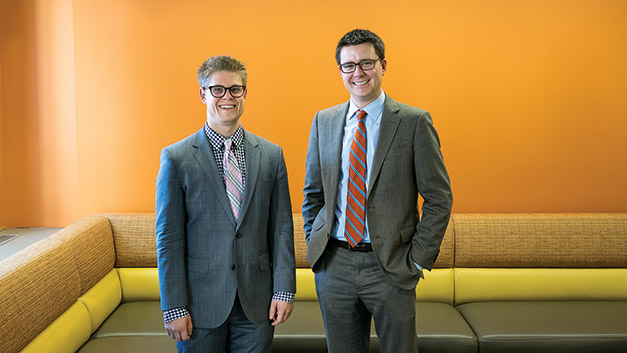 When Matthew Reese began an MBA program as a way to advance his business career, the last place he expected to find himself was on a rooftop, nailing on shingles, while his classmates hauled lumber and installed siding.
Reese's work on a Habitat for Humanity home – a requirement for his organizational leadership management course at the University of Georgia – was an exercise in building teamwork, an essential skill for any business professional, he says. It was also a lesson in giving back to the community, a concept that is becoming an increasingly important and popular component of business education.
Giving back is a major trend in MBA programs that began with the economic downturn several years ago and the blame many placed on big business, says Kat Schwaig, dean of the Coles College of Business at Kennesaw State University (KSU), where philanthropic activities are an important part of the MBA programs.
"Wall Street had a lot of anger directed toward them because people blamed them for being partially responsible for the economy. There was a lot of greed, a lot of unethical behavior, so all of that was focused on business," she says. "So business educators began to say 'maybe we are responsible. We trained these folks who are now in these big banks and all of these big corporations. Maybe we have some responsibility there.'
"As a result, a lot of the major MBA programs began to reflect on that, and there really became a trend of developing programs that had a social component to them," she says.
Today, most of the 26 Georgia institutions offering an MBA degree require or at least encourage some type of community or philanthropic activity of their students.
At Georgia College in Milledgeville, for example, one piece of the full-time MBA program is a group community service project. Also, in the program's applied marketing course, students put together detailed marketing plans for nonprofit organizations, says Lynn Hanson, Georgia College's director of graduate programs in business. Recipients of their services have included the Center for Food Addiction Freedom; the Ruth Hartley Mosley Memorial Women's Center in Macon; the Macon-Bibb County Workforce Investment Board; and the Grace & Mercy Connection, a start-up holistic women's organization in Washington, D.C.
At Kennesaw State University, Returned Peace Corps Volunteers (RPCVs) in the Paul D. Coverdell Fellows Program receive a tuition waiver for nine credit hours per semester in return for serving as graduate assistants, which has a strong service component. "In the context of their graduate assistantship, they turn and serve the community so they work on some project in the community, which allows them to take some of Coles College of Business and Kennesaw State into the community and give back," says Schwaig.
Fellows typically work within the Maya Heritage Community Project (MHCP) at KSU, coordinating with faculty, students and local organizations, including Pastoral Maya Inc. The MHCP educates local Maya about U.S. law, health and safety; in turn, it educates faculty and students about the ancient and modern culture of the Maya.
In their fieldwork, RPCV Fellows analyze and address social, economic and political conditions within the region brought on, in part, by new Maya Native American communities.
Giving back is also a concept taught in the classroom at KSU, says Schwaig. Last fall, the university offered a business philanthropy course taught by Thomas W. Hughes, founder and past president/CEO of National Electronic Attachment Inc. and Medical Electronic Attachment Inc. In addition to leading the class and inviting speakers from different nonprofits to address the class each week, Hughes gave each of the students $1,000 to give away to charity. Students spent the semester researching charities then explaining their choice of a charity to receive their $1,000.
"I am a big believer that business is a great contributor to society – I think the best societies in the world throughout history have had a strong business component to them and free enterprise," says Schwaig. "But I think that what you saw during [the economic downturn] was a questioning of how we were preparing our students. So really what you have seen is a lot of progressive colleges of business looking at their curriculum and saying either how can we change our curriculum or augment our current curriculum to include some of these important themes."
Increased social awareness and involvement is not the only change in recent years for programs offering MBAs, a degree that has become increasingly popular – and important – at a time when an advanced degree is required, not just preferred, by many hiring companies, says Toby McChesney, assistant dean of graduate recruiting and student services at Georgia State University's J. Mack Robinson College of Business.
Georgia institutions are increasingly offering ways to make the MBAs more relevant and more accessible for recent undergraduates and younger professionals beginning their careers as well as seasoned professionals wanting to change careers or advance in the ones they have. Here are four more trends among MBA programs today.
More International Experience
Regardless of the institution where Georgia students pursue their MBA, international travel will be an optional, if not mandatory, part of their education. For programs with optional travel, the option is becoming an increasingly attractive one.
For Reese, a trip to China this spring will allow him and 60 others in his part-time MBA program to learn first-hand about Chinese culture and commerce. "We will be visiting a lot of the American companies that are doing business in China and also Chinese companies that have an impact on business in America as well," he says. While international travel is recommended to students in UGA's part-time MBA program, it is mandatory for the executive MBA, an 18-month program that offers mid- to senior-level managers leadership development, international experience and a network of contacts. UGA's executive MBA program has been named one of the best in the world by The Economist.
Georgia State offers Global Partners, "a true full-time MBA where students quit their jobs and get an MBA degree that is focused on international business," says McChesney. Students in the program do three residencies abroad: Brazil, China and Paris.
"They actually have to do an internship [overseas], and we help them with placement," he says. "Students in the program are typically wanting to work with an international company or work abroad. Some are from the U.S., and some are international students who come to the U.S. for the program."
Some programs combine international travel experiences with charity. At KSU, students participating in a program called the Social Entrepreneur Corps are serving as interns in Guatemala. The program works with high-profile universities to help individuals create, develop and grow businesses in Guatemala, Ecuador, Nicaragua and the Dominican Republic. "These students can go in and provide the business acumen and consulting to help these individuals of very low income or almost no income to develop these programs," says Schwaig. In return, they gain the perspectives, skills and knowledge to become social entrepreneurs of the future.
Less Reliance on Books
While MBA programs, like other graduate programs, traditionally have been taught by professors based on textbooks, today's programs are more likely to incorporate the study of current events and involvement of working professionals.
"One thing we have been doing in the past year is to put some business executives into the classroom so they are actually owning the class. They are teaching the class," says Schwaig. In addition to the philanthropy class taught by Hughes, another popular class was one called "Concept to Counter," which taught students last spring how to get a business from idea to actually implementing it, says Schwaig. The class was taught by the school's namesake, Michael Coles, who founded the Great American Cookie Company and served as president and CEO of Caribou Coffee.
"He taught the three-hour class one night a week and would bring in executives each week to talk for an hour or an hour and a half. They would take a break and then Michael would debrief on what the executive talked about," she says. "These kinds of high-profile business people have access to other high-profile business people. They bring them into the classroom, and our students get to hear from these great minds, these great proven leaders, which is so powerful."
Studying events in the news, along with textbooks, also provides students an education that is relevant to their field of study. "It is one of those things now where there is not a lot of reading out of the book," says Reese. "A lot of the time, we take stories out of the news or do a case analysis of something that is happening right now. We really kind of grab things that are currently happening that are affecting our jobs, that are affecting us in our industries and really explore that, which is really interesting."
Reese finds that what he learns is not only preparing him for his future, but provides practical information he can use now as business development manager, technology sales, at WhatCounts Inc., a privately held Atlanta-based email marketing company. "Things I learn in class every day, I come to work the next morning and put them right to use."
More Liberal Arts Students
When Andrew Schwartz left graduate school at the Manhattan School of Music, he soon discovered that neither his undergraduate degree nor the graduate degree he had been pursuing would go far in getting him a job with the lifestyle he wanted.
"I realized that an undergraduate degree in musical performance doesn't really open doors," says the New England native. "I was doing the standard applying for jobs 20 hours a day and finally a month later, I got one interview."
Schwartz knew he needed to do something different and thought that business school would be a safe bet. Today, the tuba player is looking forward to receiving his MBA from Georgia State University in May and plans to pursue a career in product branding.
His story is far from unique. While MBA students traditionally came from undergraduate fields such as business or engineering, increasingly programs are attracting students like Schwartz, who have little or no business education or experience, but find themselves interested after receiving liberal arts degrees.
At Georgia College, an MBA program designed especially for liberal arts graduates has been growing in popularity since beginning with five students in 2010, says Hanson. The majority of students in the full-time program were Georgia College undergraduates; however, now the program has students from around the state and beyond. The program is one of the first of its type anywhere, says Dale Young, interim dean of the school's College of Business.
More Ways – and Places – to Learn
One of the most important trends today is the ability to pursue an MBA virtually anywhere. Almost all institutions bring their programs to where the students are.
At KSU, MBA classes are offered not only at the Kennesaw campus, but also at the Galleria near Cumberland Mall, a major hub for business. The university also offers an MBA program on the campus of Dalton State College designed to serve the flooring industry, but students in the program also come from banking and other areas.
UGA's Terry College of Business offers its MBA classes in the Buckhead district of Atlanta, just a few steps from Matthew Reese's office, and Georgia State University is beginning to offer what it refers to as simulcast courses, in which the professor teaches in a classroom in the downtown Atlanta campus and that class is streamed live to students in classrooms in GSU's Buckhead and Alpharetta centers.
"We have a pilot test going on for spring, with two elective courses in the MBA program being simulcast. We are hoping by fall to have more," says McChesney. "[This] gives students a chance who don't necessarily have that time or don't want to come down to class to go to a different location. We are firm believers in bringing the programs to our students."
Perhaps the ultimate in bringing programs to students is offering them anywhere in the world through the Internet. Several Georgia institutions offer online MBA programs, and others, including Georgia State, are considering offering MBA classes online.
At Mercer University, students will soon be able to receive an MBA entirely online, says Susan P. Gilbert, dean of Mercer's Stetson School of Business and Economics. "We started introducing undergraduate classes last summer and a couple of online graduate level classes for the MBA program this January. Starting this fall, we will have a fully online program where a person can get their MBA 100 percent online.
"What we would like is to see ourselves as having three sets of programs in terms of MBA – a one-year, full-time cohort MBA program specializing in finance, accounting and marketing; a set of hybrid programs, where you could take online or onsite classes either in Atlanta or Macon; and executive and professional programs, which are mainly on weekends, cohort-based for people with professional experience."
Perhaps one of the most successful online MBA programs anywhere is the Georgia WebMBA, offered by six University System of Georgia schools – Columbus State University, Georgia Southern University, Georgia College, KSU, the University of West Georgia and Valdosta State University – and accredited by the Association to Advance College Schools of Business (AACSB). The program, which began in 2001, now allows applicants to meet prerequisites through online, self-paced modules, while the MBA courses are all taught by faculty from the participating universities.
Prospective MBA students who are interested in the program can apply through any of the six institutions. Their degree will be awarded by the institution through which they were recruited into the program.