Going Strong
Eight years after Kia announced its massive manufacturing plant in West Point, the region continues to see new industry moving in and more community reinvestment.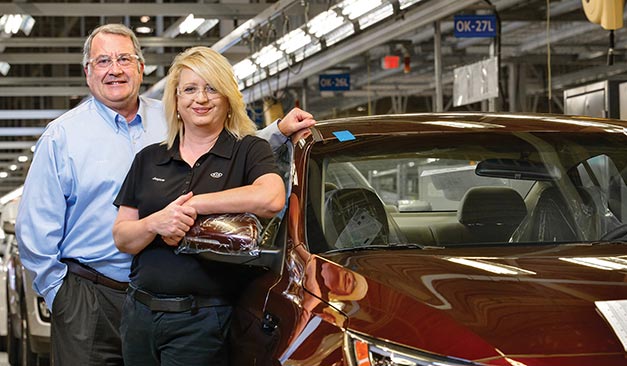 Don't get the wrong idea. It's not like there were tumbleweeds rolling on a whistling wind down 3rd Avenue, the main drag in downtown West Point, a little Georgia town in the southwest corner of Troup County just this side of the Alabama line. It's not like the business district was a deserted ghost town. Not yet anyway.
We're talking before March 2006, when Kia announced it was building its first North American car manufacturing plant in West Point, before the renaissance (that's what the mayor calls it, a "renaissance"), in the hard years when the textile industry was fading away, sucking the life out of this border town on the Chattahoochee River.
"It wasn't looking good. There were a lot of vacant buildings in our downtown, no new jobs in years," says West Point Mayor Dr. Drew Ferguson IV, who runs a busy dental practice when he isn't managing city affairs. "But we've seen a remarkable transformation. Just in the downtown area, 46 new businesses have opened in the past five years, adding about 300 jobs. Now, we've got a college downtown; we've reinvented our recreation department; we've addressed housing issues and education. We've turned it around.
"What Kia has done – what the auto industry here has given us – is an incredible economic opportunity that we've been able to translate into holistic community redevelopment," he says.
And those 300 jobs in West Point's now-vibrant historic downtown are just a speck of the whole hog. Roughly 14,000 jobs have been created in the surrounding region, thanks to Kia, or KMMG (Kia Motors Manufacturing Georgia).
About 11,000 of these people work at the various suppliers that have located in the region (about 7,000 in Georgia, 4,000 in Alabama), within a short ride from (or right next door to) the KMMG plant, which employs about 3,000 people working three shifts. Hourly employees start out making $15.15, with maintenance workers making north of $21 to start, good pay in this part of the country, with raises every six months for the first six years.
These are people like Joyce Spears, who used to work in textiles and became one of the 43,000 applicants to get in line when Kia announced it was building a plant in Georgia.
"A lot of people wanted to work here because the money is good, the benefits are good, it's a nice place to work," says Spears, who is married, has a 25-year-old son and lives a few miles from West Point. "I didn't go on vacations before. I couldn't. Now? I go on vacation a lot, four times a year.
"See, that's what I'm saying. I can afford things now that I couldn't before. This job gives me a better standard of living, a greater quality of life."
The once-empty downtown of West Point is now abuzz, even on a Tuesday night. The sushi restaurant and the pizza joint and the Irish pub on 3rd Street are hopping. There are young people walking down the street, students from Point University (formerly Atlanta Christian College), which relocated here two years ago.
Around the corner and across the railroad tracks, cars are crammed in the parking lot of the Korean barbecue place, where the menu is difficult to read, the waitstaff is difficult to understand and the food is delicious – and totally unlike anything this place was used to before Kia came to town.
Kia made its announcement before the Great Recession began, and in the midst of the economic downturn it managed to develop a 650-acre building pad on its 2,259-acre site (a $1.1-billion project) and start mass-producing cars – the 2011 Sorento – in November 2009. Nothing seems to have stood in the way of the company's growth, or its impact. And the thing of it is, there's plenty of space for more.
Room for Growth
KMMG is the third largest customer at the Port of Savannah, according to Randy Jackson, senior vice president of human resources and administration, who was the first American hired by Kia in its transition to Georgia and is the highest-ranking American at the company.
"A lot of our parts still come from Korea and have to be trucked here from the port," Jackson says.
About 60 percent of them are shipped from Korea, according to Jane Fryer, executive director of the Meriwether County Industrial Development Authority, who was part of the collaborative effort that brought Kia to Georgia when she was with the development authority in LaGrange, the Troup County seat.
"There is room for growth with more suppliers coming to the region," says Fryer, who moved next door to Meriwether in 2011 and has had a front-row seat to the economic and cultural overhaul.
"The whole region, Harris County, West Point, LaGrange, here in Meriwether, all over, we've all benefited from Kia. Had Kia not come, with the economy going down like it did, I don't know where any of us would be. It's been a lifesaver for all of us," she says. It also brings a clear-eyed perspective to the nuances of building this kind of regional prosperity, a curvaceous road that begins with the negotiation process.
About 30 Kia suppliers have located in Georgia, investing almost $1.3 billion, and Fryer has worked some of these deals. It ain't easy bringing together two different business cultures from opposite sides of the planet.
"It isn't the language barrier," she says of working with the Korean prospects. "It's the fact that you might have a deal worked out and you shake hands, and before you can write it up, they're back at the table saying, 'We want to change this and do that.' They're back asking for more [incentives].
"You want to be fair, but there comes a time and a limit to what a community can do, and all deals aren't the same."
For example, Mando America, which makes anti-lock brakes and steering systems, is investing about $280 million and will have created about 1,000 jobs at the Meriwether Industrial Park (developed with Kia in mind, five years ago), about a 20-minute drive from KMMG up I-85.
"Another supplier came to me and said, 'We know what you did for Mando, and we want the same thing.' But their investment was about $8 million, and they were going to create 100 jobs," Fryer explains. "So I tell them we base incentives on the number of jobs created, on the total investment, and sometimes that's a difficult piece to get across."
These are negotiations that typically begin, in some form, between suppliers and the Georgia Department of Economic Development (GDEcD), which has an office in Seoul, Korea.
"It's an incredible resource for us to have folks over in Seoul who can work directly with companies there. That's where the conversation begins," says Tom Croteau, GDEcD's deputy commissioner for global commerce. "For some, this is their first investment foray into the U.S. managing a plant overseas. It's a huge event in a company's history, investment wise and culturally."
For suppliers moving here for the first time, it's often difficult to grasp the rules and regulations of doing business in the U.S., according to Fryer.
"Safety regulations, OSHA requirements are the hardest for them to understand, because they can get away with a lot more in Korea than here," Fryer says. "Things like wearing safety glasses or hardhats, or making sure the welding is not too close to something that might be flammable."
Nonetheless, growing pains aside, she says the Kia experience has been ultimately a positive one. "I can definitely say that this area would be lacking in jobs if not for Kia coming," she says. "I don't think any of us have had very many other industries looking, and certainly none have located here recently."
Production City
There is still a need for improved connectivity between the port and Kia and its nearby suppliers. The route from Savannah to Macon is four-lane interstate. But the route from Macon (where Kia supplier Kumho Tire is building a $225-million plant, employing more than 300) to I-85 near LaGrange and West Point – the center of the KMMG universe – is a series of two-lane highways.
"It's filled with logging trucks and school buses," Fryer says. "I've told Randy [Jackson at KMMG], 'You're the key to getting this four-laned.' If Kia wants it, it'll happen."
Kia may want it eventually. Right now, Jackson says KMMG is shipping cars across North America via rail and highway in equal numbers. "It's about 50 percent rail, 50 percent truck right now," he says.
And it seems like it's almost non-stop. Three shifts work around the clock at KMMG. Less than a year after mass production started, they added a second shift (October 2010) and then launched a third shift in June 2011. In addition to the Sorento, they're now making the Kia Optima and the Hyundai Sante Fe.
KMMG produced its millionth vehicle at the West Point plant last summer – less than four years since opening, a record pace for an American auto plant.
"We've got excellent operational leadership that knows how to build cars," says Jackson, who has helped orchestrate the opening of several other auto manufacturing plants in his career, first with Toyota, then with Mercedes, mostly in rural places, not unlike West Point.
"These are transformative moments for communities," Jackson says. "The common thread is, they've all embraced the economic boost. The difference here is, in my opinion, the workforce skilled up much faster than what I was accustomed to. They absorbed the learning curve quickly."
Jason Corillo, who works in general assembly, joined KMMG when the company added its second shift, relocating to the area from Cobb County.
"I was in fast food, making minimum wage with a business degree. I always imagined I'd be running my own business, but I've always loved cars, and this company offers plenty of advancement opportunities," says Corillo, who is pursuing a promotion as team leader.
He works in a $1.1-billion plant that is more like a production city, populated by several thousand humans and several hundred robots.
The KMMG pad includes a stamping shop, welding shop, paint shop, general assembly shop, test track, a Quick Start training center, railroad spur, medical center, a huge cafeteria, gift shop and on-site suppliers (Powertech and Glovis). Down Kia Parkway, the service road that runs parallel with I-85, is a new fire station that serves West Point and the plant complex.
And they're not finished building on the site, not by a long shot. In November 2012, Kia announced it planned to invest another $1.6 billion in its production facility over the next 16 years, which will mean more jobs and probably more community enhancement, which suits Mayor Ferguson and Point University President Dean Collins just fine.
The state and local jurisdictions gave Kia a treasure chest of tax breaks and incentives to get them here, but the automaker is responsible for a huge increase of investment in the local community, including a pledge from KMMG of $900,000 to support science, technology, engineering and mathematics (STEM) education in the Troup County School System and $40,000 toward a new river walk development in West Point.
"Also, take ad valorem tax as an example," Ferguson says. "Before Kia, it generated about $700,000 a year in revenue. This year, it's about $1.4 million. And each year for the past five years, we've held the local millage rate, or rolled it back.
"And," he adds, "non-tax revenue in the city has gone up significantly, things like franchise fees, building permits, licenses."
Thanks to Kia, he says. And thanks to Kia, West Point is now a college town.
"West Point is a town that was just ideal for a private college," says Collins. "It was a college town without a college."
The private, Christian liberal arts school moved from East Point into the former headquarters of West Point-Pepperell, a longtime leading textile manufacturer, in June 2012.
The move was made easier for Point University because West Point had improved its recreation department through $3 million in SPLOST money, raising the various sports fields to NAIA standards for the university's athletic teams. But again, Collins says it comes back to automobiles.
"This is an amazingly friendly small Southern town, with a lot of charm and personality," Collins says. "That, combined with the economic stability Kia brings, makes this a perfect fit."