Forsyth County: The Changing Landscape
Rising home values, business expansions and healthcare.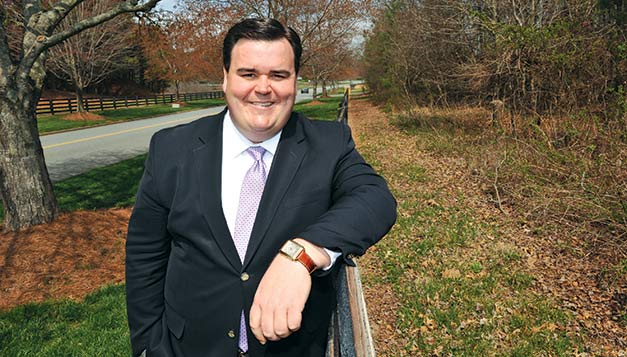 Drive north on Georgia 400 past the perimeter and you soon find yourself in what many consider the epicenter of growth and recovery in Metro Atlanta. Forsyth County has long been one of the nation's fastest-growing areas. Attracted by good schools and low taxes, a steady stream of new residents have made the trek north and created a thriving housing market.
It's true that the real estate bubble burst here just as it did everywhere else. Yet although the engine slowed it never quite stopped, and these days the county is roaring back – almost to where it had been, say local officials.
"Thankfully we are not dominated by one particular industry or firm here," says James McCoy, president and CEO of the Cumming-Forsyth County Chamber of Commerce. "That has been an enormous help in not only enduring the economic storm nicely, but also coming out a little faster."
Forsyth (or FoCo as some younger locals call it) has long been considered a bedroom community for Atlanta. People came here following the classic real estate agent adage of "drive till you qualify." The build out of North Fulton County – and rising home prices – began to push growth up the 400 corridor more than two decades ago. That trend turned what had once been a rural community into a sprawling suburbia in its southern end.
That growth also washed away the county's reputation as a center of racism where the Klan held sway and not a single African-American resident could be found. Those days of protest marches are long gone as its rural landscape has become transformed into an unending expanse of subdivisions and shopping malls.
And now, after taking a breath, the county seems to be coming back.
"Forsyth County is absolutely leading Metro Atlanta in the economic recovery," says County Manager Doug Derrer.
He cites a recent report in Forbes magazine that ranked the county as the seventh fastest-growing community in the U.S., down slightly from the fifth place ranking of a few years ago.
Enticing Residents
The ranking doesn't reflect a falling behind, more like a realignment and transition. Forsyth is emerging as a center for the affluent. Plus, homes are cheaper here than they are in Atlanta. The average house sells for $278,600 in Forsyth County, compared to half a million in North Fulton.
Yet, as more subdivisions have sprung up, houses are also getting bigger – Forsyth has its share of McMansions. It also has a population that is getting younger and wealthier.
The evidence of the turning economy shows up in the numbers. Back at the height of the market in 2006, the county issued 4,792 residential building permits. In 2007 permits dropped to 2,927, then plummeted in 2009 to just 849. That proved to be the nadir for housing as home building started to pick back up the following year. By 2013 they were back up to almost 3,000 residential building permits – a solid indicator that the home building sector has recovered. Now moving into 2014, the monthly averages point to an even better year, say officials.
More house for the money – and lower taxes on those houses – has also attracted an affluent population, including both executives and the young well-educated types who want more from where they live.
One recent study by the Nielsen Co. put Forsyth in the top 10 list of counties "where the young and affluent choose to buy homes and live." Of the top 50 counties it ranked in this category, 16 are in and around Washington, D.C. Forsyth is the only county in the Southeast to make the top 10.
"We are getting some very affluent population growth," says R.J. "Pete" Amos, chairman of the Forsyth County Board of Commissioners. "Our park and recreation system is second to none in the state thanks to a $100-million greenspace bond."
He also credits the county's highly ranked public school system as a magnet for families – especially young couples with kids. Those assets are also a big part of the reason that a wide variety of companies are starting to make the county home as well.
Rising home values are to a big extent being driven by school rankings, according to McCoy.
"We hear it over and over again from executives making decisions from all over the world [that] they value the school system a great deal," explains McCoy. "That's true whether it's their own employees that are coming here from other countries or it's the folks they are hiring here."
International Presence
From schools to baseball diamonds to boating on Lake Lanier, these factors all combine to form that oft-used phrase – quality of life.
Last year the chamber celebrated 19 economic development announcements. They were evenly divided between expansions of existing firms and new relocations. That economic activity generated some 624 new jobs in the community and almost $59 million in new capital investment, according to McCoy.
In fact, almost 40 percent of business expansion in North Georgia during 2012 occurred in Forsyth County, according to the Georgia Department of Economic Development.
"A very large and ever-growing part of our business base are international firms," says McCoy. "Most folks are surprised how many international firms are here. There are a particularly high number of German firms."
These include companies such as Hansgrohe, a maker of faucets for showers, bathtubs, vanities and kitchens. There are also household names such as Siemens, a multinational player with operations in more than a hundred countries around the world. Dozens of smaller firms have also relocated to the area, including South Korea-based IUS Technologies, a maker of smart grid sensors for the utility industry.
Another recent addition is the British-based company Biodiesel King, which selected Cumming as the site of its U.S. headquarters and distribution facility, adding an initial five jobs. The chemical equipment supplier also collects cooking oil waste from restaurants and hotels.
For many companies, expansion is being driven by new markets and an improving economy.
Dieffenbacher announced that it is expanding its U.S. manufacturing plant in the county and adding approximately 13 new jobs along with $1.2 million in capital investment. This family-owned company, founded in Germany in 1873, is a leading supplier for wood-based panel and pellet plants. The new customer service center provides spare parts and services for all of Dieffenbacher's customers in Canada and the U.S.
Dieffenbacher is one of more than 60 international companies, including 20 that have made Forsyth the location for their North American corporate headquarters.
Another is Italian manufacturer Motovario Inc., which added 35 new jobs and invested more than $4 million in its operations. The company is one of the largest Italian and European builders of gear units for industrial and civil applications. Its new facility on Bluegrass Lakes Parkway puts it next door to other international manufacturers such as Enervex, Hansgrohe and Lonza.
Technology companies are also increasingly coming to Forsyth to find trained workers. Scientific Games recently expanded its operations and installed a new manufacturing technology that networks 20 printing presses together electronically to produce 9 billion instant lottery games annually.
Scratch-off lottery games are big business, and the company has garnered a significant portion of this $78-billion industry. Producing the tickets sold by lotteries requires an elaborate design and manufacturing process using more than 20 layers of ink to create electronically trackable instant games.
With one of the country's largest fiber lines running along Georgia 400, Forsyth has naturally become home to data centers for major companies such as New York Life Insurance Co., Southeast Toyota Distributors, Publix and UPS.
Bright Light Systems also established its U.S. headquarters in the southern region of the community adjacent to the regional headquarters for Siemens and Chemence.
Health Smarts
The increase in population has spurred the growth of another major industry – healthcare. Northside Hospital-Forsyth has been expanding its local campus over the past several years. Since adding a Women's Center in 2008, it has added several medical office buildings nearby. The latest of these – 1800 Medical Building – became the fourth medical building on the 150-acre hospital property.
The $20-million, four-story facility is 100,000 square feet and has space for obstetricians, gynecologists, pediatricians and a center for perinatal medicine. Plans also call for moving a women's imaging facility there.
Children's Healthcare of Atlanta has also opened a $6.1-million urgent care facility just off exit 13 on Georgia 400, reflecting a trend among healthcare systems to provide services closer to where people live. Fast-growing areas like Forsyth with large numbers of affluent residents provide Northside, Children's and other health systems with a large local patient base.
Putting the hospital and all those medical specialists in one area has also spurred the development of medical-related startup firms. These include operations such as Remington Medical, a maker of disposable medical products such as cardiovascular pacing cables and adapters for temporary pacemakers.
These sectors – healthcare, technology and international firms – are the target of the chamber's Business First initiative. With more than $3 million in the bank for economic development efforts, county officials believe they can capitalize on the areas that have traditionally been their strength.
Education has taken on a higher priority in Forsyth, as well. Lanier Technical College has seen enrollment rise by 11 percent over last year. And as part of the University System of Georgia's efforts to consolidate across the state, Gainesville State College merged with North Georgia College & State University last year to form the University of North Georgia.
The northern region of the community recently became the home of the National Guard's new armory and training facility, a new branch of the Georgia Department of Driver Services and a $13-million aquatic center. These will play a key role in attracting new residential developments to the northern part of the county.
Forsyth is also beginning to get its share of shopping opportunities, following the adage that retail follows rooftops. Along with the usual mix of stores, the county also snared a 72,000-square-foot flagship store for Academy Sports + Outdoors.
"We are really underbuilt for retail," says the chamber's McCoy. "There is a lot more rooftops than there are retail establishments to accommodate them. We're working hard to get the kind of quality retail our citizens want."
One recent study confirmed that Forsyth's rapid growth has produced a local restaurant market that is underserved by approximately $60 million, according to Derrer.
Hospitality is also getting a boost with the construction of a new hotel near the shopping destination The Collection at Forsyth. While not exactly a convention hotel, the hotel will be located just across the street from the Forsyth Conference Center. The facility, which is operated by Lanier Technical College, has one of the largest meeting spaces north of I-285.
All of these advancements point to a bright future for Forsyth – one that many think is just coming to realization.
"Our future is not slowing down," McCoy says. "It's speeding up."
The Right Stuff
Attracting new companies means making sure there are the right workers with the right skills in the community to serve their needs. A big player in providing training for workers has been Lanier Technical College.
"Workforce development is the reason we exist," says Lanier Tech President Dr. Ray Perren. "We're here to help build the workforce (the county) needs to attract business and industry."
The college meets with local business owners and industrial plant managers to find out exactly what they need their workers to know before they hit the shop floor.
"One of the things that's coming out of this effort is the development of an apprenticeship program that will serve manufacturing in Forsyth and surrounding counties," he explains.
The growth of Northside Hospital and the medical offices that surround it have presented an opportunity for the college to expand its medical-related training program. This fall, Lanier will launch a new physical therapy assistant program. It will soon be followed by an associate's degree in nursing that will allow students to sit for the state's registered nursing exam. Both of these fields are in high demand.
Fully half of the school's students are enrolled in some kind of allied health field.
"We're also engaged very closely with the Forsyth County school system and are looking to assure that students have a pathway to college," he says.
To help students transition into college-level classes, Lanier is launching an engineering technology program on the Forsyth campus that would allow high school students to enroll in after-school classes.
Along with its credit programs, the college is able to provide customized training to companies that have specific processes or jobs that need specific skills.
Many of those customized efforts are designed to equip workers in the new advanced manufacturing plants that have started to pop up in Georgia. While the mills and factories that once dotted the landscape of North Georgia are now long gone, a new kind of manufacturing has started to return.
"Manufacturing is very high tech and very automated," says Perren. "Instead of a production worker doing the same task repeatedly time after time, thousands of times a day, employees are really managing high-tech systems. These computer systems control the manufacturing process and direct robotic welders or computers that control conveyor belts in a manufacturing process."
Lanier Tech officials often are at the table with local economic developers when prospects come to town. The aim is to have ready access to any kind of training for workers that might tip the scale in favor of this county over another somewhere else.
"We assure prospects that the workforce they're looking for is there, and we have a means and process that can continue to train the workforce to meet their needs," he explains.
That training is more important now than ever before. Even traditional fields like air conditioning and welding have become infused with levels of technology that workers of an earlier generation could hardly imagine.
"We know that by 2020, 80 percent of jobs will require training beyond high school but not a college degree," says Perren. "That's where we are." – Randy Southerland