Metro Atlanta: Lost And Found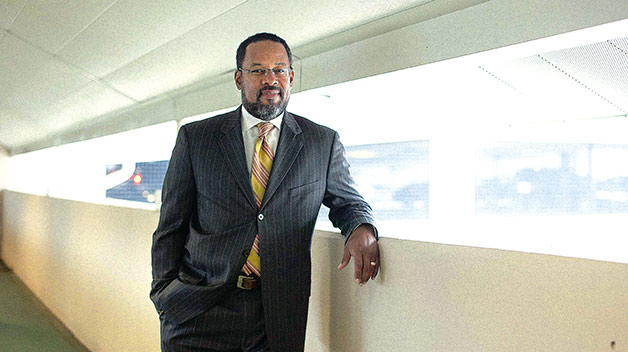 These are the clear signs of economic momentum in Metro Atlanta: consecutive years of solid job growth driven by a mix of growing industries, especially those clustered around technology. Well, it's that and also a stubborn reluctance to accept "no" for an answer.
Surrounding the world's busiest passenger airport (Hartsfield-Jackson), this is Georgia's mega-hive of commerce, a region buzzing with a resurging technology sector, an expanding healthcare infrastructure, a lucrative film industry, wide-ranging logistics companies and continuing interest and investment from international firms.
"There definitely are some great indications that we're recovering from the Great Recession," says Hans Gant, former senior vice president of economic development for the Metro Atlanta Chamber (MAC). "What stands out most for me is three straight years of job growth in the region, each year stronger than the last."
And there definitely is a sense of rediscovery in the region, a "lost and found" theme that recurs in these communities like familiar mood music.
Years after the technology bubble made a mess, there's new life and more directions to go in. There is a revival in manufacturing. The housing industry imploded, but it's turning around – enough so that one of the country's biggest homebuilders, PulteGroup, moved its headquarters from Michigan to Atlanta last summer. And the region's relationship with the movie industry, which had an on-again, off-again rhythm for decades, has blossomed into a passionate love affair.
Chunks of Georgia's $3.5-billion film industry are scattered across the Metro Atlanta region. Pinewood Atlanta Studios (the U.K.-based filmmaking home of James Bond) has just opened in Fayette County. Triple Horse Studios has announced plans for a $100-million facility in Covington. Jacoby Development is promising what would be one of the Southeast's largest movie studios on a redeveloped site in Gwinnett County. And Tyler Perry Studios has been talking expansion in the area.
A big reason for Hollywood's interest in Georgia (besides the state's generous film tax credits) is Atlanta's airport, which has made the region a supply chain hub, crammed with warehouses and distribution centers, logistics companies of all kinds, trucking companies, people involved in the expeditious movement of stuff – movement that froze completely one day in late January, when two inches of ice and snow crippled airport runways and an entire region's roadways.
Atlanta made headlines around the country, became a national example of "how not to plan for a weather event" and even became a joke on The Daily Show with Jon Stewart.
"[The winter storm] pointed out the need for us to be more collaborative and develop a structure of how to make responsible decisions collectively in handling large, regional emergencies," says Doug Hooker, executive director of the Atlanta Regional Commission (ARC). "We're so integrated physically as a region, but so fragmented governmentally. So the goal is to find ways for governments at all levels to work collectively."
A few days after the storm, which stopped ground mobility, Gant was touting a burst of activity in the world of wireless mobility.
Several mobile technology companies announced in 2013 that they would be creating new jobs in the region, with AirWatch (1,150 jobs) and AT&T (1,000) making the biggest impact. There were also job announcements by smaller firms, like StarMobile, Mobiquity and IMImobile.
"Everything is going mobile, and Atlanta has become the center of that emerging industry," Gant says, adding, "but we also feel that Atlanta has become the health IT capital of the country."
For instance: Last year, Massachusetts-based athenahealth, which already employed about 100 workers in its Alpharetta office, announced it would relocate to the Ponce City Market development in Atlanta and create up to 500 jobs, investing about $10 million at the mixed-use redevelopment of the old Sears building. The company offers cloud-based services for physician practice management and electronic medical records.
Also, ColibriumDirect, a leading health plan telesales and business process outsourcing provider, opened its headquarters in Roswell, where it expects to bring 600 jobs, and Point-Clear Solutions relocated its headquarters from Huntsville, Ala., to Dunwoody, creating up to 200 jobs in the process.
Generally speaking, the region's IT sector loudly asserted itself in 2013. Among the projects announced last year: General Motors' $26-million technology development center is expected to employ about 1,000 people, and Ernst & Young (EY) is investing $8.5 million to expand its global IT center in Alpharetta, creating 400 new jobs.
According to Gant, there are more than 150 companies in the region devoted to wireless mobile technology, more than 200 in the health IT space, and the jobs keep coming as the region's population grows.
"In-migration has picked up, and a big reason for that is the prospect for jobs across sectors," says Gant.
Last year, the Atlanta region added about 59,000 jobs, according to a regional report by Wells Fargo. This year, according to forecasts from the University of Georgia's Terry College of Business, the region will add about 58,000 jobs.
"The good news is, when you talk to national and regional economists, Georgia and Metro Atlanta job growth is expected to outpace the rest of the country," Gant says. "The forecast for the next four years looks very good in terms of continued growth in jobs, at rates close to pre-recession numbers. We like the sound of all of that."
It sounds like recovery, like progress, and you can hear it in different pockets throughout the region. For some Metro Atlanta counties, the fickle fiscal pendulum has swung all the way back into the black. Take Cherokee County, for example, where their refusal to accept "no" netted a 2013 Deal of the Year by the Georgia Economic Developers Association in the Large Community category.
Inalfa Roof Systems, which makes sunroofs and open roof systems for automotive manufacturers, saw a spec building in southwest Cherokee County that it liked – the only thing it wanted in Georgia. But another company beat them to the lease, so Inalfa was going to look at Tennessee.
"We were determined to bring them here," says Misti Martin, president of the Cherokee Office of Economic Development. "So we asked them to consider a 'build-to-suit' facility just down the street. That was our Plan B. We didn't have a Plan C. We lost the deal, and then we got it back. That's why it was the Deal of the Year."
And it wasn't even the biggest deal in Cherokee, dollars- and jobs-wise. Last year saw the arrival of The Outlet Shoppes at Atlanta, a $115-million project with 1,200 jobs attached and a 97 percent occupation rate at last summer's opening, a thumbs up for retail development.
Regional commercial development will get a pretty big boost in coming years with the construction of two major league sports stadiums – the Atlanta Falcons' $1.2-billion space-aged facility in downtown, and a new ballpark for the Atlanta Braves in Cobb County.
"The Braves development is front and center, a huge announcement, and it opens up a world of possibilities for us," says Michael Hughes, economic development director for Cobb County. "In addition to the investment related directly to the stadium, about $672 million, we expect a $400-million investment in the entertainment district right next door."
Across the region in 2013, deals got done, dirt got turned, landscapes transformed and business was happening across the spectrum.
Healthcare remains a driving, evolving economic development force. For example, this spring, WellStar is opening its gleaming new $125-million, eight-story hospital in Paulding County, while on the other end of the region, the Cancer Treatment Centers of America hospital in Newnan, which opened less than two years ago, is adding another 120,000 square feet of space, part of a $48-million expansion.
International interest in the region continues to grow, especially in Gwinnett County, which has about 600 companies headquartered in another country.
"About a fourth of the projects we worked last year were international companies," says Nick Masino, who heads up economic development efforts for Partnership Gwinnett at the Gwinnett County Chamber of Commerce and sees other signs that his area's economy is recovering.
"We're seeing five-year lows in foreclosure rates, five-year highs in new construction permits, five-year highs in the growth of existing residential values," he says. "By every measurement, things are looking strong."
Signs of recovery took on a variety of different faces for the metro area in 2013. A small sampling:
• TravelSky Technology, a Chinese state-owned firm, announced plans to put its North American research and development center in Duluth, adding 50 jobs.
• State Farm Insurance announced it would add 800 jobs in Atlanta.
• Hitatchi Automotive Systems is expanding operations in Monroe, investing $80 million and creating 250 jobs.
• Bonnell Aluminum began a $17-million expansion project in Newnan to help the company enter the automotive industry.
Up in Forsyth County, where the unemployment rate already is among the lowest in the state, 19 new or expanding companies added 624 jobs.
Over in the far west corner of the region, Carroll County enjoyed its best single year of economic development since the creation of Carroll Tomorrow, the public-private economic development wing of the local chamber of commerce.
Local wire and cable manufacturer Southwire announced a $95-million expansion and the addition of 375 jobs. Also, Japanese auto parts supplier Yachiyo of America is planning a $30-million, 130,000-square-foot plant in Carrollton, creating 200 jobs.
Last year, Carroll County had about $266 million in various capital expenditures, which led to the creation of 1,005 new jobs. They hired a director of workforce development, and the local business incubator, The Burson Center, was one of only 10 featured in a case study on "Best Practices in Rural Incubators," in the U.S.
It's good stuff for Carroll County specifically, good for the region, but it's last year.
"We were very pleased with the results for 2013," says Daniel Jackson, president and CEO of the Carroll County Chamber, adding the inevitable 'but.'
"Now it's time to tee it up again, and we expect to enjoy another good year."
Individual Stories: