Help And Hope
When it comes to finding a cure for childhood cancer, Georgia is leading the charge.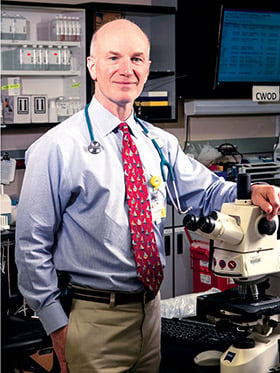 When Davidson College senior David Johnston was diagnosed with T-cell acute lymphoblastic leukemia (ALL), a virulent form of the blood cancer, at age 3, statistically speaking he was not expected to live. Today, David's story of survival is one his father shares often as director of pediatric hematology/oncology at Memorial University Medical Center in Savannah.
"When people want a concrete example of a child who has done well, especially a child who has beat the odds, it is nice to say 'well, I live with somebody like that,'" says Martin Johnston, M.D.
Stories of survival, like Johnston's, thankfully are becoming increasingly common. For acute lymphoblastic leukemia, the most common cancer in children, five-year survival rates are up significantly from a decade or even five years ago. Even for more rare and difficult-to-treat forms of childhood cancer, survival rates are rising, thanks in large part to treatments offered, tested and in some cases developed right here in Georgia.
A Destination for Cancer Care
As members of the Children's Oncology Group – a National Cancer Institute-supported international consortium of more than 200 pediatric oncology groups devoted exclusively to childhood and adolescent cancer research – most pediatric oncology groups in the state are participating in clinical research, primarily in the form of Phase III clinical trials.
Phase III clinical trials are studies that involve giving drugs that have already gone through quite a bit of testing, says Todd Cooper, D.O., director of the Innovative Therapy Program at Aflac Cancer and Blood Disorders Center of Children's Healthcare of Atlanta and an assistant professor at Emory University School of Medicine. They are offered to children with newly diagnosed cancer and "give families some comfort that you are not just some doctor on the corner doing your own thing, but that you are using the most widely accepted therapies both in the country and the world," he says.
For that reason, he says, most families can get the care their children need right in Georgia – and often near their hometowns – eliminating the need to travel at this difficult time in their child's and family's life.
For families outside of Georgia who are not fortunate to have access to the most specialized treatment or whose cancer has recurred despite care from their local doctor, Georgia is often the preferred treatment destination, says Dr. Cooper, who sees patients come through the program from across the southeast and as far away as Iowa, Texas and Louisiana. In fact, of all the centers in the country, the Aflac Cancer Center ranks third in the volume of children seen annually, says Walter J. Curran Jr., M.D., chief medical officer and executive director of Emory's Winship Cancer Institute, which operates in conjunction with the Aflac Cancer Center to find the best treatments for childhood cancer.
Georgia Trend takes a look at five areas where Georgia stands out in pediatric cancer treatment.
1. Studying the next generation of treatment. While children at most medical centers in Georgia have the opportunity to participate in Phase III clinical trials, Children's Aflac Cancer Center also offers the opportunity to take part in Phase I and II studies as well. Phase II trials are of drugs that are less well-tested than those in Phase III. Phase II trials involve children who are in their first or, in some cases, second relapse, says Dr. Cooper. If a drug works well in those cases, it may be used in patients with a new diagnosis. Phase I studies are of drugs that have only been tested in adults. The primary goal of Phase I studies is to determine the maximum tolerated dose. A drug that continues to be interesting and is safe will continue to Phase II.
"Phase I is often a last hope for families," says Dr. Cooper. "My goal for our patients who have difficult-to-treat cancers is to always have an option for them, to receive the latest, most interesting, novel therapies."
The Aflac Cancer Center is one of a select group of pediatric centers nationally conducting Phase I trials. Georgia Regents University and the Pediatric Cancer and Blood Disorders Center at Children's Hospital of Georgia in Augusta are in the process of creating a Phase I clinical trial program and are close to designing and opening some Phase I trials for children with brain tumors, says Theodore Johnson, M.D., of the Georgia Regents University Cancer Center.
2. Developing new therapies. Many of the drugs that make it to Phase I trials and beyond are developed at Georgia institutions. "We have a number of talented basic science researchers who are looking at mechanisms of resistance to cancer and mechanisms of how people develop cancer," says Dr. Cooper. "We have doctors who do what we call solid tumor research – which include bone tumors and muscle tumors and the kidney tumors and liver tumors – and we also have researchers who often do hematologic malignancies or blood cancers."
One recent Phase I study that came out of Atlanta focused on AC220 to target the difficult-to-treat FLT3-positive acute myeloid leukemia (AML), which has a very poor prognosis. AC220 works by blocking certain targets on cancer cells that are involved in regulating the formation of blood or blood cells. The trial, which involved 30 or 40 centers, was very successful, says Dr. Cooper.
Another trial originating from the Aflac Cancer Center was for a drug called plerixafor, which drives resistant leukemia cells out of hiding in the bone marrow and into the circulation where the cells can be sensitized to chemotherapy.
At Georgia Regents University (GRU), researchers who hope to bring new treatments to clinical trial soon are focusing on immune therapy, which involves harnessing the immune system's own power and specificity to teach it to fight cancers while leaving the rest of the body alone. This differs from conventional chemotherapy that damages tissues in addition to the ones it is designed to treat.
"[Immune therapy] is very useful when you have managed to get most of a solid tumor removed with surgery, and you have followed that with some chemotherapy or radiation or whatever is called for [for] that particular tumor type," says GRU's Dr. Johnson. "Any cancer left after treatment is referred to as microscopic disease, and that is where the immune system can play a role, because its whole job is to watch out for microscopic invasion of bacteria, viruses and fungi. So it is specifically engineered to do the job of rooting out microscopic disease."
Unfortunately, says Dr. Johnson, tumors have learned how to suppress the immune system so they can take over the ship and grow in an uncontrolled way. His job has been to discover the mechanisms by which tumors suppress the immune system and find ways to defeat those. One of the mechanisms, discovered by researchers at GRU, is a protein pathway called indoleamine 2,3-dioxygenase, or IDO, which the body normally uses to avoid over-responding to invaders. In some cancers, however, the tumor learns how to co-opt that mechanism, stealing it to protect the tumor instead of the body. By using drugs that inhibit IDO, the tumor is left without that protection and the immune system can recognize and attack it, he says.
With a grant from Alex's Lemonade Stand Foundation, one of the largest pediatric cancer foundations in the U.S., Dr. Johnson's lab has found that adding IDO-blocking drugs to standard chemotherapy and radiation creates quite a bit of synergy and leads to therapeutic effects that they hope to bring to the clinic within the next couple of years.
3. Using more targeted radiation. Like chemotherapy drugs, radiation is an effective killer of cancerous cells, but it also causes damage to surrounding tissues. A new generation of radiation therapy, called proton beam therapy, is changing that.
The Emory Proton Therapy Center, under construction and scheduled to open in 2016 in Midtown Atlanta, will be just the 12th nationwide to offer the new therapy, which targets tumors more precisely than conventional radiation.
"There is no place that is more important than this [for] a growing child who is afflicted with some type of tumor," says Dr. Curran. "The common types of tumors where radiation has an important role in curing children are brain tumors. In particular there are childhood brain tumors that not only require radiation to the tumor and immediately surrounding area, but also to the spinal column." This is necessary even if there is no evidence of tumors in the spine because studies show these tumors have a high risk of spreading to the spinal area without it.
Dr. Curran says there is no clearer indication for proton therapy than a situation where you need to deliver radiation to the spine but spare structures such as the heart, lungs, stomach, intestines and throat, which in a small child are right in front of the spinal column. "It is clear that using protons really reduces the dose of radiation to those critical growing structures and therefore reduces the normal tissue risks of curing the patient," Dr. Curran says.
4. Dealing with cancer's aftermath. More effective treatments mean more children are surviving cancer, yet often life after cancer involves living with the aftermath of cancer treatment. For that reason, the Aflac Cancer Center focuses not only on children who have cancer now, but also those who have survived it.
"We have a strong survivorship program, a clinic where patients who have survived cancer for two years or more go every year to deal with the delayed effects of the drugs," says Dr. Cooper.
Delayed effects of treatment can be physical – long-term effects on the bones, heart and hormone production, for example – or mental. Many children experience problems with concentration, memory and behavior.
The Cancer Survivor Program, headed by Karen Wasilewski-Masker, M.D., and Lillian R. Meacham, M.D., offers evaluation of and treatment for the physical damage of the disease as well as neuropsychological evaluation and counseling to help young patients with the mental and emotional issues that often accompany survival of cancer, says Dr. Cooper.
The Aflac Cancer Center also offers counseling and other services for children who are being treated for cancer now, as well as other services such as sperm banking for adolescent and young adult patients who are about to receive chemotherapy that could affect fertility.
An extensive social work program is available to help each patient's family identify resources for help with finances, childcare for their other children and other issues that arise when one young family member has cancer.
5. Offering help and hope – close to home. Fortunately, children don't always have to travel to the largest research facilities to get the best care. While certain cancer therapies are available only in Atlanta, most centers offer their patients cutting-edge treatments regardless of where they live in the state. At the Children's Hospital at the Medical Center of Central Georgia in Macon, for example, doctors have been working out the logistics of offering a hematology/oncology clinic in rural counties, says Children's Hospital Medical Director Anthony Pearson-Shaver, M.D.
The hospital as a whole is also interested in developing a telemedicine program that would allow doctors, including pediatric oncologists Ndina Nhlane, M.D., and Vishwas Sakhalkar, M.D., not only to go to the rural clinic every month or two, but will also allow them access to patients electronically.
"Patients would likely go to their primary care physicians, and our physicians would be able to see the patient," says Dr. Pearson-Shaver. "You can hear heart rate, look in ears and look in eyes. Our friends at Georgia Tech are even developing a glove that the examining physician could use, and the physician on the other end can get a sense of what he is feeling."
Diagnostic skills are of particular importance at centers like the Medical Center of Central Georgia. As one of a few tertiary care centers in Georgia, it is one of the only options for young cancer patients in South Georgia. When children are referred to large centers such the Aflac Cancer Center in Atlanta, they have a diagnosis and are being referred for care, says Dr. Nhlane. When children come to the Medical Center of Central Georgia, they are often coming for the diagnosis.
"Many of those do not end up being hematology/oncology cases," says Dr. Nhlane. "They end up being metabolic or immunological conditions that have been referred because there is something abnormal with the blood counts or swollen glands." In other cases, however, doctors at the medical center are the ones who must inform the family that their child has cancer.
Regardless of where they receive their diagnosis, families can be assured that their children have access to the best treatments close to home and can benefit from research conducted right here in Georgia, which is giving more stories of young cancer patients happy endings.