Four For The Future
It's a team effort for four communities in Georgia that focus on long-range planning, public health and wellness, downtown revitalization and regional collaboration.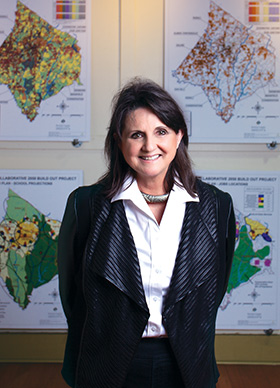 Everyone knows that there's no "'I" in team. Working together, especially when it comes to building a community, involves countless partnerships and interaction between all sorts of people. Still, finding the resources and the wherewithal to turn a project from talk to reality can be a momentous task. But not for this year's Four for the Future Award recipients.
For the second year in a row, the University of Georgia's Public Service and Outreach division and Georgia Trend magazine are recognizing four communities that have worked across the public-private sectors and nonprofit boundaries on challenging issues that will improve quality of life. From collaborative planning and health and wellness initiatives to reinvigorating a downtown and finding new ways to use a community's past, these partnerships demonstrate effective collaboration, leadership and innovation – not just for today, but for the future, too.
As part of its mission as a land grant university, the University of Georgia's Public Service and Outreach (PSO) division provides the resources of a large university to communities to help them succeed, contributing to the state's short- and long-term prosperity.
"The Four For the Future partnership between Georgia Trend and the University of Georgia represents encouraging examples of innovation, leadership and collaboration that advance community well-being and economic development," says Jennifer Frum, UGA's vice president for public service and outreach. "The award reflects Georgia Trend's mission to highlight the best of Georgia's communities and UGA's public service mission of improving quality of life across the state."
Covington and Newton County
The Center for Community Preservation and Planning
Kay B. Lee has developed a poetic vocabulary to communicate her civic ideals.
"Do you know what a charrette is?" she likes to ask. "It comes from the French beaux-arts system of architecture schools when students were given a limited time to come up with design plans. The professors would pull a small cart through the class to gather the drawings at the end of the working period, and that cart with the sum of everyone's ideas was called a charrette."
It makes a handy metaphor for The Center for Community Preservation and Planning, which Lee directs in Covington. Known simply as The Center, it is an unofficial nerve center for Newton County.
"The Center is a neutral place for collaborative planning for leaders from the public and private sector and as many stakeholders as possible, who believe we can manage our growth in sustainable ways that preserve our rural landscape and quality of life," says Lee.
That collaborative planning has borne a strategic plan known as "2050 for Newton County," which emphasizes concentrating development for compact, better-served communities; integrating transportation plans for smooth traffic flow; and helping businesses "go green," from utility costs to recycling.
"The walls are covered in maps – maps of watersheds, zoning, schools, populations past and predicted," says Ruth Miller, an alumna of the Massachusetts Institute of Technology and recruiter of students for the MIT Community Innovators Lab, a sort of internship program at The Center where prodigies hover intently over diagrams and building strategies. "So it feels busy and full, but it works because it lacks an agenda."
For years, this area reigned as the eighth fastest-growing county in the United States, with an estimated 65 percent of its population considered "transplants." Now it's bracing for a population explosion that will soon top 400,000.
Blame these challenges on a desirable location and aesthetic appeal. Newton County, shaped like a diamond, lies 35 miles southeast of Atlanta, and atmospheric Covington has been nicknamed "Hollywood South" for its longtime turn in the spotlight, first in The Dukes of Hazzard and In the Heat of the Night and more recently in the CW hit The Vampire Diaries.
"I'm excited about the new Mystic Grill restaurant, which sells Vampire Diaries merchandise," says Mayor Ronnie Johnston. He is more concerned, though, that his adopted city does not succumb to the sprawl issues he left behind as a business owner in Alpharetta.
One solution involves intown employment to reduce commutes. Enter Baxter International, the global healthcare giant that is building a $1.5-billion manufacturing facility expected to bring at least 1,600 jobs to develop plasma-based medical treatments. The state is also building a $14-million training facility on Baxter's campus, which could be used for other purposes as well.
For more workforce preparation, the county's chamber of commerce, board of education and business leaders also opened the Newton College and Career Academy in 2012 to provide students with the skills necessary to succeed in postsecondary education and career paths, with a focus in occupations considered high-skill, high-wage and high-demand.
"What happens when people collaborate is this wonderful 'aha!' moment," Lee says. "We tend to focus only on what falls under our sphere of influence, but if we come together in the same room and view issues through a collaborative lens, we see how a decision about school service can affect roads, and vice versa. It's extraordinary to witness. Someone who was planning to move here called to ask some questions and said, 'There seems to be an inevitability of success.' I liked that."
Those charrettes must be overflowing with ideas. – CD
Cairo And Grady County
Community Health & Wellness Issue Work Group
In a place nicknamed "Syrup City," it might seem that things would move slowly. But that's not been the case in Cairo and Grady County.
Community members were aware that a Georgia health snapshot in 2010 had ranked Grady County 124 out of the state's 159 counties in its percentage of obese adults. Diabetes, cardiovascular disease and cancer rates in the county were higher than both state and national averages, so the goal was personal to a lot of people.
"We have a heritage rich in agriculture here, but buying fresh from the farmer has become a thing of the past," says LaDon Toole, vice president of network operations with Archbold Memorial Hospital and a member of the Community Health and Wellness Issue Work Group. "So we're trying to rejuvenate interest in our local farmers market."
Toole says the group plans to work with the Georgia Grown program and the state farmers market. Eventually, they hope a farm-to-table restaurant at the market will bring people in.
Another effort aimed at adding fresh food to local diets was the planning of a "feed my school" week, a collaboration between local growers, the state Department of Agriculture and the Grady County School System. The project aims to use at least 75 percent of Georgia- and Grady-grown products for school lunches for a week.
Next, the group organized a Fit Fest, a four-hour event with nearly 30 organizations participating. The event combined kid-friendly workout activities, nutritional cooking demonstrations, fitness classes, health screenings and information about health providers in the area. It was a hit, with more than 200 people attending despite a heavy downpour.
In addition, some of the area's parks were identified as needing improvements. UGA students and community members worked to plan renovations, removing barriers that keep people from using the parks.
"We've presented the plan to the county government; now we're working on funding," Toole says.
Toole is also on the Tired Creek Lake Authority. The 960-acre fishing and recreational lake, expected to be complete by late 2014 or early 2015, is in an area of rolling hills, somewhat unusual for South Georgia.
It was identified as a potential lake site during the 1930s, says Kevin Cauley, Grady county attorney. Cauley is passionate about the lake.
"This will be a resource for our community as long as fish need water," he says. "It's an opportunity for a small community to really rebrand itself."
Economic experts expect the lake, which is ringed with forest, will generate $1 million a year in revenue.
"It's an aesthetically remarkable setting," Cauley says. "There won't be any homes with sodded yards leading down to the water."
There was some confusion among county citizens about the $20-million project, partially because much of the area was set aside for a state park in the '60s, then returned to the county in the '90s.
A UGA Grady College of Mass Communications and Journalism public relations class took on that challenge. They completed a public relations campaign to inform community members about the lake and hosted an informational fish-fry in Cairo as part of the effort.
The Tired Creek Lake project fits in well with the goals of the Community Health and Wellness work group.
"We'll have 22 miles of shoreline," Toole says. "That's close to what it takes to have a marathon."
Cairo and Grady County became a part of the Archway Partnership in 2010. A listening session was organized within months, and some 200 citizens attended. In addition to community health and wellness, they identified three other major topics of concern: education for a quality workforce; community development through intergovernmental cooperation; and leadership development. Volunteers met and set goals for each of the four.
Archway professional Sharon Liggett, located in Cairo, has been helping to identify resources from the University of Georgia that can assist.
"Archway has really brought people together," says Cairo City Manager Chris Addleton. "Sharon has done a fantastic job of tapping into and coordinating those resources." – MJ
Toccoa and Stephens County
Toccoa-Stephens County Tomorrow
If Toccoa has an unofficial civic motto, it's "Currahee," the battle cry of World War II paratroopers, as popularized in the fact-based mini-series Band of Brothers. The Cherokee word loosely translates as "We stand alone together." Lately, the leaders of the seat of Stephens County are standing tall by emphasizing the "together" part.
Over the past decade, the area lost more than 2,000 jobs and its population dwindled by around 1,200 with the collapse of manufacturing. While the friendly downtown has won numerous awards, the edges of Toccoa – Cherokee for "beautiful" – were looking shabby and depressed.
"At one time, we were booming with industry, and when it left, the empty, dilapidated buildings were not welcoming to visitors, especially certain corridors that were gateways into town," says Mayor Gail Fry. Toccoa claims one of only three Amtrak stations in Georgia, "and the conditions of that waiting room were deplorable." At least one company passed on building in Toccoa, citing "litter and blight," which became an impassioned topic at town meetings.
So community leaders decided to be proactive, creating Toccoa-Stephens County Tomorrow. It's a privately funded effort involving the Toccoa-Stephens County Chamber of Commerce and the Fanning Institute from the University of Georgia to address land-use policies, workforce education and economic development.
"We didn't follow the lead of other cities and name our vision '2030,'" says Chamber of Commerce President Wendi Bailey. "We call it 'Toccoa-Stephens County Tomorrow' to emphasize urgency. Then we – all of us from the public and private sectors – began meeting once a month over coffee."
One of the group's first initiatives was to tackle downtown blight. The city began cracking down on litter violations but found that incentivizing good behavior proved even more effective.
"We dedicated $150,000 to these efforts and offered to match every $5,000 that a business dedicated to façade renovations," Fry says, praising the R.C. Bottling Company and Acree Oil Company for its cleanup and facelifts. Students at North Georgia Technical College also donated design talents and labor to create inviting greenspace after some dilapidated buildings came down, and the city spiffed up the train station.
"It has generated excitement and a pride of place that is contagious, with people stepping forward now to say, 'How can I help?'" Fry says.
Manufacturing, too, is returning, albeit in more high-tech, less labor-intensive forms. The largest private-sector employer is Patterson Pump, which furnishes pumps for levees all over the world.
Industry now located in a county once known for textiles, is "not what people traditionally associate with a needle and thread, but it's industrial textiles such as automotive interiors, fabrics for heating and duct-work systems and road projects," says Tim Martin, executive director of the Stephens County Development Authority.
At one point, he says, "We thought, 'Communities get what they deserve, and we deserve better.' Sometimes communities will put on blinders in the name of boosterism and do not acknowledge challenges. We decided to accentuate the positive but commit to rectifying our shortfalls and thinking long-range about what we want to be five, 10 or 20 years from now."
Meanwhile, the award-winning Stephens County Hospital has added a new Wound Care Center; North Georgia Tech has broadened its health program on the Toccoa campus; high school graduation rates are up 3.5 points; and Georgia Hwy. 17 will be expanded into a four-lane, with water and sewer lines and broadband connectivity to support growth. The Ida Cox summer music series and shows at the historic Shaefer Center offer arts and culture on the weekends, and the Currahee Club golf course has been ranked one of The Rolex World's Top 1,000 – in the world.
"Lake Hartwell is at full pool, too, so things are looking up," Bailey says. "There's no holding us back now." – CD
Adel And Cook County
Adel Chamber of Commerce/Cook County Economic Development Commission
Agriculture plays big in Cook County, and the history of this south Georgia county is reflected in the windows of the 1930s SOWEGA building in downtown Adel.
The three-story structure served as the headquarters of the Southwest Georgia Wa-termelon Growers Association (SOWEGA) until the 1950s. According to Jerry Connell, president of the Cook County Chamber of Commerce, which today owns the building and occupies the first floor, it was the largest agricultural cooperative in the world at that time.
"It's an iconic place in our community," he says. "Everyone has a SOWEGA building story."
In fact, Adel itself was named by Life magazine in the 1930s as the Watermelon Capital of the World.
But once I-75 was built in the mid 20th century, people no longer stopped and visited on their way through South Georgia. Instead they zoomed by, unaware the town existed save for its name on an exit sign. The downtown, too, started to decline.
But since that time, Adel and Cook County have found that revitalization comes through partnership, and today it has a number of initiatives that are moving the county forward.
The SOWEGA building stands at the intersection of U.S. 41 and Georgia Highway 37 and lies on a new agritourism trail that is winding through South Georgia.
The Georgia General Assembly designated Highway 37, which extends from Homerville in the east to Ft. Gaines in the west, as the Georgia Grown Trail. Along the way, there will be more than 40 places to taste, buy, see and participate in Georgia's produce, including in Adel. The newly formed Georgia Grown Trail 37 Association is working with communities along the trail.
"The association is key to marketing the trail," says Connell, who is also president of the association. "This is the first ever Georgia Grown Trail. We want the branding to be consistent."
He says that billboards, a website and brochure are in the works, as well as highway markers and even a smartphone app.
"Tourism is economic development, and agritourism is economic development," Connell says. "What we find so attractive about the trail is that it only runs through small towns, giving those small towns the opportunity to have what we hope will be a very viable agritourism attraction."
Agritourism isn't the only thing driving Cook County forward.
"The key to success of Cook County over the last 11 years has been its remarkable ability to form partnerships," says Lisa Collins, director of the Cook County Economic Development Commission (EDC).
She cites recent upgrades at the Cook County Airport, which include a new terminal, with future plans involving a fuel tank farm, apron taxi lane and new hangers.
The airport authority partnered with the EDC to develop a marketing plan, which resulted in a OneGeorgia grant for the new terminal. Additional grants and local funding were also earmarked for the airport, and today it's home to the EDC's new offices.
In another partnership of sorts, the city, county and the development authority all worked together to help the South Cook Industrial Park become a Georgia Ready for Accelerated Development (GRAD) designated site, one of only 30 in the state.
"Having those three entities willing to cooperate and be at the same table is a huge shot in the arm for growing a community," Collins says.
Back in Adel, The Georgia Trust for Historic Preservation named the SOWEGA Building one of its 10 Places in Peril in 2014 due to water leakage damaging the upper stories of the structure.
"The structure has great bones," Connell says. "But the upstairs is not used because the ceiling is falling in and the windows are cracked."
Neither the chamber nor the city could afford the needed repairs, so another partnership could help save the structure.
"We partnered this year with The Georgia Trust for Historic Preservation to do a feasibility study to find possibilities of what the building can be used for," Connell says, adding that the Trust doesn't come in with hammers and nails, but rather assistance in finding resources.
With green "watermelons" dotting the façade, the SOWEGA building is a local landmark and a reflection of where Adel has been and what it has to look forward to, so saving the building is important for this community.
"The 3,500 members all marketed watermelons throughout the nation and the world," Connell says. "We still grow plenty of watermelons along the Georgia Grown Trail 37." – MJ