East Central: Sprouting Opportunities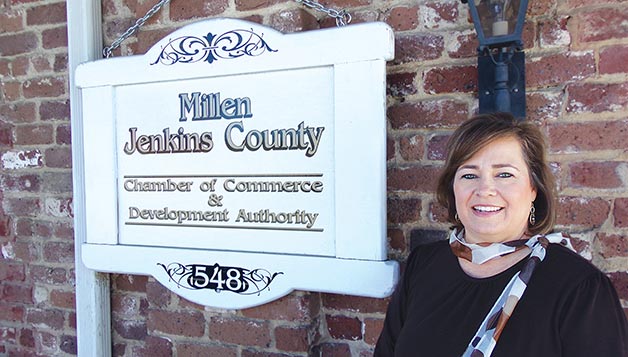 It's been a long time coming to East Central Georgia – and in many ways it's still in the distance – but signs of an improving economy can be seen across the region. From new industry to a rapidly diversifying energy sector, opportunities are shooting up like the pine trees that have long dominated the area.
In Wilkes County, 2013 was a year for planning, says Hannah Mullins, the new economic development director for the Washington-Wilkes Payroll Authority. "A goal this year is to assist the community to bridge the gap between the K-12 school system, local labor needs and the Athens Technical College Career Center. We want to emphasize awareness on the local level of the opportunities available to our citizens who are beginning or continuing their careers," she says.
In Bulloch County, the city of Statesboro and Georgia Southern University have teamed up on several projects that will help the economy. "Georgia Southern is a driver for us for things that can help down the road," says Benjy Thompson, CEO of the Development Authority of Bulloch County. Last November, for example, the university and city officials announced the receipt of a $1.1-million grant from the U.S. Economic Development Administration to create a "FabLab," short for fabrication laboratory, on the Georgia Southern City Campus in downtown Statesboro. It will be the only facility of its kind in Georgia to help build businesses and create new products.
Two renovated buildings will house office space and the lab, which will include equipment like 3-D printers to support advanced manufacturing. In addition, entrepreneurs will be able to get assistance creating marketing and business plans and receive information about investors and loans.
Across the region, industrial parks are an integral part of any economic development plan. McDuffie is currently the only county along I-20 from Metro Atlanta to South Carolina with a Georgia Ready for Accelerated Development (GRAD) certified site – Stone Business Park – which means the site has been reviewed and is at an advanced state of readiness for development, says Ralph C. Staffins, executive director of Forward McDuffie. "I think that this designation, along with all of the aggressive actions from our community in the preparation of this site, have created one of the preeminent industrial sites in all of the state," he says.
In Emanuel County, they're also developing a new industrial park. "We're excited about the possibilities the East Georgia I-16 Industrial Park brings to our area," says Jack Bareford, president of the Swainsboro/Emanuel County Joint Development Authority. "Its proximity to the Interstate 16-U.S. 1 interchange and its ease of access to the Georgia ports make it a logistical gem."
Burke County is also rolling out the industrial red carpet with a new 52,000-square-foot spec building that has begun to draw a number of prospects. "We have also purchased a 500-acre industrial tract for new industry," says Jerry Long, executive director of the Development Authority of Burke County.
When PyraMax Ceramics (now owned by Imerys S.A.) first expressed interest in a new industrial park in Wrens, the park had no infrastructure, says Lil Easterlin, executive director of the Jefferson County Chamber of Commerce. After PyraMax moved in last year, "we could afford to build out the infrastructure to the rest of the park. If you're the first one in the cornfield, you have to wait," she says, adding that now businesses looking at the park won't have to wait for anything. "Now, we have a 600-acre industrial park with all [the] infrastructure. Now, we're getting lots of activity."
What's feeding the renewed focus on industrial parks? Leaders across the region are seeing growth in the number of new businesses moving into the area and an increase in hiring by existing businesses.
Carbo Ceramics began construction in 2013 in Jenkins County, says Mandy Underwood, executive director of the Millen/Jenkins County Chamber of Commerce and Jenkins County Development Authority. The company was scheduled to begin hiring employees the first part of 2014, but their impact has already been felt. "The construction phase of Carbo Ceramics has made a huge difference in our community," says Underwood. "People are moving into our community, eating at our restaurants and shopping in our stores."
Another community seeing the ripple effect of a new business is Columbia County. An Urban Outfitters Customer Service Center moved into the county in 2013, bringing with it nearly 230 jobs. The increase in population that accompanied the project has brought new retailers, including Walmart's Neighborhood Market, Carolina Pottery and Big Lots.
With an eye on increasing tourism dollars, Georgia Southern University broke ground in November on a world-class, $5.8-million Shooting Sports Education Center. The 30,000-square-foot facility will be open to both students and the public and will include indoor archery and firing ranges and an outdoor archery range.
Florida Hardware Company recently renovated an existing 36,000-square-foot facility in Treutlen County, employing 50. The facility will manufacture galvanized gates and livestock equipment.
In Warren County, the highlight of 2013 was Asama Coldwater Manufacturing's move into an existing building, says O.B. McCorkle, president of the Warren County Chamber of Commerce and the Warren County Development Authority. Asama manufactures brakes and brake rotors and will have 80 employees in the county when they hit their stride.
Helping existing businesses prosper is also on the agenda. "The Development Authority of Columbia County works closely with our existing businesses and Columbia County to ensure that the business climate is conducive for expansion of our local businesses," says Robert F. Bennett, executive director of the Development Authority of Columbia County. One such expansion is at Janus Research Group, which is planning a new state-of-the-art, three-story headquarters in Evans that will house 120 employees.
Business is booming in McDuffie County as well. "Our unemployment rate fell from 11.5 to 8.5 this past year, and the community saw over 200 jobs created by our existing industries," says Staffins. "The biggest expansion was from Shaw Industries – Thomson Plant. Starting in 2013 and continuing into 2014, Shaw will be adding almost 75 permanent jobs with a capital investment of $11 million."
Energy continues to power growth in the region, as well. "When it's dumped in your lap, you strategize from there," Charles Lee, executive director of the Development Authority of Washington County, says about the way energy has become his county's focus. It started several years ago with natural gas peaking plants in the northern part of the county. Now, leaders are welcoming more diverse energy companies. From a coal-fired plant that's under consideration to Azalea Solar, which provides 7.7 megawatts of clean energy to Cobb County from its 30,000+ solar panels, all things energy related are on the table. And if Cobb County seems a long way for Washington County's solar energy to travel, it's nothing compared to shipping energy to Europe. General Biofuels is exploring a wood pellets plant that would ship products across the pond for use as fuel.
In Richmond County, Augusta Renewable Energy is building an anaerobic digestion facility, a $20-million investment that will employ 10 people. It will harness the energy from used coffee grounds from the Starbucks Soluble facility as its primary energy source.
The outlook for 2014 looks bright, thanks in part to the announcement in December by the United States Army that the Cyber Command will move to Augusta's Fort Gordon. The move is expected to bring 1,500 jobs with it, which will, in turn, spur retail, support companies and other growth in the area.
"New companies are drawn here for transportation, excellent capacities in water and wastewater, but primarily because of the workforce," says Walter C. Sprouse Jr., executive director, Augusta Economic Development Authority. "Augusta has one of the best workforces in the nation, thanks to the training at Augusta Technical College and the information technology training at Fort Gordon."
Individual Stories: