Art Of The Meal: Valdosta Valhalla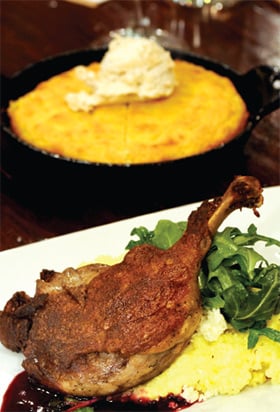 Steel Magnolias
132 North Patterson St., Valdosta
229.259.0010 or www.steelmagnoliasrestaurant.com
Hours: Lunch and dinner, Tuesdays-Saturdays.
Parking: On street and in nearby (free) lots.
Dress Code: Studiously authentic – feminine and flouncy, heartily grungy or academically tweedy.
Even if you didn't know Chef Keira Moritz on sight, you'd soon sense that she's the general of this operation and its dedicated troop of waitstaff and bartenders. That's her – the slender one in knee boots with a heavy tray of food and drink at her shoulder, charging up three flights of stairs. She lands at your table, deposits your order and twirls away, nodding approvingly at your choices: "Now that's not going to hurt you any," she says, moving on.
No. No, it's not – not these deviled eggs, sprinkled with bacon and chives; not the cast-iron mussels in anisette cream; not these cocktails with house-crafted elixirs of steeped lavender, thyme, cardamom and honeysuckle, served with ice, muddled peaches and strawberries in big blue Ball jar glasses. Especially not here, on an airy rooftop overlooking downtown Valdosta, where a local duo is just tuning up to play.
If Valhalla is, in Norse myth, the afterlife where Odin hosts an endless banquet for his valiant warriors, Moritz's Steel Magnolias is her own reward. After earning kudos as chef at Atlanta's Pacci, she suddenly found herself and her staff in the crossfire when the hotel that housed it was sold. Returning to her hometown of Valdosta, she bought a three-story historic property downtown and renovated and designed it to suit her own whims and needs.
The result is Steel Magnolias – every inch Moritz's personal, hands-on enterprise, from the farm-to-table cooking to the jolly staff to the quirky, salvaged china. The open kitchen faces the street through plate-glass windows, like some living diorama, begging you to join in. The first floor is a bustling dining room lined with vintage wallpaper and antique mirrors; the second holds a bar and banquet space; and the third is the rooftop refuge. The staff is heroically accommodating, agreeing to a reservation of "7ish" on a crowded weekend night when we weren't sure of our arrival time after a long drive, and once we were there, swiftly moving us out of range of a noisy infant, allowing us to check out the rooftop first. Our new waiter soon sought us out there.
Moritz has described the menu as "urban Southern," which to some may sound like "plaid stripes." But she pulls it off with gutsy flavors (lots of cornmeal, pecans, seafood, pork and grits) and a light hand with sugar and salt – not to mention fennel, duck and truffles. A few echoes of her Italian experience at Pacci reverberate – in the whole, fried bronzino, curled over grits with an olive-caper gremolata; in the bruschetta; and in a fontina cream sauce, pooled under a heavenly pork chop with root vegetable hash.
You might guess her background includes both wielding a spatula at a dude ranch and earning two degrees from the prestigious Johnson & Wales culinary school. The "Driving Miss Daisy" martini pulls it all together with a wry, crowd-pleasing mix of house-infused garlic-pepper vodka, served with olive brine and a spear of blue-cheese stuffed olive and pepperoncini. A prim moniker disguising something hot and dirty, with a side of blues: That's urban Southern, all right.
My quibbles are embarrassingly niggling: Some of this food is crazy rich and piled high like '90s hotel food. A side order of the heftily cheesy pimento penne mac and cheese (with basil pesto yet!) might have you checking for a nearby portable defibrillator; the venison meatloaf with smoked tomato glaze and Yukon gold mashed potatoes is outstanding on its own, but madly lily-gilded with a tower of fried green tomatoes. Still, Moritz knows her customers – Valdosta is literally eating this up, with bustling crowds on both visits.
Desserts are, as you might expect, gigantic, delicious and sophisticated. My favorite was the coconut rum cake – a simple, buttery Bundt cake flecked with toasted coconut and topped with rum sauce and a pile of whipped cream, accompanied by good French press coffee.
If this is Valhalla … when does the banquet start all over again?
Speaking of downtown Valdosta dining …
The Bleu Cafe, directly across the street from Steel Magnolias, is another contemporary Southern choice, but a bit more casual: With flatscreen TVs, pizzas and sandwiches and a big beer selection (plus occasional live music), it looks like a good spot for a quick bite. We're especially intrigued by the tacos named for Southern and tropical locales, like the San Antone, with (of course) beef brisket, caramelized red onions and cilantro. 125 North Patterson St., Valdosta. 229.244.2248. www.facebook.com/thebleucafe