The 2014 Georgia Logistics Summit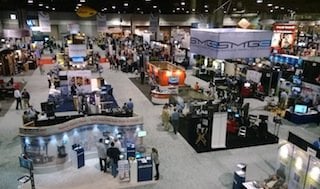 The 2014 Georgia Logistics Summit was held last week at the Georgia World Congress Center, alongside MODEX & Supply Chain and Transportation USA on adjacent levels (photo above). Together the shows bring in more than 20,000 people. Georgia Trend is a media partner for the Summit, which is hosted by the Georgia Department of Economic Development Center of Innovation for Logistics and brought 2,300 attendees this year, another record.
Family business panel, left to right: Vince Eget, Partner, Bennett Thrasher, LLP; Heidi Green, Managing Partner, Perdue Partners, LLC; Michael Golden, Partner, Arnall Golden Gregory, LLP; Rob Adams, Managing Director, EVE Partners, LLC.
One breakout panel hosted by Arnall Golden Gregory discussed consolidation in the logistics industry, and how family businesses will be affected. According to Michael Golden, Partner, Arnall Golden Gregory, LLP, the Association of Corporate Growth predicts that as baby boomers retire, 40 percent of privately held business owners plan to sell their business by 2017.
Rob Adams, Managing Director, EVE Partners, LLC, adds that there are "exciting dynamics" at play: private equity firms have a half a trillion to spend, and while the loan market is still tight it is softening. "Strategic buyers are loaded with capital." Family businesses in the logistics field were warned not to go for the high bid, and to consider "emotional factors" like preserving the culture of the company and maintaining job stability for long time employees.
Heidi Green, Managing Partner, Perdue Partners, LLC described three large private equity firms that were turned down by one company that wanted to leave its legacy intact. Investment bankers do help close deals and mediate some of the emotion, leaving the seller to run the company and meet profit goals while the deal is made, which can take months.
UPS Sustainability Panel, left to right: Ken Coleman Radio Talk Show Host & Author (Session Moderator), Hanko Keissner Chief Executive Officer, Packsize International, LLC, Arnold Barlow Sustainability Manager, UPS, Scott Wicker Chief Sustainability Officer, UPS, Geoff Bastow,President, Customer Solutions, UPS.
Another panel was presented by UPS and explained their sustainability efforts. Company leaders spoke of reducing the carbon footprint of deliveries by changing packaging and transportation nodes. One pharmaceutical company saw a 40 percent reduction in delivery costs – and carbon emissions – by changing packaging to maintain temperature so that next day delivery was not required, and streamlining delivery to targeted areas to reduce trip times.
LiveNation, testing the UPS sustainability programs with the 20th anniversary concert of Pearl Jam, applied its no left turn policy, the use of reusable envelopes, and the delivery of equipment by freight instead of truck to reduce its carbon footprint by four times. It was also cost effective and LiveNation has adopted these strategies for other tours.
Stakeholders and shareholders need to know about these efforts, said the panel, which are increasingly tracked by ratings organizations like the Dow Jones Sustainability Index. As for incorporating those efforts into its financial reports, the panel has "mixed emotins about bringing them together," says Scott Wicker, Chief Sustainability Officer for UPS. He continues, "Our CFO is not too keen on it, but those bridges have to connect."
Speaking to challenges, biofuels are "desperately needed for airlines," as well as for younger trucking fleets; and drivers and delivery networks must be trained to handle new packaging, the shift to more sustainable transportation nodes and new delivery technologies.
The Summit also featured remarks from Gov. Nathan Deal and Kevin Jones, VP Inbound Transportation,Walmart. Please visit the Center of Innovation for Logistics.
Photo Credit: Ben Young