Visitors Welcome
From family-owned businesses to nationally known sites, Georgia's tourism trade is growing thanks to new legislation that could jumpstart the industry.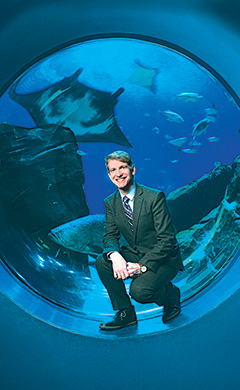 Erin Grasso beams at the edge of a frigid muddy pitch, a baby in one arm, another on the way, while her husband Mike whoops it up in a big, yellow John Deere excavator, its single hydraulic insect arm ripping at the earth. A few moments earlier, he was tearing around the property of Tank Town USA in a British armored personnel carrier, living a diesel-fueled Captain America fantasy while helping sustain a $51-billion reality.
"First he drove the tank, now he's playing in the dirt. He's in his glory," says Erin. "This was his Christmas present. He was really surprised."
For $50, you can drive a tank for 10 minutes. For $500, you crush a car with a tank. And there's the John Deere excavator, which Mike really dug, and dug with.
"The tank was awesome, no question about it, but you're driving around in circles, and it was pretty easy," he says. "The digger, though, that took some getting used to. That was really cool."
The Grassos drove two hours north from Atlanta to get to Tank Town (in Morganton, on the Appalachian Highway), one of the few businesses of its kind in the U.S. and one of the newest attractions in Georgia's pulsing, cephalopodan tourism industry.
"Most people don't realize that tourism-related employment accounts for 10.4 percent of the payroll workforce in Georgia, one in 10 jobs," says Kevin Langston, who runs the tourism division at the Georgia Department of Economic Development (GDEcD) as deputy commissioner. "We're a major factor in the state's economy, and the opportunities for growth have only gotten better."
Last April, Gov. Nathan Deal signed House Bill 318 into law, amending the Georgia Tourism Development Act, a state tax incentive program to expand and encourage more tourism attractions. The project must cost a minimum of $1 million, attract at least 25 percent of its visitors from out of state by its third year, and not directly compete with existing Georgia businesses.
As the governor signed, State Rep. Ron Stephens of Savannah felt like doing a touchdown dance. Or rather, another touchdown dance. The 2013 amendment was Stephens' bill, and so was the original version that passed in 2011 – but that was like a touchdown called back for illegal motion in the backfield.
"I had black hair when we started working on the tourism bill," says the gray-haired Stephens, who also authored Georgia's now-famous film incentives law. "This has taken seven years. It was a hard sell. But so was the film industry bill. And what's interesting is, these two pieces of legislation are so well connected.
"We've seen what the film incentives have done for that industry."
The film industry had an economic impact of $242 million in 2007, before the production tax credits were in place. This year, the impact is about $3.5 billion. Hence, those incentives have made Georgia a favorite location for movie and television production.
Not only that, these movies and TV shows have created a niche tourism industry – fans come from all over the world to see the spot where their favorite character from The Walking Dead was eaten or walk in the footsteps of Katniss Everdeen, the heroine of The Hunger Games films.
"The film incentives have helped drive a new kind of tourism," Stephens says. "It's something we've seen for years in Savannah, where people want to see the places where Midnight in the Garden of Good and Evil and Forrest Gump were filmed.
"Now we've got this new tourism piece. It's the biggest thing the state has ever done to incentivize the tourism industry. It'll be interesting to see the development that plays out over the next 10 years and the jobs it will create. It could be staggering."
New Tool
Sam Zamarripa knows about the jobs that a tourism surge would create. He's spent the past couple of years studying the subject, which he calls the Essential Economy, an occupational group traditionally comprised of low-wage, limited-skilled workers whose jobs are mostly labor intensive. Think hotels and restaurants, ballparks and snack bars, places where the hourly people in the trenches overwhelmingly outnumber management.
"The tourism industry as a whole could not exist without the Essential Economy," says Zamarripa, a former state senator who co-founded and co-chairs (with another former state senator, Dan Moody) the Essential Economy Council, a bi-partisan, non-profit organization that initiates research to illustrate the value of this economic cluster.
He definitely sees the tourism development act as a jobs creation thing.
"I see it as opportunity, not the creation of low-paying jobs. These are jobs that can't be outsourced," Zamarripa says. "For every tourist that comes to Georgia, there have got to be X amount of Essential Economy workers. The industry relies on them."
In 2012, according to figures from GDEcD, the tourism industry supported more than 400,000 jobs in Georgia. These are people who are directly employed in tourism (at attractions, museums, restaurants, hotels), and indirectly connected (finance, insurance, real estate).
Total tourism demand in Georgia in 2012 was $32.3 billion, 12 percent higher than pre-recession levels. (This includes visitor spending on accommodations, recreation and other spending streams that directly support tourism and travel, including government spending and capital investment.)
The total economic impact of $51.2 billion includes all of that, plus indirect impacts (wide-ranging stuff like printing/publishing, aircraft manufacturing, resort de-velopment, sanitation services, financial services, etc.) and induced impacts (food and beverage supply, personal and business services, etc.).
The industry generated $2.8 billion in state and local taxes in 2012. Put another way, according to GDEcD, each household in Georgia would have to cough up an additional $767 a year to replace tourism taxes received by the state and local governments.
Now, because of the new tourism development incentive, "we're seeing more interest in the state among attraction developers, everything from theme and water parks to convention center and conference hotel developers, across the spectrum and across the state," Langston says. "The incentives have the potential to draw a tremendous amount of traffic to the state."
Former State Rep. Jeff Lewis introduced a tourism incentives bill in 2007, and Stephens took it on five years ago. Former Gov. Sonny Perdue vetoed it three times because he didn't like some of the provisions.
Even when the Georgia Tourism Development Act first passed in 2011, there were misgivings. State agencies, like the Department of Revenue and Department of Community Affairs, suggested lawmakers fix the thing before any rebates were offered.
"It gave a lot of people heartburn," Stephens says. "Especially the part that gave the governor the final call on where these projects would be located. Now, the commissioners of the departments of Community Affairs and Economic Development have to agree that a project is significant enough to warrant the investment."
Initially, developers had to invest at least $140 million for a project to qualify because, Stephens says, "the intent was to get a Disney World kind of thing, a mega attraction."
Instead, they lowered the qualifying minimum investment to $1 million for a new project or an expansion, like the $6.3-million water park that opened last year at 89-year-old Lake Winnepesaukah Amusement Park in Rossville, near the Tennessee line.
In order to qualify, projects must also attract at least 25 percent of visitors from out of state following the third year, and they can't directly compete with existing Georgia businesses.
Stephens points to LakePoint Sporting Community and Town Center, a 1,200-acre sports and entertainment complex under development in Bartow County, and the College Football Hall of Fame in downtown Atlanta (opening this fall) as two projects that will benefit from the tourism development incentive, which allows approved projects to keep a portion of sales taxes they collect for 10 years.
"Pulling that College Football Hall of Fame out of South Bend [Indiana] was a real coup," Ste-phens says. "I don't think it would have happened without the tourism incentives mechanism."
Places to Be
Georgia's got the world's busiest airport (Hartsfield-Jack-son), a slithering system of roads and interstates, the seaports, the railroads. Lots of people pass through, and that's how a good bit of those 50-billion-or-whatever travel and tourism dollars are generated.
But even without a tourism development incentive, Georgia has been a favorite destination, the largest state east of the Mississippi, with lots of space filled with interesting stuff for people to do in their spare time – attractions, entertainment and sports venues, the great outdoors, museums, historic sites, pretty much anything from the profound to the profane.
Amusement parks like Six Flags (Austell), Wild Adventures (Valdosta) and the aforementioned Lake Winnie still pack (collectively) millions of people in each year to ride the rides and see the shows. Some have water parks connected to them, and some call themselves "theme parks." Either way, the basic underlying idea is faster, higher, louder, scarier, wetter.
Meanwhile, the area around Centennial Park in Downtown Atlanta has been a favorite destination thanks to the Georgia Aquarium (about 2 million visitors a year) and the World of Coca-Cola (about 1.5 million), not to mention Philips Arena, the World Congress Center and numerous other venues.
In May, the city gets a new showcase attraction when the $70-million, 42,000-square-foot, LEED-certified National Center for Civil and Human Rights opens next door to the World of Coca-Cola (on land the soft drink maker donated). The neighborhood gets another top draw in the fall when the College Football Hall of Fame opens.
"And we'll be connecting all of that to the Martin Luther King Jr. historic district with the new streetcar," says Lang-ston, who also expects more visitors than usual to visit Georgia's various Civil War sites.
"This year is the 150th anniversary of the Battle of Kennesaw Mountain, the Atlanta campaign and Sherman's March to the Sea, so it's a big one for Georgia in the ongoing Civil War sesquicentennial commemoration," Langston says.
It's also the 150th anniversary of the opening of the prison at Andersonville, a National His-toric Site that offers a different kind of heritage tourism experience, a concept known as "dark tourism," or the act of visiting sites associated with death or tragedies.
"Visitors come here with preconceptions, and there is no one reaction to what they find here," says Eric Leonard, chief of interpretation and education at Andersonville, which houses the National Prisoner of War Museum and the Andersonville National Cemetery as well as the historic prison site. "It runs the gamut. There are people who walk out of our orientation film in tears, and that is absolutely appropriate. We have a hard story to tell."
Over the next year, they'll tell it to a larger audience.
"There has definitely been a more focused interest here at Andersonville because of the Civil War sesquicentennial," Leonard says, "and we expect that to dial up dramatically this year."
While Georgia hasn't unveiled an official plan to market its dark tourism assets, it is pushing another growing trend, film tourism. Last year, GDEcD launched a new website, www.ComeTourGeorgia.com, promoting the state's film and music history, film tours, locations, destinations and so forth.
For example, a few months back the Atlanta History Center started offering a "Capitol Tour" of the historic Swan House in Buckhead, which served as the Capitol and the home of President Snow (played by Donald Sutherland), the bad guy in The Hunger Games movies. Clayton County (where some of the films were shot, and are being shot) is offering its own version of The Hunger Games tour.
"This is a big deal for some communities," Stephens says. "You've got a place like Covington, where 75 percent of their tourism is based on the fact that In The Heat of the Night [and other TV shows and movies] were shot there.
"And don't forget, there was a movie called Deliverance that was shot 40 years ago in Northeast Georgia, and it created a whitewater industry."
A number of river outfitters went into business and have thrived in the region, and river running is still a major draw in Northeast Georgia, although the state's newest and most interesting fast river offering is in Columbus, where thousands of thrill-seekers have rafted the world's longest stretch of urban whitewater rapids since the opening last summer of a new course on the Chattahoochee River.
But there is a special charm about a mountain region where the classy and the brassy rub shoulders, where popular upscale wineries and the inherent affectation and clientele there live in the same regional neighborhood as Elvis Presley's wart (the Everything Elvis Museum in Cornelia), lederhosen-clad revelers (Alpine Helen), zip lines (they're cropping up everywhere), corn mazes (ditto) and tanks, among other things.
"Our region not only has a distinct flair and flavor, it has a bunch of them," says Cheryl Smith, GDEcD's regional tourism manager for Northeast Georgia. "The wineries are a perfect example. No two are alike. They're all different."
But nothing in North Georgia, or pretty much anywhere else, can come close to Tank Town USA. Todd Liebross, who founded Tank Town almost a year ago, knows this for a fact. He's checked.
"I was hunting around for a career change, and I found a guy who was doing this, one other place, in Minnesota," says Liebross, who grew up in Union County and spent 12 years working in the engineering rooms of large merchant ships. "I've always collected old Army jeeps and trucks, so I already had an interest in this kind of stuff and I thought, you know, it would be really fun. I mean, come on, you're driving a tank."
Actually, it's an armored personnel carrier, a British made FV432, if you want to get technical, and a handful of customers have, says Liebross, but even those guys are gushing like 8 year olds when their 10 minutes are up.
The Verners drove 115 miles from Athens to get to Tank Town. This is Stephen Verner's 40th birthday present, and you can hear him screaming, "absolutely awesome," over the dinosaur diesel roar as he finishes a lap.
They'll spend the night somewhere close, probably Blairsville. Tourism dollars. Direct impact. Induced impact. Stephen Verner doesn't care about any of that right now as he takes his son for a spin in the tank. His wife, Brandy, is literally hugging herself against the cold with joy.
"He told me, 'I want to do something crazy for my 40th birthday, like drive a tank,'" Brandy says. "And, voila! Who is wife of the year? Yeah, that's right."