Art Of The Meal: Old South Bar-B-Q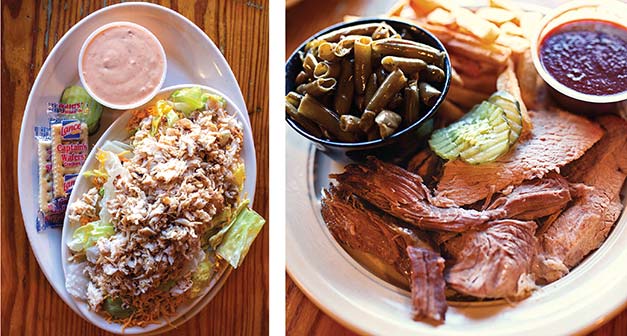 Old South Bar-B-Q
601 Burbank Circle (corner of Windy Hill Road), Smyrna
770.435.4215 or www.oldsouthbbq.com
Hours: Lunch and dinner Tuesdays-Sundays.
Parking: In attached lot.
Dress Code: Ball cap, camo cargos, Harley T-shirt.
The little house with a big sign and a chimney puffing woodsmoke has a lot of familiar items on its menu: Chopped and sliced pork, ribs, chicken, Brunswick stew, onion rings, coleslaw. But a crucial element makes this whole thing work, and it's not spelled out anywhere.
Call it lightning in a bottle, soul, spirit – even "love," our hostess loudly proclaimed as she embraced my startled husband (and me) the first time we walked in the door – it accompanies all of Old South's offerings. "Everything here is made with it," she said, coming back for another squeeze to make sure we knew what she was talking about. Hugs, it turns out, are essential elements of service here.
Everybody's got their particular druthers when it comes to barbecue, and mine are these: Real woodsmoke, an excellent pork sandwich (especially with coleslaw), good stew and, as a personal bonus, great chicken, still on the bone. If it's Georgia barbecue, the meat must stand on its own without sauce, but the sauce (served on the side, of course) must be distinctive, sparking the meaty taste rather than blanketing it. Finally, any good barbecue joint must have a story – preferably a family story about overcoming hardship and maintaining a business through several generations.
Old South Bar-B-Q rounds all the bases. Sure, lots of other stuff is on the menu, but the staff know what they do best, and their food is served on tables hand-built by patriarch Jim Llewallyn when he opened the place with wife, Helen, in 1968. This food, this service (hugs included), has stood the test of time, even as the surrounding neighborhood has given way from a far-flung suburban outpost to pawn shops and an Esquire Insurance office off crowded Windy Hill Road in Smyrna.
On our first visit, I had to try the barbecue salad, an unusual dish I always look for (sort of a sundae of chopped meat and lettuce) but rarely find. Since we'd be trying the pork sandwich, too, I wondered aloud whether I should try it topped with beef. "No," our hostess said cheerfully. Thank you.
There are some unremarkable dishes here, most of them sides like green beans, fried okra and onion rings (generic, but fried dry and crisp); the salad dressings are bottled and salad greens will be familiar to anyone who buys them by the bag. Old South, however, gets the essentials right: Deliciously moist, smoky sliced and chopped pork – the latter so finely diced on my salad it was almost fluffy – served with a choice of four sauces: original, hot, hot-sweet and sweet. They're all tomato-based, with a good vinegary tang, darker and deeper than many too-sweet sauces I've tried. The sweet-hot and original varieties were our favorites, both with a lip-smacking chili edge.
The ribs aren't the big, honking Fred Flintstone variety, aren't drenched in sauce, and they're not the little baby backs either – they're just good, meaty, smoky fatty bites of pork that are so much fun to chew from the bone. Just a smidgen of sauce enhances the porkiness even more. And I love that crazy salad, with a big pile of fluffy pork smothering layers of finely shredded cheddar, iceberg lettuce and purple cabbage flecks, served with Vidalia onion dressing and saltines. Great when you dab in a bit of sauce. Overall, even when the ingredients are humble, the flavors are right, and unique.
The hostess warned us obvious newbies that "a lot of people tell us they don't like our slaw." We did – and we like that they haven't changed it to the ubiquitous mayo-based Costco variety. It's just finely diced cabbage, vinegar and perhaps a touch of sugar – great on the sandwich. We also liked the chicken so much we took a whole one home on both our visits – a bargain at $13.50, cut into pieces and minimally sauce-basted. Desserts – not house-made, but from Smyrna's Kenny's Great Pies – are as expected, a delectable pile-on.
Two of Old South's offerings make it worth setting the GPS, even from a long way away: One, bracing but not overly strong iced tea – someone has the recipe exactly right. Sadly, this Southern elixir is increasingly difficult to find. Two, if you're a fan of good Brunswick stew, you've got to try this thick, smooth blend of finely chopped meats, onion, dark tomato sauce and just a kernel or two of corn. It offers such a basic level of satisfaction it's almost like barbecue baby food.
Many tables feature framed photo collages of Old South's customers, handmade by a family member. Each collage has rows of people, often with kids or parents or grandparents, individually cut and pasted to form a crowded group portrait.
Like Old South's customers, like Atlanta, it's a diverse group. Sitting in one of Jim Llewallyn's plywood booths, you almost feel like you're a player on the field, with bleachers of Old South fans cheering you on. Looking straight into the camera, into your booth, open-faced and smiling broadly, they seem to say, "Isn't this great?"