Metro Atlanta Chamber of Commerce Hosts Clean Tech Executive Forum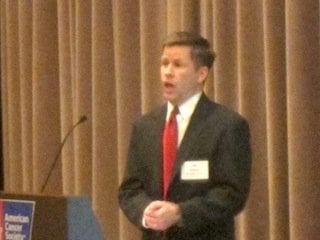 The Metro Atlanta Chamber of Commerce recently held Clean Tech Executive Forum at the American Cancer Society in Atlanta. The event was sponsored by Coca Cola, Cousins, Georgia Center for Innovation in Energy, Toto, and Nissan.
Jay Shaver (photo), Senior Project Manager GE Digital Energy, said the energy business is booming. "We expect demand to grow by 75 percent by 2030," he said. GE employs 30,000 and brings in $137 billion in revenue. Smartgrid technology has made efficiency/sustainability the "fifth fuel," and GE's Grid IQ Experience Center in Atlanta has had 10,000 visitors since opening in 2010.
Explaining the "fifth fuel" concept, John Rossi, CEO of Comverge, said that there are three points of leakage in the current distribution network per watt of energy. "Switching to natural gas alone won't bring us into compliance, the way EPA is headed," he said. Efficiency remains "our biggest leverage."
Renewables continue to play an increasing role but present challenges, according to Rossi. "With renewables, there is no longer a constant supply and variable demand; both supply and demand are variable. We have to create autometering infrastructure with a rate time that varies, is flexible, and software centric."
Phil Davis, Senior Manager, Demand Response Solutions for Schneider Electric, said "we are becoming so automated that human management is almost an afterthought. Through the smart grid operability panel, and open standards, you the owner will be able to dictate your things through programming, and let those things or devices interact on your own terms."
And the consumer only represents the "first frontier," says Shaver. "The industrial internet is the new frontier (in automation). In terms of efforts both here and in Silicon Valley, energy use is just one piece."
"Natural gas has slowed the demand (for efficiency and renewables) but that will change," said Rossi. "In California, solar renewables have created ramping problems, with a run-up at sun down. To make up the supply deficiency with gas is expensive. So there has to be a balance with demand response and efficiency."
"Public policy needs to be less restrictive to utilities in the distribution of energy," said Davis. "Microgrids are fashionable but complex in terms of repair and maintenance. In solar we are seeing dramatic changes. Here we may be behind the rest of the country but Southern Company is doing a remarkable job of integrating renewables. Pacific Gas and Electric is struggling with variability. They have 16 percent wind energy and when it's not up it wreaks havoc on the system."
"They've rushed into a mine field," said Rossi. "At San Diego Gas and Electric, someone told me they have had 1,000 solar installations a month, and the residential is driving them broke. He was practically crying."
"With Hurricane Sandy, we are engaging in how to rebuild and strengthen the grid. In tragedy we see an opportunity to rethink delivery," said Shaver. Production is not the issue, agreed Davis, and smartgrid technologies like the Demand Response Optimization Engine will further help delivery challenges.
For more on smartgrid technologies, the panelists recommended myenergyuniversity.com, sgip.org, gedigitalenergy.com, and itsyoursmartgrid.com.
Pictured above: Jay Shaver, Senior Project Manager GE Digital Energy
Image Credit: Ben Young