Mission Possible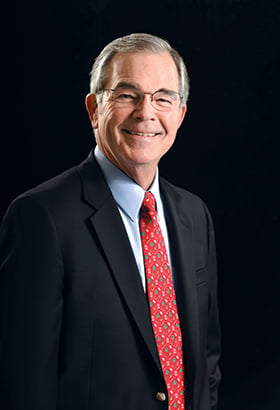 Billy Payne's 10-year Olympics crusade culminated in three of the most provocative weeks in Georgia history.
From July 19 to Aug. 4, 1996, 10,318 athletes from 197 nations competed in venues scattered across the state (scattered across the East Coast, when you include the preliminary round soccer games played in Birmingham, Miami, Orlando and D.C., and canoeing on the Ocoee River in Tennessee).
U.S. athletes in particular put on a dazzling display in the 1996 Atlanta Games: Michael Johnson won the 200- and 400-meter races, the first time anyone's done that in a single Olympics. The women's gymnastics team, led by a hobbling and gutsy Kerri Strug, won its first gold medal ever. Swimmer Amy Van Dyken became the first American woman to win four gold medals in a single Olympiad. Sprinter/ jumper Carl Lewis won the last gold medal of his long career.
More than two million visitors came to Atlanta to see the best athletes in the world compete, and about 3.5 billion watched them on television. But Payne, the man who brought the Olympics to the Deep South, a guy who had the proverbial best seat in the house, hardly saw a minute of any of that.
"You know, sports-wise, I don't have any Olympic memories," says Payne, CEO of the Atlanta Committee for the Olympic Games (ACOG) at the time, now chairman of Augusta National Golf Club. "I visited every venue during the Games and hardly ever looked at the field of competition."
Payne's clearest memory of the Games, of course, is the Centennial Olympic Park bombing: "The hours surrounding that terrifying event is something I will never forget until the day I die, especially the way the community rebounded after the bombing, with remarkable tenacity and pride and the declaration that nobody was going to stop this celebration of humanity."
And for many others, especially critics from an international community that doesn't quite understand traditional American capitalism, the overarching theme of the Games was unprecedented free-range commercialism. (This Olympics took corporate sponsorship to new heights.)
But the actual sporting events, the whole reason for the Games, were positively stunning, and Payne, who dreamed all of it up, missed it.
"I was too busy looking to see if ushers were being nice to our guests, if people were saying 'please' and 'thank you,' if concession lines were too long. I was busy being a manager," he says. "So I was totally unaware of the athletic competition and accomplishments, which is funny because that's the whole reason for the games.
"Since then, I've had time to look back and reflect and become fully aware of what our athletes were doing. And it was nothing short of amazing."
It's almost 20 years later, and when you listen to the people who helped Payne pull it all off, "nothing short of amazing" sums up the Atlanta Olympic experience – the idea, the pursuit, the execution, the legacy. The games were delivered on time and under budget. They had an economic impact of at least $5.1 billion. And they changed Atlanta forever.
"Having the Olympics here was like putting a drop of ink in a glass of clear water," says A.D. Frazier, Payne's right hand as COO of ACOG. "It completely changed the image of Atlanta around the world. By the time the games were over, everyone knew Atlanta was the capital of the American South."
Payne says the Olympic idea found him, "like a bolt of lightning," during the dedication of a church sanctuary in February 1987. For almost 10 years, he had a single-minded dream.
"He is the single most driven individual I've ever known," says columnist Dick Yarbrough, who was ACOG's managing director. "Some people dream, but Billy was a practical dreamer. He could dream, and he could make it happen."
For dreaming really, really big, and for making it happen, Payne is being inducted as a Georgia Trustee, which is a particularly sweet circumstance for College Football Hall of Famer Vince Dooley, who coached Payne at the University of Georgia, and who preceded his former player as a Georgia Trustee (in 2011).
"What he's done has been absolutely remarkable," says Dooley, who is co-chairing the Georgia Historical Society event that will honor Payne and fellow incoming Trustee, Arthur Blank, this month.
"I think that a lot of people still don't quite appreciate what an achievement this was, bringing the Olympics to Atlanta," Dooley says. "Billy beat all the odds."
Taking the Hill
Payne, who grew up in Atlanta, was born in Athens in 1947, while his father, Porter Payne, was starring at tackle for Coach Wally Butts' UGA Bulldogs. The earliest ambition he can remember is wanting to be an athlete, like his dad.
"I always fancied myself an athlete," says Payne, who is chairman of Centennial Holding Company LLC, a private investment firm, when he isn't helping to guide Augusta National. "I was also a very serious student, always studying. Those two things describe what I was like: athletically inclined, and very dull."
The charismatic, charming Southern gentleman who pushed the Olympic message with an evangelist's fervor insists that the boring jock teen he was lurks yet within his 66-year-old self, and that sometimes it gets on his wife's nerves.
"We'll go to dinner somewhere, and at 8 p.m., I'm looking at my watch, ready to go home," says Payne, who's been married to the former Martha Beard for 45 years. "I tell her, 'at least I'm consistent.'"
He could say the same about his football career. Payne was one of Dooley's most consistent, and determined, performers. He started every game (1965-1968), first as a freshman, then on the varsity team, first as an offensive end, then as a defensive end as a senior, when he was all-conference for the SEC champion Bulldogs.
"Billy's what we used to call a 60-minute football player, a guy you wanted in the game all the time – offense, defense, special teams, and he showed great leadership early on," Dooley says. "He was also vice president of the student body. How many football players do that?"
Under Dooley, Payne watched and learned, became less dull, and nurtured his obsessive side.
"I learned that through preparation and attention to detail, repetition of the things you don't [do] so well, you can succeed. I've carried that with me," Payne says. "So when I get an idea, I'm one of the most obsessive people you'll meet. Coach Dooley taught me that."
Dooley is one of the four men that Payne identifies as key influences in his professional life and his growth as a leader. The others are:
• Porter Payne, his father and hero. "He was a gentle giant, a great father. I aspired to be like him, and fortunately, I was able to compete at a high level. But it had more to do with effort than ability, because my dad was always reminding me that you can always outwork the other person."
• Andrew Young, who was really the key player in Atlanta's international pitch, having been an ambassador to the U.N. – he got Payne in a lot of doors. "One of my great pleasures was getting to know him and work with him during our 10-year Olympic experience, and I grew to love that man," Payne says. "He taught me that the differences in a person come from the heart, not the skin or background. I can't imagine a better role model than Andy Young."
• Hugh McColl, who was CEO of NationsBank when he committed $40 million to help sponsor the games. "He proved that one man could make a difference as the first sponsor of the Games. He jumped on board after others had reluctantly deferred, or said 'no,' or laughed at me. He came to my rescue and made a difference in my life and the life of the Olympics.
"Four guys like that? If I turned out bad, it's not their fault."
If Payne wasn't a born leader, he certainly carried himself that way. His confidence was infectious, and his ACOG lieutenants talk about him like he was a beloved evangelist or football coach, or a general – like he was Robert E. Lee asking them to take that hill.
"The best way to describe his leadership style is inspirational," Frazier says. "Everything he did, whether he was giving a talk to the employees, or outside at some club or gathering, or if he met you in the hallway – he was always the person you'd walk through fire for."
Hitting the Moon
By Sept. 18, 1990, the day the International Olympic Committee (IOC) would announce the host for the 1996 Summer Games, Payne was ready for anything, success or failure. He just wanted the chase to be over. He (and Young, and others) had spent the previous three years making friends with the international community, particularly IOC, the governing body of the Games.
"Total fatigue and exhaustion – I just wanted them to get over with it, say any city, I didn't care. I wanted it to be over so we could rest a while," says Payne, who was in Tokyo for the IOC Session to hear the announcement in person.
When IOC President Juan Antonio Samaranch announced that Atlanta was getting the games, Payne felt homesick. There was a large Atlanta delegation in Tokyo, says Payne, "but I was thinking about the thousands of people in Atlanta, who I knew were sharing in the good news and celebrating, and I wanted to jump in the middle of them from across the ocean."
Atlanta had been chosen over Athens, Belgrade, Manchester, Melbourne and Toronto, had pulled off what everyone considered a major upset – everyone except Payne, who had devised a winning recruitment strategy.
"We had seven or eight people traveling the world, and I told them early on not to make the mistake everybody else makes," Payne says. "I told them, 'Don't waste your time saying that our swimming pool is gonna be better than another city's, or our Olympic stadium will be better. Don't do anything more than gain their confidence, befriend them, and let's see where that takes us.'"
The Atlanta team had a decisive edge, says Payne – indigenous Southern manners, a sincere nature that helped them gain the trust of the world.
Yarbrough, who wasn't recruited to the ACOG team until 1993, says, "Billy's strategy was to make the international community like us better than they liked anybody else. He reasoned that they were going to vote in secret, so they were going to vote for who they liked best. Pretty simplistic. And had I been there, I'd have advised against it, which just goes to show that Billy was being smarter than everyone else. He got the gist of the situation faster than anybody.
"Think about it," Yarbrough says. "Here's a guy who was a one-man real estate law firm, who went from that environment to running what was essentially a Fortune 500 company. ACOG was a $1.7-billion enterprise with about 50,000 employees for the three weeks of the Olympics. It takes some kind of genius to manage through that."
Payne has no trouble taking credit for having the dream. Nor does he balk at giving credit to those who helped him along the way, or who had the good sense to follow him.
"I have a great conviction that people who embrace the same dream and work together, even in the face of seemingly insurmountable odds, can achieve the impossible," he says.
Payne's expectations were always high, bordering on the impossible. Frazier thought the boss had gone mad when, one early morning in 1993 they looked out over the squalid, dilapidated warehouse district below ACOG's offices in Downtown Atlanta and Payne announced, "We're going to build a park down there."
Frazier says he was stunned. "That was the most impossible thing we did, starting from below ground zero and ending up with Centennial Olympic Park. That's Billy Payne's determination. He's personally responsible for that."
Frazier believes the same high expectations that worked for creating an Olympic Games is also working for Payne at Augusta National Golf Club, where he was named chairman in 2006.
"He's the perfect guy for the job, because he has that demanding standard of excellence, expects nothing but the best effort and outcome," says Frazier.
And yet, Augusta National is a totally different gig. It's introversion versus the Olympics' extroversion.
Recruiting and putting on the Olympics was a very public show. It was, to an extent, all about currying favor with the rest of the world, a global popularity contest. Augusta National, meanwhile, is staid and aloof and insular, and Payne is careful not to take credit for the progression there, such as the club's admitting women for the first time and a historic TV deal.
"Anyone in my position spends the first month on the job reading from our archives about the mandates of our two founders, Bob Jones and Clifford Roberts, and after reading that you can summarize the goal of this job in one sentence: We must be better every year," says Payne.
"That mandate comes from whoever is the chairman, but the execution comes from a remarkable staff. I can take the staff at Augusta National and run any company in America overnight, they are that good."
Just like a beloved football coach, or a general, to fall in love with the people who serve, the people willing to follow, to spin something tangible from a spool of dreams.
For about five months after the Atlanta Games, Payne and what remained of ACOG finished up the work of 10 years, counting money, paying bills, ensuring they'd met their commitments.
"We were taking in money and paying bills all the way through January 1997, and I can recall the moment when I became aware that it was truly coming to an end," Payne says. "We had about two weeks left. … That's when I started crying and couldn't stop, because I was saying goodbye to friends who had followed me and embraced this crazy idea.
"Together, we shot for the moon, and we hit it."