Making The Sausage
An inside look at how Georgia's General Assembly works and how laws are made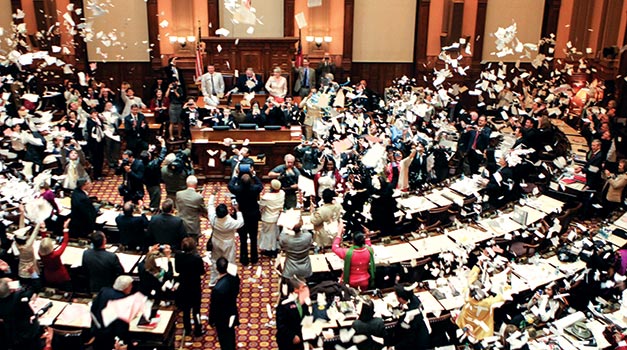 There is an old adage that children should never witness sausage or laws being made. Given Georgia's status as the poultry capital of the world, a visit to a poultry slaughterhouse could be added to that list, unless you plan to remove chicken nuggets as a diet staple for the kids.
That said, thousands of school children actually view Georgia lawmakers at work each year during the Georgia General Assembly, and for many it becomes a formative memory of how their government works.
Georgia's General Assembly commenced its 152nd session on January 13, and it will come to an end sometime this spring. While it's in session, it can be helpful for us adults, too, to take a peek behind the curtain to see how Georgia's laws are made.
Key Ingredients
The Georgia General Assembly, like the majority of state legislative bodies, remains part time, operating against a 40-day calendar – with, in effect, only one mandate and requirement for each year's legislative session: The General Assembly must deliberate, pass through both chambers and send back to our governor for signature an annual budget, and that budget must be balanced.
Though the recession took its toll, state revenues have been steadily rebuilding and increasing, and the budget for the next fiscal year will likely top $19 billion.
Seniority and the appointed leadership in the State House and State Senate are critical to the flow of legislation and the operations of each chamber. The open U.S. Senate seat to replace the retiring Sen. Saxby Chambliss created a domino effect of legislative resignations, along with one significant removal in the State Senate, so the leadership ranks in both chambers will be vastly changed this year.
Casey Cagle, Georgia's 11th lieutenant governor, will be seeking his third term this election cycle. Third in command, from a state constitutional perspective, is State House Speaker David Ralston (R-Blue Ridge). Ralston, who previously served in both the State House and Senate, is almost universally respected and perceived to have restored order and fairness to a position that suffered some credibility damage when the power was wielded by a troubled prior speaker.
Cooks In The Kitchen
Executive Branch: Georgia's constitutional offices, including governor and lieutenant governor, are full-time, year-round positions. Those who serve in these constitutional offices implement and enforce the laws and administrative procedures that result from statutes passed by the General Assembly.
Though the governor has a line-item veto and wields other tools of influence via appointments and employment, our current governor, Nathan Deal, is more typically a consensus builder who has several times stepped into the fray of potentially explosive and fractious issues to derive a practical and workable solution prior to the convening of the General Assembly.
Legislative Branch: Since the GOP takeover of majorities in both chambers of the General Assembly in the mid-2000s, a typically shorter legislative agenda has emerged, with control of the flow of legislation being held more closely and no bill reaching either chamber's floor for debate or amendment without majority support of the party caucus in each chamber.
Lobbyists: Georgia's legislators are only part time, meaning that more often than not, these public servants have careers, businesses, law practices and other responsibilities on their plates year round and awaiting them back home. As a result, our legislature, as well as those in most other states, has come to rely on activists, public affairs professionals (aka lobbyists) and industry associations and related experts to keep them informed on industry trends, applicable changes in law and the nuanced detail often required for the creation of regulation and tax policy.
The 236 members of our General Assembly (180 House members, 56 senators), can hardly be expected to hold expert knowledge levels on every arcane issue, profession and even peer law in other states, given their small staffs and part-time service. Arguably, without this input, expertise and counsel, the General Assembly could not function as smoothly, and many of the statutes passed and signed would likely suffer legal challenges and later be overturned for weaknesses of constitutional authority.
News Media: Though the Internet and shift in public tastes and consumption away from newspapers in many Georgia media markets and elsewhere has reduced the clout of the mass media, the Capitol bureaus and several reporters with seniority approaching that of many legislative leaders still deliver enough authority and power for the Fourth and Fifth Estates (traditional media sources and social/citizen media, respectively) to become the de facto 'fourth branch' of our state government.
Curing Time
The Georgia State Constitution dictates that our General Assembly is limited to a calendar of 40 days and nights. Magically, the leadership of both chambers holds the power to stop the clock. Days in recess for budget hearings, four-day work weeks with Friday reserved for committee work or office appointments, etc. don't count and are but a few of the many ways that the House speaker and lieutenant governor can practically freeze time and extend the calendar. It has been shared frequently that this year will be a short session, perhaps ending as early as mid-March.
The Cooking Process
Bills are filed or pre-filed with a sponsor and a second or carried over from the prior year. House and Senate leadership then assign these bills to one of several dozen committees for review and public comment. This explains the lower Capitol hallways being clogged most any morning with lobbyists and advocates stalking their favored members or giving testimony in committees on legislation they are pushing or attempting to block.
And while much attention and heat is directed at lobbyists representing their special interest group of choice, a quick review of the registered representative list (lobbyists) shows that a significant percentage are actually state and local government employees seeking budget or favorable treatment for their agency, county or municipality, as well as community activists strongly advocating on a wide array of public policy items under consideration. There are, in fact, only a small percentage of career lobbyists, some of whom are widely respected under the Gold Dome for their knowledge and industry experience.
Hearings and public comment, as well as notes and whispers in the ear over lunch, dinner or any of the dozens of legislative luncheons and receptions that dot the legislative calendar, contribute to the flow of legislation and amendments. The all-powerful Rules Committees in each chamber set the legislative calendars and in effect determine if and when proposed legislation will go to the full chamber for debate and amendment. Conference committees are later – again appointed by leadership – to hammer out differences between the House and Senate versions of the same bill.
Phrases such as "Crossover Day" – the last day proposed legislation can pass in the chamber in which it was introduced and transfer to the other chamber for consideration – and "Sine Die" can be heard more and more frequently in the lexicon and language of General Assembly groupies. "Sine Die" is a Latin term meaning "without issue" or more practically, "the end of the story," and officially brings the session to a close.
One of the more entertaining traditions that continued for more than a generation was when the late House Speaker Thomas B. Murphy (D-Bremen) would bang his outsized gavel to end the session and then sprint up the long red-carpeted House floor to be showered in confetti created from the shredded paper of proposed legislation. That tradition continued for two more speakers, but Ralston is not the sprinting kind. So though he bangs the gavel quite smartly, it is with a smile and a saunter that he ambles up the chamber floor to his offices, knowing that the circus is leaving town, at least for the next few months.
But back to the thousands of school children who enter the Gold Dome annually during the session. Some clerk as pages, others act as props during one or more education policy announcements and hundreds enter the House and Senate galleries daily, silently watching the often tedious flow of votes and rules of order emanating from the floor below. If you're curious, you, too, can take a seat and watch our state's laws get made.
So whether you are a fan of sausage, chicken nuggets or fine cheeses, I can assure you that this year's General Assembly will provide a veritable buffet for your review and potential participation. Bon appétit!