Art Of The Meal: BoccaLupo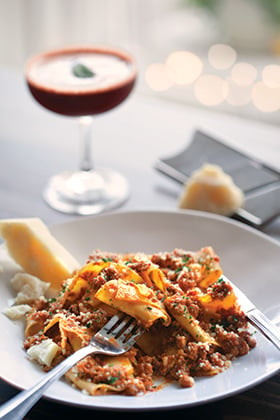 BoccaLupo
753 Edgewood Ave. NE, Atlanta
404.577.2332 or www.boccalupoatl.com
Hours: Dinner, Mondays-Saturdays.
Parking: In attached lot or on street.
Dress Code: Brooklyn hipster.
I'd heard positive rumblings about this new Italian place in Inman Park even before my colleague approached, breathless. "The squid ink pasta …" she stammered. "Life-changing … I must … must … go … back." Other friends scheduled outings around hard-to-get reservations. And when I treated myself to an Uber car ride to BoccaLupo (I would have to try the cocktails, everyone declared), the driver said, "Oh yeah … I've taken people there on my last four calls."
Experience has taught me to approach these culinary eruptions warily. What you expect to be a dramatic, tectonic plate-shifting Vesuvius might turn out to be a Stromboli, namesake for a cheesy snack. So it was a relief to pull up and see that the place fits perfectly in Inman Park, in a scruffy, urban pioneer sort of way.
It's an older, repurposed building, made just big enough with a heated patio and lively bar. It's dark and intimate, with the warm glow of gathered bodies, but you never worry someone is going to trip over your coat or that you have nowhere to put your purse. If anything, it's underdesigned, more utilitarian than self-consciously artful, but the space is thoughtfully laid out, giving it an energetic flow. Concrete floors and simple tables seem to allow the beautifully plated food to take the spotlight – like a man in a simple black suit with a gorgeously dressed woman on his arm.
Among BoccaLupo's strongest assets are its expert waitstaff. They are not only thoroughly knowledgeable about the menu and long list of complex specials (which they memorize and recite), but they also seem to be pleased to be here, to let you in on the best secrets, to take the way when you hand them the lead or to hang back when you're enjoying a moment.
The ingenious cocktails are worth a visit on their own, featuring small-batch liquors like Knickerbocker gin in The Tourist (with Antica Formula, Aperol, prosecco, lemon and Regan's orange bitters) or the bitters-based Sharknado, a cyclone of wonderfully antithetical flavors (rum, dry curaçao, lime, house orgeat) topped with a mint leaf.
BoccaLupo did sputter a bit, however, on my first visit – that squid ink aficionado pal was disappointed in her dry and not-quite life-changing second serving of it, and my linguine and caramelized sprouts with broccolini, lemon and capers was way too salty, as was the Caesar with fish sauce subbing for anchovy (and I'm a salt lover, so someone's palate was clearly blown). However, the pappardelle with bolognese gravy was delicately balanced between tender pasta (all is made in-house) and delectable sauce, topped with American Parmesan.
The desserts were a split decision between the beloved cocoa cake with squid ink buttercream, whipped ricotta and pecans, and the oversold but underwhelming olive oil cake.
The second visit, though, was a consistent flow of foodie hotness: A spicy stew-like tomato brodetto of calamari with pine nuts and caperberries that we couldn't stop dipping into. Bruschetta "banh mi," which achieves the signature taste of the Vietnamese sandwich with chicken liver, roast pork and giardineria on toast.
Both of our entrees were, like my friend's first taste, indelible and even now beckon me back. Perhaps only coincidentally both feature veal: The raggedy, hand-rolled garganelli with chicken and veal ragu, field peas and escarole was the perfect antidote to a cold, rainy night; the baked veal cannelloni in vodka sauce, under a confetti of Parmesan and fresh basil, with a delicious, slaw-like warm salad of finely julienned Brussels sprouts was a bright little party on a plate, the kind with an assortment of interesting guests.
But maybe my favorite dish was this dessert: House-made chocolate and vanilla gelato, with a chocolate cookie and a snickerdoodle. Simple but outsized in satisfaction, it was like that last puff of smoke from the crater, the one that says, "Ahhhh. I'm done."
Speaking of cool new hipster places in Inman Park ….
Victory Sandwich Bar has flown under the radar in Decatur for some time now, serving mom-and-pop mashups like the Hot Chick roast chicken 'wich and the Beeter (beet "pastrami," white kimchi, Thai pepper mayo) with epic cocktails. The original Inman Park location (on Elizabeth Street) closed last fall to make way for new construction, but another was scheduled at presstime to open in mid-spring at 913 Bernina Ave. NE (www.vicsandwich.com).