NURSING HOMES: WHAT YOU NEED TO KNOW HOW TO FIND THE RIGHT FIT
How to find the right fit. Plus, Georgia's five-star nursing homes.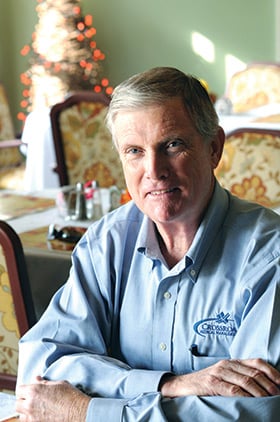 Each month, on average, 4,524 Georgians are admitted to one of the state's 359 skilled nursing facilities, more commonly referred to as nursing homes. And for many of those, there is at least one family member who likely struggled with the decision to have a loved one admitted – a decision perhaps fraught with misconceptions about what a nursing home is. That decision was perhaps even fought by the family member needing care.
While nursing homes have been referred to – particularly in generations past – as retirement homes or warehouses for the old, neither of these descriptions is true of the 21st century nursing home, says Bill Davis, chair of the Georgia Health Care Association and CEO of Perry-based Crossroads Medical Management, Inc., which operates six nursing homes in the state. "The people who would say this are people who have not been to a nursing home and visited [lately] or have not known someone who has been there."
Even more than in years past, today's nursing homes are places that provide high levels of care, assisting elders – and, in some cases, younger people who are temporarily or permanently disabled – with daily tasks such as feeding, dressing, bathing and taking medications. The main difference between skilled nursing facilities and assisted living centers is the level of care provided, says Jon Howell, president and CEO of the Georgia Health Care Associa-tion, an association of skilled nursing facilities, assisted living centers, and home and community-based case managers.
"A skilled nursing facility is more of a medical model," Howell says. "You will have skilled, trained, specially educated individuals, including a physician who oversees a care plan. You will have registered nurses on the team, LPNs [licensed practical nurses] and certified nursing assistants who handle day-to-day activities." Other medical professionals, such as occupational or physical therapists, are also available to patients on site.
"A 21st century nursing home is handling some very complex medical issues that wouldn't be possible in an older model, so there really has been a ramp up of what services can be delivered effectively in maintaining a high level of quality," says Howell.
While the quality of nursing home care has improved generally across the country, Howell says Georgia, in particular, has made significant strides in improving quality. In fact, in 2013 some 17 percent of nursing homes in Georgia received the five-star rating from the federal Centers for Medicare & Medicaid Services (CMS) for their overall performance in health inspections, nurse staffing and quality of medical care. Between 2009 and 2011, there was an 8 percent increase in four- and five-star facilities in overall performance nationwide, according to CMS. In Georgia, the percentage of four- and five-star facilities jumped by nearly 15 percent during that timeframe, behind only Delaware (23 percent) and Tennessee (16 percent).
But nursing homes don't have to have the five-star rating to provide quality care. In fact, Davis warns against using ratings or other survey results as the sole way of evaluating a nursing home, as sometimes the tiniest infraction – he cites a case where breakfast grits were served two degrees below the optimal temperature – can affect the way a nursing home looks on paper. The best nursing home for your loved one is largely an individual choice.
If you haven't taken a look at nursing homes lately and you're in a position where you may need to, it helps to know what nursing homes are and aren't – and how to pick the best one for your loved one.
Debunking the Myths
Myths and misconceptions about nursing homes abound, often based on outdated information or highly publicized bad examples. Here is what experts says is the truth about nursing homes today.
Myth: Once you check in, you won't check out.
Truth: While nursing homes were once a place where people went to spend their final years, nursing homes today are a shorter-term proposition for many people, says Davis. "They may be reasonably healthy and have support at home, but they have some singular traumatic event that puts them over the edge like breaking a bone or having a stroke, and it just makes them need some fairly intensive therapy on a short-term basis," he says. "They come and stay for a while and get therapy and then go home."
In fact, according to the Administration on Aging, only one-fourth to one-third of nursing home discharges in any given year are because of death.
Myth: Nursing homes are for people whose families don't want to take care of them.
Truth: While some nursing home residents have no family to care for them, many more have family members who would provide nursing care for them if they could.
Nursing homes provide a level of care that few families have the ability to provide on their own, says Howell. "These services are clinical in nature. They require special skill and education. It would be extremely difficult for a layman who might be trying to maintain a career and other family responsibilities to handle this on a 24-hour basis."
While some cultures believe strongly that it is the responsibility of families to care for their elders, in today's society – with smaller families who are often spread out geographically and working more years to support themselves – caring for an aging loved one often simply isn't possible.
Even cultures that traditionally have placed an emphasis on caring for their elders are now turning to nursing homes for their loved ones' care, according a recent study by Brown University. Between 1999 and 2008, the number of Hispanics in traditional nursing homes rose by 54.9 percent; the number of Asians rose by 54.1 percent, the study showed. The study's authors believe the rise is due to the loss of stigma associated with nursing homes once immigrants come to the United States.
Myth: Nursing homes overmedicate patients.
Truth: While nursing homes once relied on off-label antipsychotics (that is, using antipsychotic medications for purposes other than to treat psychosis) to calm agitated patients, that practice has decreased significantly in recent years, and Georgia has been a leader in that area.
Over the course of 2012, Georgia's decrease in off-label antipsychotics has been "just north of 16 percent, which is one of the largest reductions of use in the entire country," says Howell. A 15 percent reduction goal was identified as part of The Quality Initiative, created by the American Health Care Associa-tion (AHCA) and National Center for Assisted Living (NCAL), he says.
Myth: Medicare pays for nursing homes.
Truth: Aside from payment for short-term stays for rehabilitation, Medicare does not cover nursing home costs, says Howell. A large part of the cost of long-term is borne by the patient and his or her family. "The way Medicare works, if someone is clinically eligible, their first 20 days in the skilled nursing care center would be wholly covered, but starting on day 21 there is a co-pay of $148 per day," says Howell. The co-pay is capped out at 100 days, so beginning on day 101, services are offered on a private-pay basis, he says. "If private funds are not available, there is the Medi-caid safety net that requires you to completely spend down your assets to $2,000." For most people, the cost of a nursing home depletes as-sets pretty quickly, so that Medicaid becomes a necessity. In 2010, Medicaid covered 73 percent of the cost of patients receiving care in skilled nursing facilities.
Myth: Nursing homes neglect or abuse patients.
Truth: The vast majority of nursing homes provide excellent care, and caregivers work in the field because they want to help people and make a difference in their lives, says Howell. While stories of neglect are highly publicized, fortunately, they are extremely rare. In fact, the ratings for compassionate, expert medical care are at an all-time high. According to the 2011 National Survey of Customer and Employee Satisfac-tion in Nursing Homes conducted by the National Research Corporation, 88 percent of residents are satisfied with the quality of their care, and 87 percent of residents and their family members would recommend their skilled nursing care or rehabilitation center, based largely on the care, concern and competency of the staff.
If you have any concerns about a nursing home you are considering, Davis recommends checking with your local Department of Family and Children Services (DFACS), Long-Term Care Ombudsman Program or Office of Regulatory Care Services (ORS).
SELECTING A NURSING HOME
Selecting the best nursing home isn't always easy. Sometimes you have to act fast if a family member becomes ill suddenly or health deteriorates more quickly. The best time to start looking at nursing homes is before the need becomes urgent, says Georgia Health Care Association Chair Bill Davis, so that you have the most time to do your homework and make your decision.
Here are some tips for finding the right one.
Ask around. Ask your or your loved one's doctor or other health providers for recommendations. Speak to friends, family members and neighbors who have experience with nursing homes. Do they have one they can recommend? Davis says word-of-mouth is probably the best way to find a quality nursing home.
Do online research. Several websites can be helpful in your search for a nursing home, says Davis. Two he recommends are Nursing Home Compare on Medicare.gov (www.medicare.gov/nursinghomecompare) and A Place for Mom (www.aplaceformom.com).
Consider the location. To visit your loved one as often as possible, you'll want to find a center close to your home or job. But also consider the location of other family members who will likely want to visit.
Consider the specialty. Some nursing homes specialize in certain types of problems, for example, stroke or dementia. If your loved one has special medical needs, you may want to select a center specializing in the treatment of those needs.
Evaluate the staff. When evaluating a nursing home you're considering, you can learn about factors such as staff-to-patient ratio and staff turnover with a quick call to the facility, but there are some things you can learn only by visiting, such as how does the staff interact with residents? Do they seem genuinely interested in you and your loved one? Do they take time to speak with you, or are they rushed or short with you? Davis recommends making several visits on different days and different times of the day.
Observe the residents. You can tell a lot about a nursing home and predict how a loved one might fit in by observing the residents. Do they appear happy? Do they interact with one another and the staff? Are they clean and well-groomed? Do they seem like people your loved one would have things in common with?
Assess the facilities. Does the facility appear clean? Does it smell of urine or heavy deodorizers used to mask the smell of urine? Does it serve nutritious, appetizing meals? Does it plan activities for residents?
Speak with other families. If you have the chance, speak with others visiting their family members at the nursing home. Ask what they like about it – and if there is anything they don't like. If you have the luxury of time to make a choice, ask the nursing home if they have an active family council, and if so, if you can attend a meeting, Davis advises. A family council is a group of family members of residents who meet much like a support group and can offer valuable information about what it is like to have a loved one at the center. – Mary Anne Dunkin
EASING THE TRANSITION TO A NURSING HOME
Even if you have done your research and the nursing home looks good to you, that doesn't mean your loved one will be eager to move. The move to a nursing home is rarely an easy one.
"One of the things I have found in working in the institute is that nobody wants to move," says Candace Kemp, Ph.D., associate professor in the Gerontology Institute at Georgia State University. Moving to a nursing home means a loss of independence, familiar surroundings and privacy, she says.
Kemp says the best way to help loved ones transition into a nursing home is before it happens. Depending on your loved one's cognitive state, it is important to involve them in the process. "People who are involved in the move and where they move often have a better transition," she says.
If possible, take your loved one along on visits to different nursing homes. Begin conversations about nursing homes before one is needed. While most families find such conversations difficult, she says waiting until there is a crisis and choices are limited is ultimately worse.
Other ways you can help you loved one with the transition include:
Bring familiar items. Find out the nursing home's policy on bringing personal items, such as clothing, pictures, a special blanket, familiar knickknacks or CDs of favorite music from home. "For older people with cognitive impair-ment, familiarity and structure are particularly important," says Kemp.
Visit often. Try to visit often – even if you have to keep your visits short. For many nursing home residents, the frequency of visits is more important that the length of the individual visit, says Georgia Health Care Association's Bill Davis. If you live too far to make regular visits, call your loved one as much as possible, and send cards and letters. Keep them informed about family events.
Help caregivers get to know your loved one. Because the type of care pro-vided in a nursing home is personal and intimate, it is important that staff get to know the person being cared for – routines and preferences, as well as background: what the individuals did for a living, where they lived, how many grandchildren they have. This knowledge will enable caregivers to develop a rapport with your loved one.
Acknowledge feelings. Moving to a nursing home is rarely easy, particularly when it involves admitting a loved one who is no longer able to care for him or herself. It is not unusual to experience feelings of guilt. Your loved ones may be angry with you, fearful for what's ahead or grieving for the home, life and good health they once had. It's important to acknow-ledge those feelings and discuss them if your loved one wants to. Denying the difficulty of the move or sweeping feelings under the rug will only intensify them and make the transition more difficult.
While the adjustment can take time, Davis has found that most residents not only adjust, but are grateful for the support they receive. "I think there is a presumption that they dread the idea of going to a nursing home," he says. "But later on when they get to the point where they need one, I think they welcome it and are actually glad to be there and have the problem solved for them." – Mary Anne Dunkin
FIVE-STAR NURSING HOMES IN GEORGIA
(OCTOBER 2013 MEDICARE FIVE-STAR RATINGS)
A.G. RHODES Health & Rehab – WESLEY WOODS
1819 CLIFTON ROAD NE
ATLANTA 30329
404.315.0900
A.G. RHODES Health & Rehab – COBB
900 WYLIE ROAD
MARIETTA 30067
770.427.8727
A.G. RHODES Health & Rehab – Atlanta
350 BOULVARD SE
ATLANTA 30312
404.688.6731
AGAPE HEALTH & REHAB OF MOULTRIE
101 COBBLESTONE TRACE SE
MOULTRIE 31768
229.985.3637
BRANDON WILDE
4275 OWENS ROAD
EVANS 30809
706.868.9800
BRIAN CENTER HEALTH &
REHABILITATION/CANTON
150 HOSPITAL CIRCLE NW
CANTON 30114
770.479.5649
BRIGHTMOOR HEALTH CARE, INC.
3235 NEWMAN ROAD
GRIFFIN 30224
770.228.8599
BUDD TERRACE AT WESLEY WOODS
1833 CLIFTON ROAD NE
ATLANTA 30329
404.728.6500
CALHOUN HEALTH CARE CENTER, INC.
1387 HIGHWAY 41 NORTH
CALHOUN 30701
706.629.1289
CARLYLE PLACE
5300 ZEBULON ROAD
MACON 31210
478.405.4500
CARROLLTON HEALTH & REHABILITATION CENTER
2327 NORTH HIGHWAY 27
CARROLLTON 30117
770.834.4404
CHATUGE REGIONAL NURSING HOME
386 BELAIRE DRIVE
HIAWASSEE 30546
706.896.2231
CHERRY BLOSSOM HEALTH AND REHABILITATION
3520 KENNETH DRIVE
MACON 31206
478.781.7553
COASTAL MANOR
128 COASTAL MANOR DRIVE SE
LUDOWICI 31316
912.545.3392
THE D. SCOTT HUDGENS CENTER FOR SKILLED NURSING
3500 ANNANDALE LANE
SUWANEE 30024
770.932.3472
FAIRBURN HEALTH CARE CENTER, INC.
178 WEST CAMPBELLTON ST.
FAIRBURN 30213
770.964.1320
FIFTH AVENUE HEALTH CARE
505 NORTH FIFTH AVE.
ROME 30165
706.291.0521
GEORGIA REGIONAL ATLANTA LONG-TERM CARE
3073 PANTHERSVILLE ROAD,
SNF BLDG. #17
DECATUR 30034
706.291.0521
GIBSON HEALTH AND REHABILITATION
434 BEALL SPRINGS ROAD
GIBSON 30810
706.598.3201
GOLDEN LIVINGCENTER – AUGUSTA
1600 ANTHONY ROAD
AUGUSTA 30907
706.738.3301
GOLDEN LIVINGCENTER – JESUP
1090 W ORANGE ST.
JESUP 31545
912.427.6858
GORDON HEALTH AND REHABILITATION
1280 MAULDIN ROAD NE
CALHOUN 30703
706.625.0044
GRANDVIEW HEALTH CARE CENTER
618 GENNETT DRIVE
JASPER 30143
706.692.6323
GRAY HEALTH AND REHABILITATION
156 DOLLY ST.
GRAY 31032
478.986.3151
GREENE POINT HEALTH AND REHABILITATION
1321 WASHINGTON HIGHWAY
UNION POINT 30669
706.486.2167
GWINNETT EXTENDED CARE CENTER
650 PROFESSIONAL DRIVE
LAWRENCEVILLE 30046
678.312.3000
HART CARE CENTER
261 FAIRVIEW AVE.
HARTWELL 30643
706.376.7121
HERITAGE HEALTHCARE AT CRESTWOOD
415 PENDLETON PLACE
VALDOSTA 31602
229.242.6868
HERITAGE HEALTHCARE AT SHEPHERD HILLS
800 PATTERSON ROAD
LAFAYETTE 30728
706.638.4112
HERITAGE HEALTHCARE OF ATHENS
139 ALPS ROAD
ATHENS 30606
706.549.8020
HERITAGE HEALTHCARE OF BLUE RIDGE
9908 OUIDA ST.
BLUE RIDGE 30513
706.632.2271
HERITAGE HEALTHCARE OF FORT OGLETHORPE
1067 BATTLEFIELD PKWY.
FORT OGLETHORPE 30742
706.861.5154
HERITAGE HEALTHCARE OF VALDOSTA
2501 NORTH ASHLEY ST.
VALDOSTA 31602
229.244.7368
LAUREL PARK AT HENRY MEDICAL CENTER
1050 HOSPITAL DRIVE
STOCKBRIDGE 30281
678.604.1600
LYNN HAVEN HEALTH AND REHABILITATION
747 MONTICELLO HIGHWAY
GRAY 31032
478.986.3196
MANORCARE REHABILITATION CENTER – MARIETTA
4360 JOHNSON FERRY PLACE
MARIETTA 30068
770.971.5870
NHC HEALTHCARE – FORT OGLETHORPE
2403 BATTLEFIELD PKWY.
FORT OGLETHORPE 30742
706.866.7700
OAKS HEALTH CENTER AT THE MARSHES OF SKIDAWAY ISLAND
95 SKIDAWAY ISLAND PARK ROAD
SAVANNAH 31411
912.598.5030
THE OAKS OF CARROLLTON
921 OLD NEWNAN ROAD
CARROLLTON 30117
770.834.3501
OCONEE HEALTH AND REHABILITATION
107 RIDGEVIEW DRIVE
OCONEE 31067
478.552.7381
PALEMON GASKINS MEMORIAL NURSING HOME
710 NORTH IRWIN AVE.
OCILLA 31774
229.468.3891
PARK SPRINGS HEALTH CENTER
500 SPRINGHOUSE CIRCLE
STONE MOUNTAIN 30087
678.684.3800
PINEHILL NURSING CENTER
721 PATTERSON ST.
BYROMVILLE 31007
478.433.5711
PINEWOOD MANOR
277 COMMERCE ST.
HAWKINSVILLE 31036
478.892.9171
PRESBYTERIAN VILLAGE
2000 EAST-WEST CONNECTOR
AUSTELL 30106
770.819.7000
PROVIDENCE OF SPARTA HEALTH AND REHABILITATION
60 PROVIDENCE ST., PO BOX 86
SPARTA 31087
706.444.5153
REGENCY PARK HEALTH AND REHABILITATION
1212 BROADRICK DRIVE
DALTON 30720
706.270.8008
RELIABLE HEALTH & REHAB AT LAKEWOOD
1980 ARROW ST. SW
ATLANTA 30310
404.755.4080
THE RETREAT
898 COLLEGE ST.
MONTICELLO 31064
706.468.8826
RIDGEWOOD MANOR HEALTH AND REHABILITATION
1110 BURLEYSON DRIVE
DALTON 30720
706.226.1021
RIVERSIDE HEALTH AND REHABILITATION CENTER
101 OLD TALBOTTON ROAD
THOMASTON 30286
706.647.8161
ROSE HAVEN NURSING FACILITY
400 SOUTH PINETREE BLVD.
THOMASVILLE 31792
229.227.2872
SAVANNAH BEACH HEALTH & REHAB
26 VAN HORNE ST.
TYBEE ISLAND 31328
912.786.4511
SPRING HARBOR AT GREEN ISLAND
200 SPRING HARBOR DRIVE
COLUMBUS 31904
706.576.6027
STEVENS PARK HEALTH AND REHABILITATION
820 STEVENS CREEK ROAD
AUGUSTA 30907
706.737.0350
TAYLOR COUNTY HEALTH AND REHABILITATION
165 SOUTH BROAD ST.
BUTLER 31006
478.862.2220
TOWNSEND PARK HEALTH AND REHABILITATION
196 NORTH DIXIE AVE.
CARTERSVILLE 30120
770.387.0662
TREUTLEN COUNTY HEALTH AND REHABILITATION
2249 COLLEGE ST. N
SOPERTON 30457
912.529.4418
UNIHEALTH POST-ACUTE CARE – ATHENS HERITAGE
960 HAWTHORNE AVE.
ATHENS 30606
706.549.1613
UNIHEALTH POST-ACUTE CARE – OLD CAPITOL
310 HIGHWAY #1 BYPASS
LOUISVILLE 30434
478.625.3741
WELLSTAR PAULDING NURSING CENTER
600 WEST MEMORIAL DRIVE
DALLAS 30132
770.445.4411
THE WILLIAM BREMAN JEWISH HOME
3150 HOWELL MILL ROAD NW
ATLANTA 30327
404.351.8410
WINTHROP HEALTH AND REHABILITATION
12 CHATEAU DRIVE
ROME 30161
706.235.1422