Growing Green
The Georgia Ports Authority sees record growth even as it keeps an environmental perspective.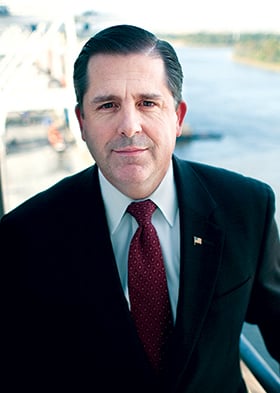 It's been another massive year for the Georgia Ports Authority (GPA), which moved nearly 3 million containers and some 27 million tons of cargo off the East Coast. Amid the debacle of the government shutdown emerged funding for the dredging of the Savannah harbor to a deeper level capable of handling even bigger ships of cargo. Vice President Joe Biden even made a personal visit. "What you do here is amazing," he said at a press conference in September.
More than a million square feet of distribution space has been leased at the GPA. The Port of Brunswick has become the No. 1 port in the country for automobile imports, with 637,000 cars moved. Atlanta absorbed more square feet of warehousing – 4.5 million – than any place in the country in 2013, according to the Georgia Center of Innovation for Logistics.
As the port lays out a $136-million capital improvement plan to accommodate continued growth, it will build on existing sustainability efforts that have made it more efficient – and have been implemented with little fanfare in the midst of such heady success. There has been no directive to do so, other than the vision of GPA Executive Director Curtis Foltz, backed by the GPA board.
"We do [save money] in many cases, but that is not the priority," says Foltz. "We want to be efficient, but we have an environmental responsibility that rises above that. Yes, there are savings, but more importantly, as we grow as a business, we are growing in an environmentally responsible way."
Getting Off Diesel
One of the most dramatic impacts has resulted from switching from diesel-powered to electric- and hybrid-powered equipment, which saves 1.8 million gallons of fuel a year. The GPA has 116 rubber-tire gantry cranes that move around on trucks along a power line, cutting-edge port technology created specifically for GPA and now adopted at ports around the world.
"We're doing all we can to lessen our dependence on diesel," says Foltz. "Where we are using diesel, it is a cleaner version, treated with additives, which reduces fuel use 5 percent, or 5.8 million gallons annually."
Whether through the conversion from diesel source engine power to electric, or variable speed engines lessening the use of diesel, or more efficient engines that burn less fuel, "we hope, on the conservative side, to eventually save 3.5 million gallons every year in perpetuity," says Foltz.
The GPA has introduced electric refrigerated racking systems that were once powered by noxious and noisy diesel generators. The new systems have had a tremendous effect on diesel consumption at the ports, generating 3.4 million gallons in savings and significant improvements in air emissions, says Foltz.
The GPA is also reducing drive time and truck cargo by improving transportation in and around this part of Savannah. The completion of Jimmy Deloach Parkway, which allows trucks to turn off I-16 and I-95 directly into the port without any red lights, has resulted in an eight-minute reduction in turn times. The improvement, fast-tracked by Gov. Nathan Deal and the Georgia Department of Transporta-tion, impacts some 8,000-plus trucks that come in and out, handling 6,000 containers on and off ships, and another 1,000 by rail.
"We now have an interstate that runs through the center of the terminal – prior to the cross-terminal roadway, it was not a very efficient layout," says Foltz. "It didn't support velocity safely or quickly. So as part of our master planning, when we were modeling the facility, we saw we needed a new four-lane highway for customers to transit from one end to the next, and it works extremely well, both in terms of productivity and safety, not to mention environmentally."
Road To Rail
This year GPA set a new record for rail cargo, up to 314,623 containers. "Strategically, we have worked for many years to [grow rail cargo], and our customers are well positioned with intermodal rail on terminal," says Foltz. "On the eastern half, Norfolk Southern and CSX both have intermodal facilities, and we're the only terminal with both on the East Coast."
That choice is important not only to GPA and its customers but to the state, says Foltz. "As we all know, our highways are more congested. If truck transportation is something that we can avoid, then we'd like to. That's why as we grow our business, we make every effort we can to convert truck to rail, which is a far better environmental choice than truck activity on a per-mile basis, based on the reduction in diesel consumption.
"On top of that, having direct access to both railroads helps service the growing needs throughout the entire southeast. It's a huge effort, which, candidly, is growing every day."
In July, for example, the GPA, Gov. Deal and Cordele Intermodal Services announced a joint effort to market Cordele's inland port, which opened in 2011; it boasts a direct 200-mile route to the GPA Garden City Terminal near Savannah, along with container service in and out of the Port of Brunswick. With ample room for expansion, the inland port helps boost economies from Tifton to Albany.
"We have several nodes of rail serving areas throughout Georgia, which as it continues to progress will translate to less truck activity on roads and an improved environment," says Foltz.
"We see an increasing overall awareness that, on a per-mile basis, trucking is just less efficient than pulling a locomotive or a single train," he says.
"The GPA is one of our state's strongest job creators, supporting more than 352,000 jobs across Georgia," said Georgia Gov. Nathan Deal in a news release shortly after the Cordele announcement. "By more efficiently connecting businesses in this region to the global marketplace through our deepwater ports, the Cordele Inland Port is now part of that broader effort, supporting jobs and future development."
Water and Land Conservation
The GPA has also successfully implemented LEED-certified construction, which adheres to U.S. Green Building Council standards, and that has translated into water and electricity savings. "Two of our most recent building projects were LEED certified," says Foltz. "That helped inform us how we are using stormwater runoff.
"Over the last few years, we've had a major project underway at our primary container facility that has expanded our wetlands to 1,200 acres. Previously, stormwater runoff went into our natural systems, so we have redirected all of it to go through a series of natural treatment ponds. In the most recent year, we saved 100 million gallons of water and created a natural wetlands in or around the port that didn't exist."
The GPA has also acted to protect something at Garden City that did exist – a grove of ancient oak trees standing at the entrance.
"We are proud of setting aside a reasonable amount of acreage in most of our facilities that could have been paved for handling containers, but two trees in our buffer area are 350 years old, and a dozen are more than 200 years old," says Foltz. "By putting them in a long-term protective easement, we are ensuring [they] will be around for many generations."
The effort won them the 2013 Outstanding Business Grand Award from the Georgia Urban Forest Coun-cil (GUFC), a nonprofit charged with helping Georgia trees. "To voluntarily preserve and take care of these grand trees is outstanding and demonstrates how businesses can help sustain our urban forests," said Mary Lynne Beckley, GUFC executive director, at a ceremony in Columbus in October.
Seeing these trees and wetlands in the midst of so much industrial activity may seem outlandish, as tourism on River Street may have once seemed outlandish to those who remember when such big industry posed a real threat to Savannah's fragile ecology. But that's the way GPA is run these days, and it's a signal of larger eco-awareness in the late industrial age.
"As we have gone through the Sa-vannah Harbor Expansion Project, and met many times with the Environ-mental Protection Agency at the Washington level, as well as U.S. Fish and Wildlife Services, all these entities fully understand that we are committed to growing in the right way – not for headlines, but because it's the right thing to do," says Foltz.
"Realistically, four or five years ago, we were not where we needed to be in terms of environmental responsibility. So this is the culture we've created at the Ports Authority – but which we hope will be appreciated by neighbors as well as federal officials. It's really just in the last four years that we have come to see our thousand employees very proud of what we've accomplished."