Art Of The Meal: Umi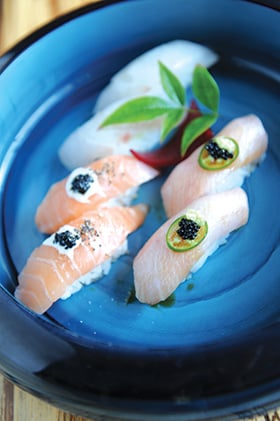 At some restaurants, the story is as compelling as the food. Call it edible edification.
Like Umi, for example. You don't really need to know anything about the charming couple who are its heart and soul, or the gorgeous, cutting-edge interior design to enjoy this classic, but contemporary, sushi restaurant, with its creative cocktails, long list of wines, sakes and the Japanese distilled spirit shochu. Perhaps you haven't noticed that a parade of celebrities seem to have made it their port of call. In fact, if you heard only that, maybe you'd think it was another glitzy Buckhead vault, more about the scene than the dining experience. Then you would be very, very wrong.
First, the food: The menu features a little sketch of a man playing cello. On closer inspection, you notice that the cello is actually a fish. That's Chef Fuyuhiko Ito, drawing poetic harmony and sustenance from bracingly fresh fish, presented in perfectly beautiful bites, on perfectly beautiful plates. If you want nothing more than a few outstanding nigiri (the single pieces of sushi on rice, which here come two to an order) and the best miso soup you've ever tasted, you can walk in and be seated at the sushi bar on most nights and leave without taking out a second mortgage.
For the full experience, have the omakase (chef's tasting), which will have you dipping a spoon into ripe avocado, its recess filled with a light vinaigrette, sprinkled with caviar and chervil sprouts, sparkling with edible gold leaf. Depending on Ito's whim, you may also have ponzu-marinated flounder with radish sprouts, sashimi slices or marbleized Wagyu beef, to be cooked over your personal little hibachi.
You may have torched uni (sea urchin), and you can watch as your server pushes fresh wasabi over a sharkskin grater – if you have never had fresh wasabi, treat yourself to its unique vegetal flavor, a world apart from the little dot of reconstituted powder. After several visits, I can't say I enjoyed the omakase any more than ordering from the menu (try the agedashi tofu, the flounder sashimi starter with ponzu and scallion, or the shrimp tempura with creamy hot sauce). But the absolute best part of the omakase is the sampling of desserts: A small bite of Lisa Ito's signature green tea souffle, along with bites of fresh berries, caramel cake and a pecan/chocolate pie.
The classically trained dessert chef, like her husband, worked at the now-closed MF Buckhead, where the two met and fell in love. (Full disclosure: I've been a fan of Lisa's desserts since featuring her work in my Atlanta Classic Desserts cookbook in 2009.) You can, of course, order the larger souffle on its own, plenty for two, enriched with crème anglaise, a wondrous balancing act of traditional Japanese flavor and French technique. Lisa is likely to check on you at some point during the meal, as a sort of den mother to regulars and newcomers alike. But all of the servers are prompt, knowledgeable and even likely to remember you when you return.
Another look at that sketch on the menu reveals that its artist is Todd Murphy, who did the restaurant's interior design, including the oversized, vintage Asian photos. I can't think of another more pleasant space – its warmth and intimacy derives from its obsessive attention to details, like the little porcelain spoon rests, and grander touches, like the charred wood panelling the walls. Like so much at Umi, you don't need to know the story behind its beauty to appreciate it.