The 2013 Gulfstream Navigator Award is awarded to…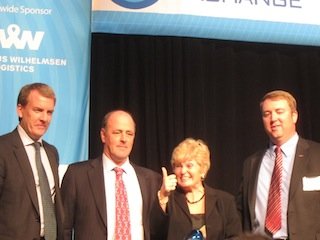 At the 2013 Ocean Exchange in Savannah, this year's $100,000 Gulfstream Navigator Award was given to WITT Energy Harvesting Transmission Collecting Power from All Sea Motion by WITT Limited. The device takes natural energy, which is produced by the movement of water, wind, humans, animals or vehicles, and converts it into usable energy. The technology has the potential to conserve energy in a wide range of applications, large and small – maintenance free, and with no negative environmental impact.
WITT literally stands for "Whatever Input to Torsion Transfer". It can harness any form of chaotic energy, and has been successfully tested in the Wave Tank and the Plymouth Sound at Plymouth University in the UK. Another $100,000 winner, ECOsubsea, was the first recipient of the WWL Orcelle(R) Award (funded by Wallenius Wilhelmsen Logistics) for advances in underwater hull cleaning technology.
The Ocean Exchange, formerly the Savannah Ocean Exchange, is held each year in Savannah, though it is a global competition. The three day event included seminars on sustainability and logistics innovations and was held at the Savannah International Convention Center across from River Street.
Also honored for Industry Excellence Awards were Certainteed, Teledyne Marine, and Thordon Bearings. More on logistics the 2013 Logistics Summit feature in the March issue of Georgia Trend, and on sustainability measures at the Georgia Ports Authority in a separate feature in January.
Visit the Ocean Exchange website!
Pictured Above: Mairi Wickett, WITT Limited Managing Director
Photo Credit: Ben Young