Southwest Georgia: Bring On The Growth
Preparation and follow-through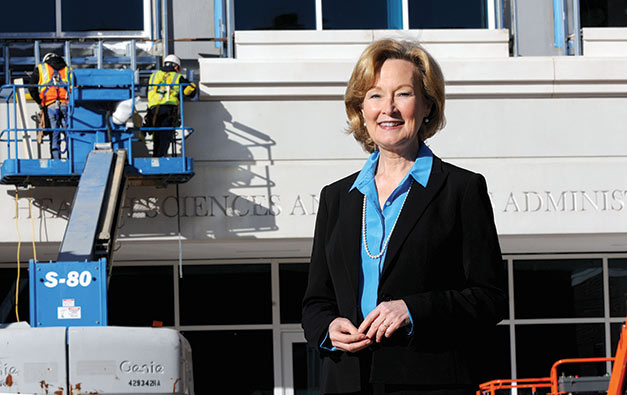 You can grow just about anything in Southwest Georgia. Peanuts, pecans, cotton, vegetables – you name it and someone is probably growing it here.
Jobs, though, that's different. Just like the rest of the state and nation, Southwest Georgia got slammed by the recession, and the continuing sluggish economy hasn't done much to help.
But when the economy hit the wall, community leaders here didn't give up, or even slow down. There are 25 counties in Georgia's Southwest region, and some, because of their strategic location or just good fortune, fared better than others. But in almost every county, you'll find there are new programs and reenergized efforts to create jobs and get ready for future growth.
In Valdosta-Lowndes County, they're creating jobs by helping create new companies; in Albany-Dougherty, they're polishing their image to better market the community; and in Cordele-Crisp, they're starting to see payoff from a plan put in place almost four years ago. It's the same in other counties in the region. The programs may differ, but the message is the same: "We're ready … bring on the growth."
Looking Ahead
The Valdosta-Lowndes County Chamber of Commerce decided a long time ago that one of the best ways to grow jobs was to help create the businesses that would in turn create the jobs.
That's why promoting entrepreneurship is an important part of the chamber's economic development strategy, and that strategy includes identifying those would-be entrepreneurs with good ideas and providing them with a boost to get started and succeed. That even includes startup capital – $15,000 – for the winner of the chamber's annual business plan competition.
"The winner receives $15,000 to get started, but they also receive many more thousands [of dollars worth] in free services, such as free accounting service, legal advice and free advertising and promotion," says Myrna Bal-lard, longtime president of the Val-dosta-Lowndes County Chamber of Commerce. "There are three requirements for the award: you must have a viable business plan, you must locate in Lowndes and you must create jobs that require a university or technical college degree."
Not all winners have gone on to success, but one that has, Azalea Health Innovations, "has the potential to be huge," Ballard says. This IT healthcare company, the 2008 winner, used its $15,000 prize to leverage a $100,000 line of credit and off it went.
Started by three Valdosta State University grads, Azalea Health now has some 50 employees and additional offices in Savannah and Macon. This past fall, the company was honored by the Georgia Department of Economic Development and the Georgia Eco-nomic Developers Association as one of Georgia's "Small Business Rock Stars."
"Azalea Health is our poster company for what we want to do," says Ballard. "They [the founders] may have been able to succeed anywhere, but where they might not have been a big deal in a big city, they are a big fish in Valdosta and they get the community's support.
"The entrepreneur business plan competition came out of a program started years ago when we began looking at ways to help ensure future growth," Ballard says. "While we discovered we were doing a lot of things right, we found we were not doing enough to grow knowledge-based jobs, the types of jobs the graduates of Valdosta State and Wiregrass Georgia Technical College would be seeking.
"So we got Georgia Tech to do a study for us to identify industries that would have longtime growth potential for Southwest Georgia. The study showed we should focus on three areas – healthcare, environmental technology and information technology – and that's what we've done."
While the tanking economy slowed most local growth to a crawl, a recent follow-up to that Georgia Tech study showed the strategy has paid off. "While other sectors have languished or even declined, the three areas we focused on have grown," Ballard says.
"Healthcare shows the greatest potential for future growth, and we have some transformative things happening that will turn Valdosta into a destination for healthcare," Ballard says. "In early 2014, a new building for health sciences on the campus of Valdosta State University will be opening right across the street from the South Georgia Medical Center, which will become a teaching hospital."
Valdosta State's new 140,000-square-foot, $32-million facility, which will house both health sciences and business administration, is scheduled to be completed by January 2014.
This past summer, South Georgia Medical Center completed its own project, the $64-million Patient Tower & Dasher Memorial Heart Center. The 130,000-square-foot building is part of an overall $150-million campus transformation.
Ballard says there are still concerns, especially about cutbacks affecting Moody Air Force Base, one of Valdosta's top employers.
"All in all, I feel good about our future growth. The economic world is flat, and if we can provide the kind of community where people want to live and work, we can compete with anyone."
Like Ballard, Andrea Schruijer, executive director of the Valdosta-Lowndes County Industrial Authority, says she's seeing some positive economic signs.
"Our existing companies are starting to grow and expand," she says. "They're hiring again. We're also seeing more activity in our retail sector and starting to see more inquiries from new prospects.
"Looking to the future, our community has invested $13 million in two new industrial parks," Schruijer says. "We now have three industrial parks certified as GRAD (Georgia Ready for Accelerated Development) sites. That gives us some 500 acres completely ready, with all infrastructure in place."
The Groundwork
Like the rest of the country – and more so than many – Albany was hit hard by the recession and its lingering aftermath. But local leaders have put that forced slow time to good use.
"When you have down times, you can't just sit around. You've got to be laying the groundwork for when times get better. That's what it takes to be successful," says Ted Clem, president of the Albany-Dougherty County Economic Development Commission.
In Albany-Dougherty, they've prepared for future growth with a new 225-acre industrial park, a new $10-million terminal at Albany's Southwest Georgia Regional Airport and, soon, a rebranding campaign to polish up Albany's image.
"You look at our recent history, the economy was hard on our community and local employers," Clem says. "It was a blow to community pride. Our branding campaign is to remind us who we are and who we can be. We need to lift ourselves up, be proud of our community, so we can then tell others outside that Albany is the place they should be."
The Economic Development Commission has approved a $150,150 contract with Atlanta's Lattimer Communications to run the campaign.
"This is one of the biggest investments the EDC has ever made, but it's an important one for our future. We will be ready for growth as the economy continues to move in a positive direction," Clem says. "We're already seeing some good signs. Our commercial construction is up 40 percent year over year, we're seeing a lot of new retail openings and many of the area's existing companies are adding employees."
With military funding cutbacks looming, Clem says there is concern about the Marine Corps base in the years ahead, but in the short term the base is busy resetting equipment coming back from Afghanistan.
"Healthcare is very strong, and the local Marine Corps Logistics Base remains strong," Clem says.
Positive Outlook
For some Southwest Georgia counties, the down economy is already on the mend.
That's the case with Tifton-Tift County, says Brian Marlowe, president & CEO of the chamber of commerce and the development authority. "We had a really good year in 2012 with 16 projects and 800-plus new jobs, and I think we'll end this year even better," he says. "And next year looks great. We've got two big ones that'll add 400 new jobs that should close early next year.
"Our existing industry is doing extremely well, and many are expanding. There's still some apprehension about the economy, but I'm really positive about what the future holds. We're preparing for more growth and getting ready to put in infrastructure in 116 acres we bought."
Marlowe credits his community's success to "our strategic location [on Interstate 75], our business-friendly environment and our quality of life. It also really helps that we have health and educational facilities, like Tift Regional Medical Center and ABAC (Abraham Baldwin Agricultural College).
Optimism
Lee County's Winston Oxford is more excited than most of his Southwest Georgia counterparts about what 2013 brought and what 2014 holds in store for his county.
"It has been an exciting year for Lee County," says Oxford, executive director of the Lee County Chamber and Development Authority. "Our retail business has been very good, with several new stores, some new restaurants and a new Chevrolet-Cadillac-Buick dealership.
"Already for 2014, we've got a new medical complex and a new country store ready to open and a John Deere facility coming to our industrial park," he says. "I'm also working with a retail complex that'll have three or four national chain stores that's looking good.
"I must admit, I'm very optimistic about 2014," he says. "Things started to pick up in 2013, and 2014 is already looking even better."
Peanut Capital
Worth County and its county seat of Sylvester are surrounded by the bigger population and job centers of Albany, Tifton and Moultrie, but it still retains a rural, small-town feel. The county has also retained a healthier economy than some of its Southwest Georgia neighbors.
"We have our niche, and we like it," says Karen Rackley, president/ executive directorof the Sylvester-Worth County Chamber. "Agricul-ture is still the backbone of our economy, but we have some very healthy businesses, our downtown [Sylvester] is very active and our tourism is great. All in all, we're incredibly blessed.
"We're the Peanut Capital of the World, and peanut farming has been great," she says. "In fact, in 2012 peanut production more than doubled the previous record year. All of Peter Pan's peanut butter is made right here in Sylvester, and the plant is planning to double production." Rackley says the facility currently employs about 150 employees and will be adding 30 to 50 more.
Big Steps
Cook County is looking forward to 2014 after taking some big steps forward in its economic development efforts, including making major improvements at its airport and industrial park and hiring a new economic development director.
Lisa Collins, formerly director of economic development for Early County 2055 in Blakely, became the director of economic development for the Cook County Economic Development Com-mission in October.
Along with a new director, the commission has new offices at the Cook County Airport in Adel, part of a recently completed $5-million improvement project that also extended the airport runway and added a new terminal building. Coming next are 22 aircraft hangers, fuel tanks and parking improvements.
"We see the upgraded airport as a major economic tool for the county," says longtime Cook County Commissioner Michael Dinnerman, who is also chairman of the airport authority and on the board of the economic development commission. "The improvements have already helped us attract one new company and will be a big help in the future."
The new company, Catalina Tempering, is a tempered glass manufacturer scheduled to open in November with some 30 employees.
"The refurbished airport is part of the overall plan to take Cook County to the next level of economic development," says Collins. "As part of the plan, bids have also been let for $1.2 million in infrastructure improvements for Cook County's 350-acre industrial park."
Effective Plan
It's taken almost four years, but Bruce Drennan says he's now seeing the long-range planning his community began in 2010 starting to pay off. That's when local government and business leaders came together to develop a strategic plan called "Preparing for the Economic Turnaround."
"We decided we needed to be ready when times got better," says Drennan, executive director of the Cordele-Crisp County Industrial Development Council. "We weren't looking at reinventing ourselves, but [we] wanted to find ways to improve ourselves. We looked at our power rates, our industrial rates and found ways to trim prices to be more competitive. We reached out to other communities to see what was working for them. We wanted to get smarter in everything we do."
And, he says, "It's working. We started instituting the ideas in 2011 and 2012, saw improvement in 2013, and it's looking like 2014 will be the year things really start moving ahead."
An important part of the community's plan – and hopes – for the future is the Cordele Intermodal Center, an inland port that serves as a staging area for container cargo going to and from the Port of Savannah. Companies can bring their cargo to the Cordele facility, where it is shipped by rail car to Savannah and loaded directly onto a ship. It began operation in fall 2011.
"It's faster and it's cheaper than taking your cargo all the way to the Savannah port," Drennan says. "The facility is already exceeding expectations. We were expecting maybe 5,000 containers a year for the first couple of years, and we're running more than 10,000 a year."
The long-range projection for the inland port is that it will attract more companies to locate nearby, bringing as many as 3,000 to 5,000 jobs over the next five years, according to one study. There's some 600 acres at the port either owned by the industrial council or under contract to accommodate new companies.
Drennan says 250 to 300 new jobs were added in Crisp County by new companies in 2013, but he expects that number to jump significantly in 2014 if all the companies he's talking with follow through.
Plus, an $85-million project that was put on hold in 2008 because of the housing crisis is now expected to get back underway in 2014. That project, an Owens Corning plant, is expected to hire upwards of 120 workers to manufacture fiberglass insulation.
"We've been laying the groundwork and believe we're ready," Drennan says. "We're seeing more interest from companies, but, most importantly, we seeing a lot more optimism."
Community Snapshot
Local Leaders
Myrna Ballard
President
Valdosta-Lowndes County Chamber of Commerce
229.247.8100
mballard@valdostachamber.com
Ted Clem
President
Albany-Dougherty Economic Development Commission
229.434.0044
tclem@choosealbany.com
Bruce Drennan
Executive Director
Cordele-Crisp County Industrial Development Council
229.273.9570
brucedrennan@crispidc.com
Population (2011)
Crisp County, 23,710; Dougherty County, 94,788; Lee County, 28,575; Lowndes County, 111,885; Worth County, 21,921
Per Capita Income (2011)
Crisp County, $26,520; Dougherty County, $30,549; Lee County, $39,941; Lowndes County, $30,431; Worth County, $32,382 Georgia, $35,979
Unemployment (August 2013, preliminary)
Crisp County, 12.6 percent; Dougherty County, 10.2 percent; Lee County, 7.1 percent; Lowndes County, 8.1 percent; Worth County, 8.4 percent Georgia, 8.7 percent
Sources
Georgia Department of Labor, individual county agencies, U.S. Census Bureau