Power Players: Strengthening Business Ties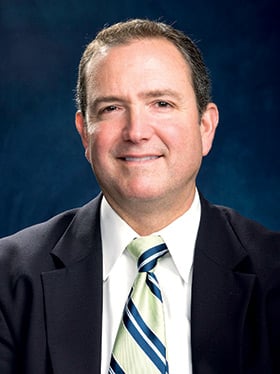 Even before he officially took over as president of the University of Georgia, Jere Morehead knew he wanted to beef up the university's impact in statewide economic development. In April, Morehead announced his intention to reorganize UGA's economic development activities and open an office in Atlanta, tightening the bonds with the business sector and the Georgia Department of Economic Development (GDEcD).
Veteran economic development professional Sean McMillan was appointed by Morehead to head up the Atlanta office. McMillan is an Auburn grad who's found a home and a mission at UGA. The mandate is plain: Make the university's resources and research even more accessible to communities, development authorities and chambers of commerce.
"It's great because I feel I have [the president's] backing as well as that of [vice president of public service and outreach] Dr. Jennifer Frum and [vice president for research] Dr. David Lee," says McMillan. "It has been made clear to me that economic development is something they feel strongly about, especially the role of economic development in the greater mission of the university, reaching out and impacting all 159 counties in the state. It's comforting to come in and have that level of support."
McMillan may be new to UGA, but he's a seasoned pro when it comes to statewide economic development issues. His career with the GDEcD began in 1992 when it was still called the Department of Industry, Trade and Tourism. "I started my career in back office operations, in the administrative group," says McMillan. "I quickly realized the impact various groups had on the rest of the state and was always intrigued by the business development side of the organization."
While working on his master's degree in business administration, he had the opportunity to segue into business development. "It was evident to me they [economic developers] were making a difference," he says. "Their job had a tangible benefit for them, personally, and for the state by planning a project, helping a community to bring in a company that provides jobs and expands the tax base. I thought 'What a great job and a great way to spend your day.'"
He served as a senior project manager, director of existing industry and re-cruitment and director of new business recruitment.
In 2008, McMillan began working with Georgia Quick Start, the workforce development program, where he became a regional director and director of Kia project operations.
"My role at Quick Start was operational," he says. "I worked with the team charged with developing customized training specifically for clients."
"It certainly was something where you could see the end result of the state's efforts to recruit a company; you were dealing directly with a person who you had a responsibility to impact," he says. "You got to help them have a better life, better standard of living and an opportunity to provide for their family. It was something I feel strongly about, making a difference."
McMillan remembers a recruiting event he was involved in during the height of the recession. "We had a series of Korean suppliers coming online to get established," he says. "They needed workers. We worked with the Georgia Department of Labor and held a job fair that brought in over 2,200 people. One guy got there at midnight to wait in line."
McMillan's new office is located in Atlanta, but his eyes are all over Georgia. Just as sustainable economic development requires collaboration from many quarters, McMillan is counting on partnerships with the university, public and private sector leaders and communities to drive this new initiative.
"We're making inroads in changing the view of what sorts of businesses will locate here," he says. "We have an educated workforce for the type of technologies that our universities are working; those are the ingredients to attract those types of companies, not just in the metro [area] but across the state."