High Marks For Healthcare
Some of the nation's top ranked medical programs are right here in Georgia. Plus, Georgia Hospital Rankings.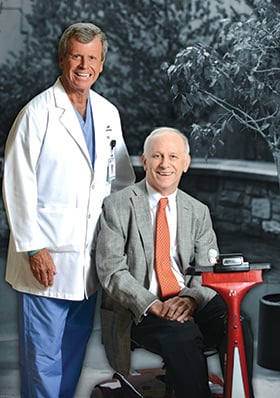 Whatever your needs when it comes to healthcare, Georgia is a good place to be. From Rome to Albany, from Douglasville to Savannah, Georgia claims a number of hospitals that are widely regarded as among the nation's best in their respective specialties.
In its current ranking of America's top hospitals, U.S. News & World Report ranked three Georgia hospitals among the best of the best – making the top 50 out of approximately 5,000 hospitals evaluated – in at least one adult medical specialty. In a separate category for children's hospitals, Children's Health-care of Atlanta ranked nationally in 10 pediatric specialties, among the highest for children's hospitals in the nation.
Sixteen other hospitals were ranked as high performing in at least one adult medical specialty, with some ranking high in as many as 10 different adult specialties.
Georgia Trend takes a look at a few of Georgia's top hospitals and their specialties.
Emory (Clifton Road)
Atlanta
Specialty: Ophthalmology
(Nationally Ranked)
Emory University's Eye Center has traditionally been ranked high by U.S. News & World Report and has been Emory's highest or second-highest ranked program for at least 15 years straight, says Timothy W. Olsen, M.D., director of the Emory Eye Center. The ranking, he says, is a reflection of the program as a whole and its different missions – patient care, research and teaching.
Special programs and services for which Emory's Eye Center are known include:
• a retinal program, with eight retinal specialists, including sub-sub specialists in the pediatric retina, ocular oncology (tumors of and around the eye) and retinal vascular disease;
• a rapidly growing glaucoma service, with five glaucoma specialists;
• the world's foremost ophthalmologic pathologist, Hans E. Grossniklaus, M.D., who makes complicated diagnoses from eye tissue sent to Emory from around the world; and
• a renowned neuro-opthalmology program, which focuses on how vision interacts with the brain in conditions such as stroke or multiple sclerosis, for example.
Emory also has a global eye health initiative and one of the best and most sought-after training programs for new doctors offered anywhere. For six open residency slots this year, the program received 600 applications, says Dr. Olsen.
"But our primary mission is to help people see as well as they can see," says Dr. Olsen. "That is first and foremost. If we don't take care of patients, we lose."
Emory is also nationally ranked in cancer, cardiology and heart surgery, neurology and neurosurgery and psychiatry.
High-performing in 10 specialties: Dia-betes and endocrinology; ear, nose and throat; gastrointestinal and GI surgery; geriatrics; gynecology; nephrology; orthopaedics; pulmonology; rheumatology; and urology.
Shepherd Center
Atlanta
Specialty: Rehabilitation
(Nationally Ranked)
The Shepherd Center was founded as Shepherd Spinal Center in 1975 by Harold and Alana Shepherd after their son, James, suffered a spinal injury. With no resources available in Atlanta, the couple sent their son to Colorado for rehabilitation.
Less than half a century later, Shepherd has grown to one of the nation's premier rehabilitation hospitals not only for spinal injuries, but also for traumatic brain injury, multiple sclerosis and chronic pain from any cause. The center has also added an outpatient day program called Shepherd Pathways.
Today, James Shepherd, who experienced a partial recovery from his injury, is chairman of the board of the Shepherd Center. Donald Peck Leslie, M.D., who joined Shepherd in 1983, serves as the center's medical director.
"When I joined the center in '83, we had 40 beds and a couple of hundred employees. Now we have 152 beds and 1,500 employees – that's pretty meteoric growth," says Dr. Leslie. Shepherd is a leader in research, performing the nation's first embryonic stem cell transplant four years ago. It is one of the largest Spinal Cord Injury Model Systems funded by the National Institute on Disability and Rehabilitation Research (NIDRR).
Today Dr. Leslie says his pet project is Indego, a robotic leg system powered by a 21-pound, self-contained battery pack that enables paraplegics to walk. Developed in part and analyzed at Shepherd, the robotic legs could be available as soon as next year.
Shepherd's primary mission, however, remains providing care to patients, who come from throughout the U.S. and in some cases around the world.
"It is about outcomes; it is about people's lives and how people's lives change in an instant with their injury," says Dr. Leslie. "Alana Shepherd has said many times that Shepherd is where hope begins again. When someone wakes up from a catastrophic injury, they think their life is over, and then they come to Shepherd and they realize it's not."
Medical Center of Central Georgia
Macon
Specialty: Cardiology & Heart Surgery
(Nationally Ranked)
One of the top-ranked hospitals for cardiology and heart disease in the nation, the Medical Center of Central Georgia may also be one of Georgia's best-kept secrets, says Fady S. Wanna, M.D., chief medical officer and a cardiovascular surgeon. "We provide all aspects of cardiac service, except transplants," says Dr. Wanna. This includes the placement of ventricular assistive devices, which are mechanical pumps that support heart function and blood flow in people with congestive heart failure who are waiting for or are not candidates for a heart transplant, and transcatheter aortic valve replacement, a procedure by which a new valve can be placed into a beating heart via a catheter, eliminating the need for open heart surgery. The center also has state-of-the-art equipment in catheterization labs and operating rooms.
"We are actually one of the busiest cardiovascular centers in the Southeast, and I don't think many people know that," says Beth Greer, the center's assistant vice president of heart and critical care services. In 2012, the center discharged 8,364 patients. The center has done more than 10,000 open heart procedures in the past 10 years and currently has seven cardiac surgeons on the premises, says Dr. Wanna.
But the center's cardiologists and surgeons are not the only reason for its reputation. The center is also recognized for its high level of nursing care and is only one of five hospitals in the state – and one of 389 in the world – to receive a Magnet designation by the American Nurses Credentialing Center (ANCC) in recognition of its outstanding patient care, says Greer.
"The foremost thing to take away is that our patients can rest assured they can have excellent service in their own backyard," says Dr. Wanna. "They don't have to travel hours to get the same service and same quality of service. That is something we pride ourselves on."
High-performing in 10 specialties: Cancer, diabetes and endocrinology, gastroenterology and GI surgery; geriatrics; gynecology; nephrology; neurology and neurosurgery; ortho-paedics; pulmonary; and urology.
University Hospital
Augusta
Specialty: Diabetes and Endocrinology
(High-Performing)
Among the nation's top hospitals for diabetes, University Hospital is devoted to educating patients through programs such as a summer camp for kids and its annual diabetes expo, says Ian Herskowitz, M.D., endocrinologist and diabetes specialist at University Hospital.
Camp Juliet, named for a late diabetes educator who founded the camp, provides all the fun of summer camp – plus education on how to check blood glucose levels, give injections and count carbs – for kids ages 7 to 17 with diabetes, who might have trouble going to traditional summer camps.
The Diabetes Expo, held each November, is an educational afternoon filled with information sessions and cooking demonstrations led by physicians, dietitians, diabetes educators and registered nurses in the University Health System. It is offered free to the public.
But much of diabetes education takes place in the hospital itself. The hospital employs a full-time inpatient diabetes educator who visits patients identified as having diabetes, regardless of the reason for their hospitalization. While some patients are admitted to have their diabetes stabilized, more often the primary reason for being in the hospital is surgery or an acute event such as a heart attack or stroke, says Dr. Herskowitz. Yet managing diabetes is still crucial to the patient's overall care, and diabetes education is part of a multidisciplinary approach to treatment at the hospital, he says.
"This is important because if diabetes takes a backseat while other problems are addressed, the diabetes may become a bigger issue," says Dr. Herskowitz.
At University Hospital, if a patient has a blood glucose level above 150, doctors begin implementing treatment to keep glucose stabilized, he says. "If not under control, diabetes may delay the patient's discharge. Getting that treatment optimized is certainly helpful for improving patients' health and reducing length of stays."
High-performing in 10 specialties: Cardiology and heart surgery; diabetes and endocrinology; gastroenterology and GI surgery; geriatric care; nephrology; neurology and neurosurgery; ortho-paedics; and pulmonology.
CHILDREN'S HEALTHCARE OF ATLANTA
In 2012, Children's Healthcare of Atlanta managed 346,356 patients, who came from all 159 of Georgia's counties and beyond for Children's nationally ranked services including cardiology and heart surgery, cancer and orthopaedics.
Cardiology and Heart Surgery: One of the highest-volume pediatric surgery centers in the United States, Children's performs nearly 800 pediatric heart surgeries per year, including some of the most complex. Its survival rates exceed the national average.
Children's Sibley Heart Center, a group of more than 40 pediatric cardiologists in 19 locations across Georgia, specializes in caring for children born with congenital heart defects (CHD) as well as those who develop heart problems later in their childhood or teen years.
In addition, Children's is at the forefront of research to improve CHD treatment, as one of nine main sites across the U.S. and Canada in the Pediatric Heart Network funded through the National Institutes of Health.
Cancer: As one of the leading pediatric cancer, hematology and blood and marrow transplant (BMT) programs in the country, the Aflac Cancer and Blood Disorders Center of Children's provides advanced diagnostic and clinical care, as well as innovative treatment and research options to children, adolescents and young adults.
"Children's provides each child and family a unique course treatment, both clinically and emotionally," says Rex Adams, chief operating officer, Children's Health-care of Atlanta. "We strive to help children and their families through their often difficult journey of treatment."
As with heart surgery, cancer research is an important part of Children's mission. Children's Aflac Cancer Center recently began a partnership with the Winship Cancer Institute of Emory University and NextBio to discover biomarkers that predict metastasis of medulloblastoma – the most common brain tumor in children – which would enable doctors to target appropriate treatment to children who need it most while sparing others the risks of unnecessary treatment.
Orthopaedics: Led by Michael L. Schmitz, M.D., Children's multidisciplinary orthopaedic program is composed of orthopaedic surgeons, physical therapists, orthotists, prosthetists and certified athletic trainers who care for thousands of patients throughout the Southeast and the world requiring specialized medical and surgical treatment for a variety of musculoskeletal diseases, complicated congenital anomalies and deformities and injuries.
Children's orthopaedic program treats more pediatric fracture-related emergency department visits than any other hospital in Georgia. It has the only hospital-based ped-iatric orthotics and prosthetics practice in Georgia and was the first pediatric facility in the United States to use the SpineAssist system, which allows surgeons to preplan procedures in 3-D simulations and use a robot arm to guide them to the site.
These are a just a few examples of what makes Children's stand out from other children's hospitals, says Adams. "Children's is vital to the community, and we are fortunate to have extraordinary physicians, nurses and staff who are dedicated to delivering the best care to the children and families that depend on us," he says. "We strive to be the catalyst for the changes and advancements that allow us to better treat young patients."
Children's Healthcare of Atlanta also ranked nationally in diabetes and endocrinology; gastroenterology and GI surgery; neonatal care; nephrology; neurology and neurosurgery; orthopaedics; pulmonology; and urology. – Mary Anne Dunkin
More Top Hospitals
These Georgia hospitals also received a high-performing designation in one or more medical specialties:
Emory University Hospital Midtown
Atlanta
Cancer; cardiology and heart surgery; diabetes and endocrinology; ear, nose and throat; gastroenterology and GI surgery; geriatric care; gynecology; nephrology; neurology and neurosurgery; orthopaedics, pulmonology; urology
Floyd Medical Center
Rome
Orthopaedics
Memorial University Medical Center
Savannah
Cancer; diabetes and endocrinology; ear, nose and throat; gastroenterology and GI surgery; geriatric care; gynecology; nephrology; neurology and neurosurgery; pulmonology; urology
St. Joseph's – Candler
Savannah
Diabetes and endocrinology; geriatric care; nephrology; neurology and neurosurgery; orthopaedics; pulmonology; urology; ear, nose and throat; gynecology
Athens Regional Medical Center
Athens
Gastroenterology and GI surgery; nephrology; neurology and neurosurgery; pulmonology; urology
Northeast Georgia Medical Center
Gainesville
Gastroenterology and GI surgery; nephrology; neurology and neurosurgery; pulmonology; urology
Piedmont Hospital
Atlanta
Cardiology and heart surgery; gastroenterology and GI surgery; nephrology; neurology and neurosurgery
Doctor's Hospital
Augusta
Gastroenterology and GI surgery; gynecology; nephrology; orthopaedics
St. Joseph's Hospital
Atlanta
Gastroenterology and GI surgery; geriatric care; nephrology
WellStar Kennestone Hospital
Marietta
Orthopaedics
Medical College of Georgia Health (Now Georgia Regents Health System)
Augusta
Nephrology
Northside Hospital
Atlanta
Cancer
Phoebe Putney Memorial Hospital
Albany
Cancer
WellStar Douglas Hospital
Douglasville
Pulmonology