Art Of The Meal: 5&10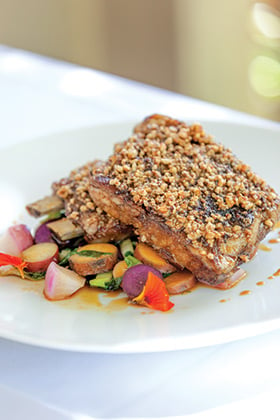 5&10
1073 Milledge Ave., Athens
706.546.7300 or www.fiveandten.com
Hours: Dinner nightly, Sunday brunch.
Coffee bar weekdays, 10:30 a.m.-2:30 p.m.
Parking: Free in attached lot.
Dress Code: Smart without trying.
If you've been around Athens long enough to remember when the original 5&10 opened 13 years ago, you might recall the almost magical singularity of the place. In those days, young chef Hugh Acheson's fluffy unibrow looked a little like a unicorn's horn. In a small town, in a small house, the Canadian Acheson (with a band of young acolytes) reclaimed the Southern food narrative and pitched it forward.
It became less about the past and more about an exciting future, one rooted in the best of our old traditions, with the skill and techniques of … well, a bunch of skilled young people with a mission, thrilled with the harvests of nearby farmers who were also reclaiming lost foodways. It reminded us that we were more than fried chicken and sweet tea, but also purple beans and pickles and good tomatoes, often presented in dishes like little blooming gardens. Equally quaint and quirky, the menu was like that good friend you can't go too long without checking in with, because she reminds you of the best about yourself.
Now that not only the rest of the state, but also the South, and even the country, have caught up to Acheson's ways (and Acheson himself is a bona fide star, with his high-profile Peachtree Street restaurant, Empire State South, James Beard awards and recurrent Top Chef judging role), Acheson is still moving on – but he's never left Athens, literally or figuratively.
Now he's moved 5&10 around the corner, and the house is a slightly larger one, with a more sophisticated decor – one that more closely matches the subtle depths of the wine list. We noticed a few little glitches, which may mean the kitchen is still working out a few kinks. But thankfully, the idiosyncratic soul of the place survived the move intact.
I've always liked 5&10 the best of all of Acheson's enterprises (including the ever-impressive The National, which he co-owns with Chef Peter Dale). Perhaps because of the environment, it feels like the most faithful and intimate iteration of his point of view. The warren of dining rooms in the new space is quieter and more mature – a dark green grotto that reminds me a little of Savannah's Elizabeth's on 37th.
The army of impressively knowledgeable and expert waitstaff is as good as ever, servers' eyes flicking over your plate as they creak by on the old wood floorboards, but never intrusive. The new bar space is more lively and spacious than the crowded old perch, and the cocktails are, if anything, better. Asked for his version of a Man-hattan, the bartender shook us up some Elmer T. Lee bourbon, Carpano Antica sweet vermouth and house-made hot cinnamon bitters, with a brandied cherry. Not too shabby, especially with a starter of pimento cheese on crisp crostini, topped with candied bacon.
Despite such gutsy starters, or another un-Southern favorite – Medjool dates with celery and parmesan – Acheson's cuisine is fanciful and at times even delicate. It's lighter than an aggressive agrarian like Sean Brock (Husk and McCrady's, Charleston) and lacks the meat mallet wallop of Ford Fry's rascally King + Duke. Take, for example, the subtle layerings of pan-fried Virginia flounder, with creamy rice "middlins" (broken rice pieces, a bit like grits), bok choy, roasted shishito peppers and cherry tomatoes, sitting in a pale green herb broth. Even with the slim wafers of watermelon radish, it's a medley of pastels and subtle flavors, with just enough acid and pepper to bring them out even more.
In another starter, prosciutto and melon are entwined with basil flowers. On the other hand, the sorghum-glazed pork ribs are a Southern hoedown, with spiced pecans and pickled cabbage. The Painted Hills strip steak is just enough of a fabulous thing, the few slices paired with lobster mushrooms, Swiss chard and a creamy strata of potato and root vegetables. The sweet milk pie is a perfect dessert, with bourbon-plumped raisins, dates and fennel marmalade.
The few missteps included a too-salty boiled peanut hummus and a grainy she-crab soup (also oversalted, though the corn flan was fabulous). These few kinks add up to small change indeed.