A Visit to Southern Company's Plant Vogtle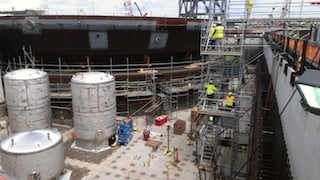 Georgia Trend writers Ben Young and Jerry Grillo toured Southern Company's Plant Vogtle recently near Waynesboro to see the progress of construction of two new nuclear reactors. The photos show the magnitude of what surrounds the actual reactor, shown in the photo behind Ben and Jerry.
Georgia Trend is planning an article on nuclear power in July of 2014. Join us as we explore Georgia and its growth in energy and sustainability. Check out our recent feature on Sustainable Georgia in the November 2013 magazine.