Power Players: Building The Network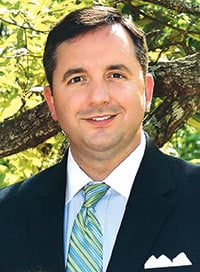 At the heart of every great deal there's a guy who knows, or seems to know, everyone. Chris Pettis is one of those guys. A banking and finance industry veteran, Pettis works for Wells Fargo, the nation's fourth largest bank. "My official position with Wells Fargo is that of vice president-business development officer," he says, "which means 'paid professional networker' to most people and is how I was nicknamed 'Mr. Rolodex.'"
He's got the stats to back up the handle. On Linked-In, the social media site favored by many professionals, Pettis has more than 2,300 connections. In 2012, his LinkedIn profile was in the top one percent of viewed profiles.
And while you might not read his name in the newspaper, Pettis was instrumental in bringing about a deal that culminated in the April 2013 announcement of the Pinewood Atlanta development, a full-service film and entertainment studio complex located on 288 acres in Fayette County. It's all part of the job, Pettis says.
"Wells Fargo affords me the ability through my job to network on behalf of the bank, obviously, to spread the good word of our very unique abilities, for our clients and prospective clients to help them grow their businesses and for our local communities to help them with economic development growth opportunities," he says. "This studio project falls in the community economic development arena."
In April 2012, Matt Forshee, president and CEO of the Fayette County Development Authority, arranged for Pettis to meet with Fayetteville developers working on behalf of private investors. They wanted to put together an 11-acre studio project from scratch.
"I was asked to help with finding the studio for the project," he says. "It turns out I knew a guy, as I often do. I made an introduction to an entertainment attorney friend of mine who represented Pinewood Studios in the deal." At that point, Pettis bowed out but the project exploded – in a good way.
The development quickly grew to 288 acres, including studios for film, television, music and video games. Additional phases of the project will add a workforce development component and office and warehouse space. The economic impact on Fayette County is estimated at $10.4 million in the first development phase alone.
"What I really enjoy is working on funky things, specialized industries," Pet-tis says. "What's great is when you have a guy like Matt Forshee who has a vision. Most communities are looking for a specific industry, a widget maker, to come into their community. But he said, 'Let's not just build a studio, let's do an ecosystem. Let's allow the technical colleges to train the employees. Let's do what they have in place in California, right here in our community.' I love working on projects like that."
A native of Thomaston, Pettis graduated from Georgia State University and worked in financial institutions on the commercial lending and business development side of the industry.
He developed a knack for networking while working for brokerage house Bear Stearns. "I learned by working with some of the best producers on Wall Street," he says.
His approach is simple. "I identify what's important to [people] and their business and do anything I can to help them grow," says Pettis. "It's the Vito Corleone approach. I'm going to do this favor for you today, and someday I'll call you back and ask for a favor. The good thing is that you rarely have to call someone back to ask for the favor. Usually they remember me and what I do. They know I'm in banking and can put creative deal structures together."
His networking ability is one reason Wells Fargo recruited him. "I've worked for regional banks that are fine institutions, providing service in a certain space," he says.
"I play a little above that, filling the lending gap above where most Georgia banks have an ability or appetite to lend. My economic development background, helping local communities network and bring new jobs, was a big factor for Wells Fargo. My job is to get out in front of the heads of chambers of commerce, the local industrial development authorities and find out what projects they're working on. We have the same goal; to grow the business base in Georgia."