Deal's Kitchen Cabinet
The governor relies on an informal group of associates for advice, counsel, political savvy and fund raising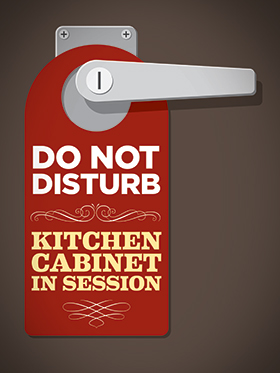 Nathan Deal was elected to the state legislature as a Democrat, then got elected and re-elected to the U.S. House of Representatives as a Democrat, then switched parties in the middle of his second Congressional term, then got re-elected seven times as a Republican, then left national politics to become governor of Georgia.
From the Gold Dome to Capitol Hill to the Governor's Mansion, from Democrat to Republican, through up and down economies, through different administrations, through more than 30 years of rough and tumble politics, including charges of questionable ethics, two things in Deal's political career have remained constant. The first one is, he never loses an election. The other one is Philip Wilheit, who offers a contradiction to the first one.
"He lost one election that I know of when he tried to be president of the Gainesville Jaycees," says Wilheit, Deal's longtime friend and campaign chairman, the moneyman behind all of those victories.
"I like to kid Nathan, 'That's the one campaign I didn't head up for you, and I don't think it's a coincidence that you lost,'" adds the president and CEO of Gainesville-based Wilheit Packaging and Marketing Images. "I enjoy reminding him of that on occasion."
Deal lost his 1970 bid to lead the local civic organization, but hasn't lost an election with Wilheit at his side or in the background, raising money and making influential friends, creating allies and building a well-stocked war chest.
"He headed my campaign effort, the financial effort, when I first ran for state senate in 1980, and he's held that role ever since," Gov. Deal says.
While Deal has held one elected position or another for the past 33 years, Wilheit hasn't shown any interest in running for office.
"I prefer working in the background," says Wilheit, one of the head chefs in Deal's "kitchen cabinet," a group of influential advisers who have the governor's ear but don't hold any actual office, although Wilheit does serve on the Board of Regents and will soon take over as its chairman.
It was a previous Regents chairman, late Gainesville attorney James "Bubba" Dunlap, who gave Wilheit some of the best political advice he's received.
"He told me one time, 'You don't want to be the king, you want to be the kingmaker. They behead the king on occasion.' I heard that 25 years ago, and I haven't forgotten it," Wilheit says. "I'm very comfortable in my role. I like being the kingmaker."
Kingmakers and partisan favors and appointments are as old as politics. But the American "kitchen cabinet" – the concept of elected leaders showing favoritism to or taking advice from a trusted circle of friends and confidants – became famous, or infamous, with President Andrew Jackson, who met with his unofficial advisers in the White House kitchen; these men reportedly had more influence on the president than the regular cabinet.
Pretty much every president or governor you can think of has had an inner circle of trusted friends and associates who have had some measure of influence. Often, these associates are guys like Wilheit, or T. Rogers Wade (who led Deal's transition team following his gubernatorial victory in the 2010 election), who don't run for office, but have access to it.
"These are people with an interest in politics who may not have the time or temperament to do what's necessary to get elected," says longtime University of Georgia political science professor Charles Bullock. "But they stand on the sidelines and contribute from there."
Playing Favorites
Kings have been surrounding themselves with unelected, unofficial purveyors of wisdom since there have been kings.
"The problems start when you reward them with favors," says Georgia State University po-litical science professor Daniel Franklin.
Then again, favoritism – placing friends, business partners and trusted associates on influential boards, at the head of government agencies, or otherwise keeping them close – is a natural circumstance in the political ecosystem, sort of like carbon in the atmosphere. The phrase "spoils system" – coined during Andrew Jackson's administration – or "patronage system," comes to mind.
And like most of his predecessors, Deal has put some friends in high places, including Wil-heit (Board of Regents) and Philip Wilheit Jr. (on the board of the Department of Natural Resources). He put two pals on the influential Georgia Ports Authority board of directors, for-mer Gainesville business partner Ken Cronan and Hall County business leader Jim Walters, and put Cronan's son, Kacy, on the Depart-ment of Public Safety's board.
The patronage system works all over the country, but this idea of a chief executive stacking boards and commissions, or creating whole new government entities and avenues of influence, has particular historic significance in Georgia, according to GSU's Franklin.
"In southern states, the reaction to Reconstruction was to decentralize the power of the executive," he says. "Consequently, in Georgia the governor doesn't select his own cabinet; constitutional officers – the insurance commissioner, attorney general, state school superintendent and so forth – are elected.
"So strong governors who are emasculated by the constitution have tried to find ways to informally get around constitutional limits on their executive power," says Franklin.
Sometimes that happens through forming new agencies. In 1999, Gov. Roy Barnes created the Office of Consumers' Insurance Advocate, which, according to Barnes' critics, was a way to circumvent the powers of the elected insurance commissioner John Oxendine. Last year, under Gov. Deal, saw the creation, through amendment, of the State Charter Schools Commission – a new agency that was opposed by elected State School Superintendent John Barge (who plans to challenge Deal for the GOP gubernatorial nomination in 2014).
Critics called the commission an unnecessary layer of government bureaucracy, because the state school board already had authority to consider charter school petitions. But Deal and his allies wound up with a key victory in the school choice movement with resounding passage of the amendment.
It was, according to Franklin, "Deal trying to gain some control over what is one of the largest parts of the state budget, public education. It runs parallel to what presidents and governors have been doing for years, finding a way around constitutional limits."
That's politics, or part of it anyway, and it has deep roots in the American tradition of partisan manipulation. But Franklin believes it's probably more basic than that.
"It has nothing to do with Democrats and Republicans and everything to do with executive officers and legislatures," Franklin says. "The Georgia governor has a powerful legislative sense. He has the line item veto. He can let bills sit on his desk and pick and choose the things he likes and doesn't like."
Franklin wasn't talking specifically about Deal, but the current Georgia governor has earned some points among observers for his legislative sense, including a willingness, on occasion, to work with the opposition party. In particular, there was the bipartisan effort (with Democratic State Rep. Stacey Abrams, the House minority leader, taking a lead role) in negotiations over the HOPE scholarship. Cuts were made, but the program was preserved. During his announcement of the new measures Deal was flanked by Democrats, including Abrams.
"Politics is politics, and he governs with a Republican philosophy, but it doesn't preclude him from having good ideas and an open mind; and if you have legislators who feel they have been heard and treated with respect, that will carry you a long way," says Atlanta Mayor Kasim Reed, a Democrat who previously served in the legislature as a state senator.
"The most powerful and effective attribute I've seen in this governor is, he really does listen. He hears matters out to their conclusion before making a judgment."
It helps, Reeds adds, to have people worth listening to.
Background Players
Wade says he's always had a deep and abiding respect for anyone willing to put himself out there and run for office. It's just not for him.
"I'm interested in how things get done, but I've never wanted to run for anything at all. I have had lots of friends, though, who were misguided enough to run for public office," he quips.
Wade says he's never talked anyone into or out of running for office. Either way, he's been one of the more influential political strategists and behind-the-scenes players in Georgia for decades.
"He's one of the most seasoned political veterans in the state. He probably knows the workings of Capitol Hill better than anyone," says Clyde Tuggle, chief of public affairs for The Coca-Cola Company.
"One of the big secrets of his success has been he's always avoided the limelight, never really sought to take credit or grab attention," says Buddy Darden, a former Democratic Congressman who has known Wade for 40 years. "He's about the best inside political player I've ever known, very laid back and never imposes himself on anyone."
According to Darden, Wade has had close ties to "every major administration in Geor-gia since the mid '70s." That would include, of course, his stint as chief of staff for the late Sen. Herman Talmadge, who early on gave Wade some useful advice on advising.
"The senator looked me straight in the eye when I first went to work for him and said, 'If you and I agree on everything, one of us is not necessary. Guess which one?' So, we disagreed on things and we agreed on things," Wade says. "It was OK to say what you had to say."
In other words, Talmadge didn't want a yes man. All of the kings, the presidents, the senators, the governors, the congressman and the CEOs – really, anyone who calls himself the boss – the same thing. They don't want a yes man. How many of them actually mean it is probably worth a study by a think tank.
"No, I think you always need somebody other than a yes man, and I can assure you, with my advisers, if they don't agree with me about something, they let me know, and I respect that," says Deal.
He not only respects it. He needs it, just like anyone holding executive office, anyone with responsibility to make decisions on behalf of the public – how to protect it, or spend its money, provide services and so forth.
"Diversity of opinion leads to strong decision making," says Reed, another Democrat who has had photo ops with the governor – both strongly support expanding the Port of Savannah. "Only through argument and debate do you have the opportunity to find where the truth is, and I think this governor has individuals around him who provide that. They just keep their debates confidential."
Some of Deal's top advisers, guys who led his transition team, were interviewed for this story. But the guy who is closest to the governor, the top adviser who holds an official position in Deal's administration, Chief of Staff Chris Riley, would not be interviewed. Wilheit, for one, isn't surprised.
"He likes to stay below the radar, feels he can be most effective that way. Good luck reaching him," Wilheit says, chuckling.
Riley, who was Deal's congressional chief of staff, too, also managed his campaign for governor and piloted the campaign team's plane. Like Wilheit, Riley is one of Deal's Gainesville gang.
"He went to high school with some of my children, worked with me at an early age putting up signs, worked his way up through the Congressional office organization, and I've relied on him for years," says Deal, who nonetheless selected four older heads to lead his transition team after winning election in November 2010 – Wade, Wilheit, Pete Robinson (former state representative, now one of Georgia's most influential lobbyists as chairman of Troutman Sanders Strategies), and John Watson, Sonny Perdue's former chief of staff.
He's known Wade, Wilheit and Robinson for decades and says that familiarity made their selection as leaders to help organize his administration an easy decision.
"Knowing someone for a long time, as I have these individuals, builds trust," Deal says. "I have a lot of confidence in these people, and it played out as one of the best decisions I've made."
With Wade serving as chairman and the three other men as co-chairs, they spent more than two months interviewing agency and department heads and employees, picking brains, picking leaders and just basically fleshing out Deal's agenda for the new administration.
Each brought specific talents and backgrounds that made them voices worth hearing for Deal.
For Robinson, it's his inside-out institutional knowledge of the legislative process, having served as a member of both the Georgia house and senate as a Democrat, and more im-portant, his work as a lobbyist and his connections to a powerful client list, including Coca-Cola, General Electric, Micro-soft, Aflac, Southern Company and Citigroup.
Wilheit, of course, has known Deal for more than 40 years. Beyond their mutual respect, though, Wilheit is a former chairman of the Georgia Chamber of Commerce, and his packaging business has connections across the state. So during the campaign, he could pick up the phone and call a pal in Valdosta or Savannah, and they would set up a meeting with potential donors.
"I've made a lot of friends around the state, and Nathan was an easy sell," says Wilheit, who has been selling Deal for more than 30 years. In 1979, Deal called Wilheit and asked for his help the next year in a run for the state senate, and Wilheit has been raising money and heading that part of Deal's campaigning ever since.
Wade brought his unsurpassed experience as a confidant of some of Georgia's most powerful leaders, including Talmadge, Sam Nunn, Johnny Isakson; his experience as a lobbyist; his experience (and resulting connections) as a founding member of Leadership Geor-gia; not to mention the 15 years he spent as president of the Georgia Public Policy Foundation. (He also serves on the Board of Regents and is executive director of the Governor's Defense Initiative.)
The word that keeps coming up in conversation with Wade is "compromise." It's at the heart of any reasonable and effective policy making, he says, remembering the early days of Leadership Georgia, more than 40 years ago.
"At that time, the battle cry was about the two Georgias – Atlanta and everybody else," he says. "But you know, there's probably six or seven of them, and Leadership Georgia helped show the people from Buckhead and the people of Ludowici that they have some of the same problems and some of the same reasons to work them out, and one group didn't have horns and pointy tails, and the other didn't have pitchforks," Wade says. "That group helped break down a lot of barriers around the state."
Wade saw a similar spirit of compromise in Washington, something missing today, he says.
"There seems to be an inability to talk across party lines and ideologies, and that wasn't always true. You could fuss and fight on the floor of the Senate, argue in committee meetings, but when the bell rang, you could also sit down over supper with the person you disagreed with and reach a compromise. You realized and respected that there were smart people in either party."
The smartest person in the room, oftentimes, was Wade, who has what Darden calls, "an extraordinary de-gree of wisdom on how to handle any situation.
"Everybody can survive in total prosperity when everything is going right, but weathering a storm, handling a crisis – that's Rogers. And he's unparalleled in his range of contacts and the quality of his advice," Darden says.
"I frequently sought his advice on political matters when I was in Con-gress, and we didn't always agree, but generally speaking, he turned out to be right most of the time."
For his part, whether working in the background or whispering in the ear of leadership, Wade says there is no pride in authorship – it doesn't matter who gets credit for the idea, as long as the idea is good and it becomes policy. And he isn't keeping score on when he's been right and some congressman or senator or governor has been wrong. Not publically anyway, and not yet.
"When things don't go the way you want them to, you might as well forget it and move on," he says. "Besides, there haven't been enough funerals yet in this state for me to start pointing fingers at what might have gone wrong and with who.
"Sometimes, what you don't say is just as important as what you do say."